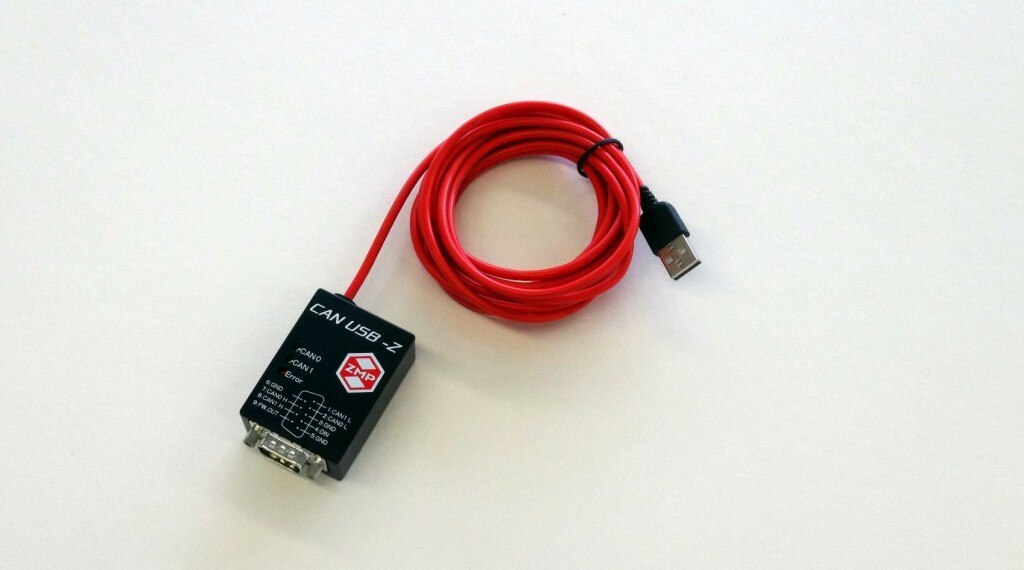 2 channel CAN simultaneous connection · Started sale of small CAN-USB conversion interface . Transmit / receive cable type​ ​
2 channel CAN simultaneous connection · transmission and reception
Started selling cable type small CAN-USB conversion interface
- For CAN signal measurement in highly vibrating environments such as vehicles, moving bodies, and robots.
Viewer to visualize all CAN communication -
ZMP Corporation (Bunkyo-ku, Tokyo, CEO: Taniguchi Hisashi , hereinafter referred to as ZMP) has added a new "CANUSB- Z cable type" with fixed cables in addition to the conventional connector connection type .
CANUSB-Z is a compact interface module equipped with a CAN port compatible with 2 channels, it can be connected to a PC etc. to send and receive CAN signals, and it is popular among users as a very easy-to-use adapter. CAN baud rate can also be set up to 1 Mbps, synchronous signal input and power supply to other equipment can be done. In addition, a configuration tool that can check CAN communication settings and data is included.
In addition, it corresponds to CANUSB - Z viewer which reproduces the signal measured by option, and it is a product which can make effective use of measurement data.
With this product, the functions such as synchronous signal input, power supply to other devices, viewer applications that visualize all CAN communication are kept unchanged, the use of fixed cables, vibration of vehicles, moving bodies, robots etc. It is easy to use in the environment as well. In addition, this product has also been used as a data measurement tool of RoboTest for actual vehicle Vehicle data measurement service, and stable data measurement is possible even when mounted on the vehicle.
We will respond flexibly to customers' research and development · experimental needs with "CANUSB-Z connector type" using general purpose USB cable and new product "CANUSB-Z cable type" which will be on sale this time.
We will start receiving orders from today for CANUSB-Z cable type at a price of 50,000 yen (excluding tax).
In addition, a versatile micro USB connector type CANUSB - Z connector type will be sold together.
This product will be exhibited at the Technology Exhibition 2017 in Yokohama which will be held at Pacifico Yokohama from May 24, 2017.
【Price】
CANUSB-Z cable type 50,000 yen
CANUSB-Z connector type 30,000 yen
【Product introduction HP】 CANUSB-Z
http://www.zmp.co.jp/products/canusbz
[Press Release Article]
【Related products】 Real vehicle Vehicle data measurement service RoboTest