Exhibition scenes of CarriRo® logistics support robot (report)​ ​
-The simultaneous Logis-Tech Tokyo 2018 and the 20th automatic recognition comprehensive exhibition
CarriRo® will be exhibited at various booths -
ZMP Inc. (Bunkyo Ward, Tokyo, CEO: Taniguchi Hisashi , hereinafter "ZMP") exhibited its product Logistics support robot,CarriRo and Delivery robot CarriRo delivery at "Logis-Tech Tokyo 2018" held at Tokyo Big Sight · East 1-6 · 8 Hall from September 11th (Tuesday) to 14th (Friday) and "20th Automatic Recognition Comprehensive Exhibition" held at Tokyo Big Sight West Hall from September 12th (Wednesday) to 14th (Friday). In addition to booths, exhibited collaborative solutions utilizing related companies and CarriRo. Particularly at the International Logistics Comprehensive Exhibition, the total number of visitors for the four days was 74,520 (from the International Comprehensive Logistics exhibition homepage "Bulletin Board"), and there were many visitors at our booth and negotiations advanced.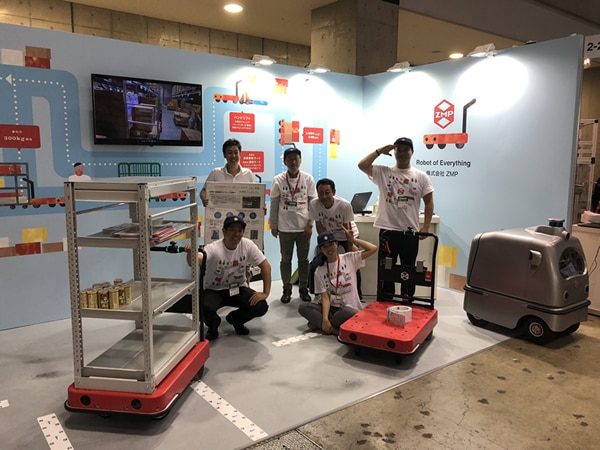 ZMP booth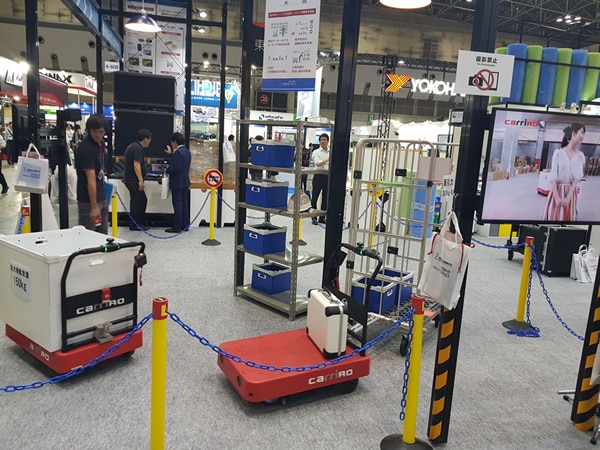 Kawakami Sangyo Co., Ltd. Part of the booth

【ZMP: Exhibition of CarriRo with autonomous movement model and shelf option, Delivery robot CarriRo Delivery】
In the ZMP booth, we exhibited CarriRo with shelves jointly developed with Nippon Filing and CarriRo equipped with towing option (autonomous movement model of CarriRo: ZMP booth). We have started receiving orders prior to product shipment in November this year.

【Kawakami Sangyo Co., Ltd.: towing and follow-up (karugamo) CarriRo】
At the booth of Kawakami Sangyo Co., Ltd. of Puti Puti ®, assuming an application scene in factories and logistics warehouses, CarriRo, which was the leader of the trolley, exhibited how it travels following the worker (Karugamo mode) .We gathered visitors and negotiations progressed (photo: part of Kawakami Sangyo Co., Ltd. booth).

【Prologis: CarriRo operation plan at large logistics warehouse】
In order to consider further efficiency improvement of logistics,in the hall in Prologis' large-scale logistics facility, we showed the autonomously mobile CarriRo demonstration running automatically as instructed while reading the seal attached to the floor, which was a short time but we were able to explain about CarriRo operating method to many visitors.

[Toppan Printing Co., Ltd. (Automatic recognition comprehensive exhibition): CarriRo✖ RFID]
At the booth of Toppan Printing Co., Ltd., the (autonomous)unattended inventory solution-CarriRo, which realized complete autonomous traveling, carries RFID kits carrying RFID readers that irradiate radio waves outward, so CarriRo reads RFIDs while driving unattended and were "during the day we can utilize it as an autonomous truck and make it available for inventory work hours".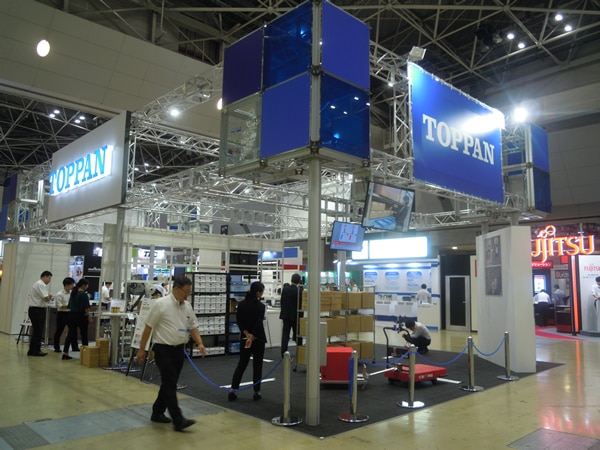 Toppan Printing Co., Ltd. Booth


【Distribution Support Robot CarriRo】 CarriRo is a bogie type logistic support robot with a drive mode that allows operation with a joystick and a karugamo mode that automatically tracks a beacon (transmitter), and is a product that began selling in August 2016. In addition, this year, autonomous movement mode which recognizes the landmark with the installed camera and runs automatically is added, without human maneuvering.

[Product Web URL]​ ​ https://www.zmp.co.jp/carriro/
【Video】https://youtu.be/aBSwF8SvfcU
【Price】CarriRo 2018 model (following mode) 5 years lease 28,000 yen per month(excluding tax) / 1 unit
​ ​​ ​​ ​CarriRo Autonomous movement model:52,000 yen per month (excluding tax) / unit with 5 years lease​ ​