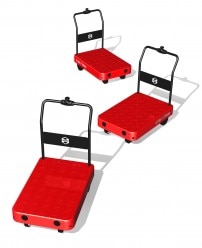 ZMP launched shipment of logistic support robot " CarriRo "
Began shipping the logistics support robot " CarriRo "
ZMP Inc. (Bunkyo-ku, Tokyo, CEO: Taniguchi Hisashi , hereinafter referred to as ZMP) will ship the logistic support robot " CarriRo " that realizes simultaneous reduction of workload and improvement of work efficiency at logistics and manufacturing sites Started on August 31st.
CarriRo has the following two features.
(1) Drive mode
When you operate the joystick on the handle, CarriRo runs back and forth and right and left, and you can carry your luggage with little power.
(2) Kalarmo mode
CarriRo can respond to the attached beacon and follow up to CarriRo which will be the operator or parent machine. This allows you to carry baggage up to 3 times at once without the burden of workers.
CarriRo is a bogie type robot that can raise the productivity of transportation up to 3 times by utilizing the following function. It is also possible to substitute a belt conveyor or AGV (automatic guided vehicle) by improving the efficiency of picking operations in warehouses and logistics centers, or by using them for inter-process conveyance in factories. Moreover, since work load is greatly reduced, it becomes possible for women and elderly people to carry out the transportation work which was considered to be hard work so far, so it can be used for expanding workers and promoting employment.
The price is 3 years lease and will be 35,000 yen per month (excluding tax, main unit price). Many orders and inquiries have been received since the start of sales acceptance, and we plan to proceed shipping sequentially as soon as it is produced.
For CarriRo we demonstrate the demo of the product version at "ZMP Forum 2016" to be held at Bersart Roppongi from Wednesday, August 31 to Friday September 2, We are planning to give lectures by Bussan Logistics Solutions Co., Ltd., the shipping destination of the initial lot.
【Exhibition Exhibit Information】
ZMP FORUM 2016
http://www.zmp.co.jp/products/8th_forum
Dates: Wednesday, August 31, 2016 - Friday September 2 (Fri) 10: 00-17: 00 (The first day is a social gathering (scheduled for 18: 00-20: 00)
Venue: Bersart Roppongi