Reinforce sensing on the front and rear of the vehicle RoboCar® 1/10 Started selling remote control package
Strengthen sensing on the front and rear of the vehicle
RoboCar® 1/10 Started selling remote control package
- The camera and the laser sensor are mounted on the front and back. Experiment of remote control by driving controller -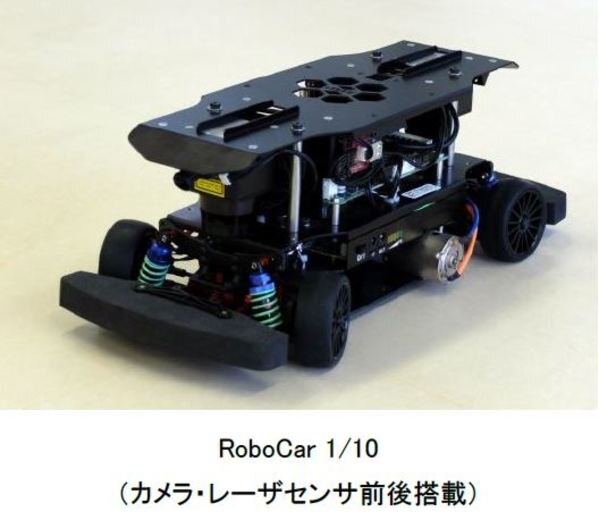 ZMP Inc. (Bunkyo-ku, Tokyo, CEO: Taniguchi Hisashi , following ZMP) is, today, of the actual vehicle 1/10 scale Autonomous Driving of the camera and laser range sensor to the forward and backward technology development platform RoboCar® 1/10 We will launch "RoboCar 1/10 Remote Operation Package" which can be remote-controlled wirelessly by the driving controller.
In order to realize a completely unmanned automatic driving service in the future, monitoring of the state and operation status of the automatic driving vehicle from a remote place, remote control in emergency etc are considered.
RoboCar 1/10 is equipped with a monocular camera, an infrared sensor, a laser range sensor as an external sensor on a 1/10 scale car of an automobile, and it is possible to grasp the behavior and mileage of a vehicle by acceleration / gyro sensor and encoder. In addition, libraries such as acquisition of various sensor information, speed / steering angle control, communication, etc. are prepared. It is possible for customers to freely develop applications using these.
The remote operation package is based on RoboCar 1/10, with a dedicated PC, a Wi-Fi router, a driving controller set, and checking the situation around the vehicle by installing a camera and a laser range sensor in the front and rear of the main body It is a possible product.
This product can be used for research and development of remote operation assisted driving support system assuming unmanned operation, remote operation system considering communication delay, remote control of robot etc.
RoboCar 1/10 remote control package will be available for sale from today for a general-purpose price of 1.38 million yen (tax excluded) and academic price of 1,260,000 yen (excluding tax).
* The content of display depends on application contents, resolution of acquired image, sampling rate, communication environment.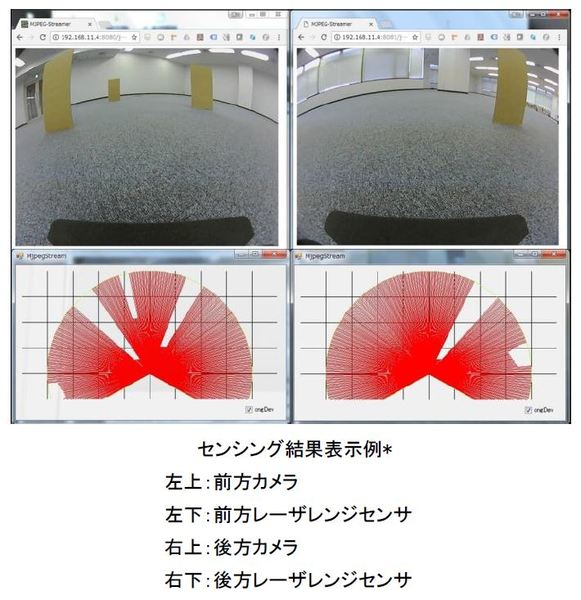 Product homepage RoboCar 1/10
http://www.zmp.co.jp/products/robocar-110
【Main application】
· Research and development of remote control operation support system
· Research and development of remote operation system considering communication delay
· Research and development of a mechanism to notify information on the infrastructure side to the remote operation system
【Option】
· Battery set (information system): 1.98 million yen (excluding tax)
· Large capacity battery set (drive system): 2.42 million yen (excluding tax)
· Annual maintenance: 8.58 million yen (excluding tax)
· QA support: general 42,000 yen (excluding tax) / academic 34,000 yen (excluding tax)
· Course at delivery: 144,000 yen
【Price (tax excluded)】
RoboCar 1/10 Remote operation package (2 camera type) General: 1.38 million yen / Academic :1,260,000 yen
RoboCar 1/10 Remote operation package (1 camera type) General 1.330 million yen / academic 121 million yen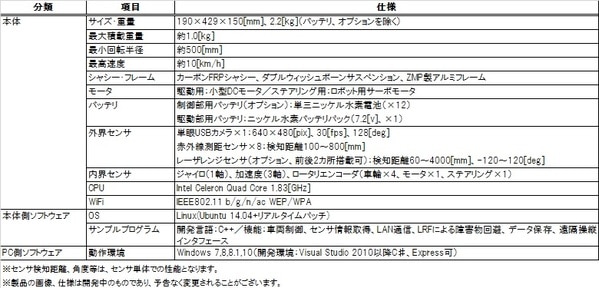 Press Release Articles
​
For inquiries
Contact