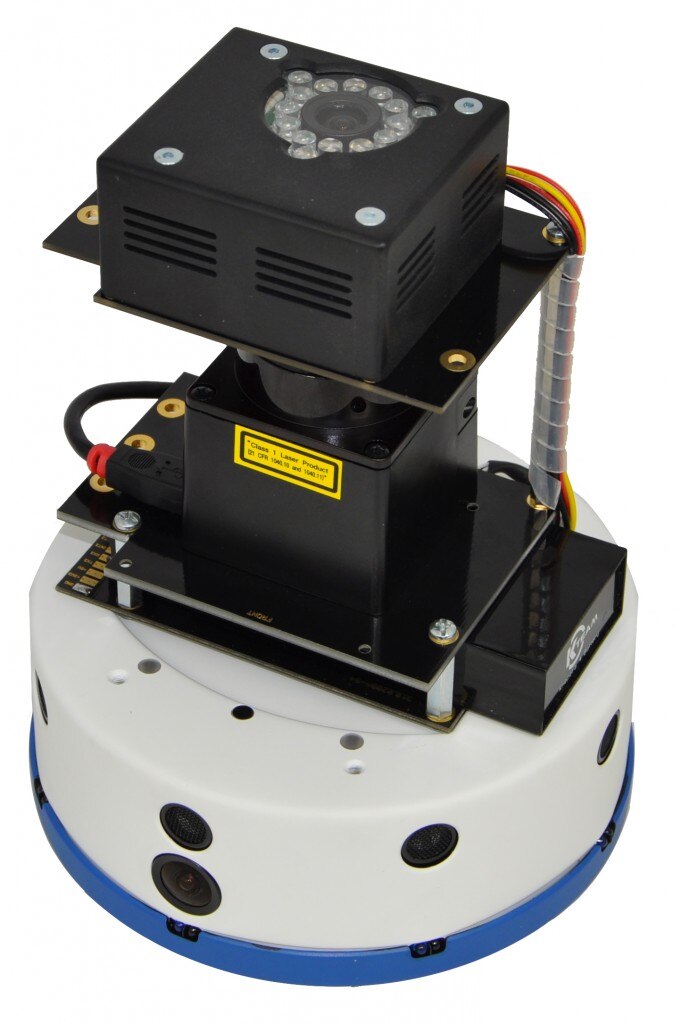 Started selling compact autonomous mobile robot equipped with indoor position detection system and laser range finder
Equipped with indoor position detection system and laser range finder
Start selling compact autonomous mobile robot
- An environmental recognition sensor is installed in a compact autonomous mobile robot "Khepera (Kepera) IV" with a diameter of 14 cm. Indoor experiments in R & D such as autonomous running, traffic simulation, artificial intelligence -
Today ZMP Co., Ltd. (Bunkyo-ku, Tokyo; CEO: Taniguchi Hisashi , hereinafter ZMP) today announced the "We will start selling Khepera IV Environmental Recognition Package" equipped with an indoor position detection system and a laser range finder for the multi- sensing autonomous mobile robot Khepera IV .
This product is the package for research and development of the latest mini mobile body of Swiss robot venture K - Team. Khepera IV is equipped with a camera, 12 infrared sensors and 5 ultrasonic sensors on a compact body with a diameter of 140 mm and provides an environment in which a control program in a general C language can be developed. The moving mechanism adopts independent two-wheel drive system and is an autonomous mobile robot for R & D that can be experimented for 4 to 7 hours for a long time.
By integrating the detection result of the marker affixed to the ceiling with the indoor position detection system (StarGazer) installed in Khepera IV and the detection result of the surrounding shape of the laser range finder, more accurate self position estimation is possible. Moreover, it can carry out development without loading batteries by installing a battery kit that can replace batteries from the outside. Using these highly accurate surrounding environment recognition results, it can be used for the development of robot control / autonomous movement in indoor experimental environment, simulation by group control and cooperative control algorithm etc.
Through the sale of the Autonomous Driving vehicle development platform vehicle RoboCar series and K - Team 's small autonomous mobile robot including Khepera, these are safe and easy to use, We will support through Advanced Driving Assistance System (ADAS) and sales platform for research and development in Autonomous Driving technology.
Khepera IV surrounding environment recognition package is 994,000 yen (excluding tax) and will be on sale from today.
【CarriRo® Homepage】
http://www.zmp.co.jp/products/kheperaiv
【Price】
Khepera IV environment recognition package 994,000 yen (excluding tax)
(Including Khepera IV main unit, indoor position detection system, laser range finder, extended battery kit) * Prices may vary due to currency exchange rate. The above is the price as of February 2017.
[Press Release Article]