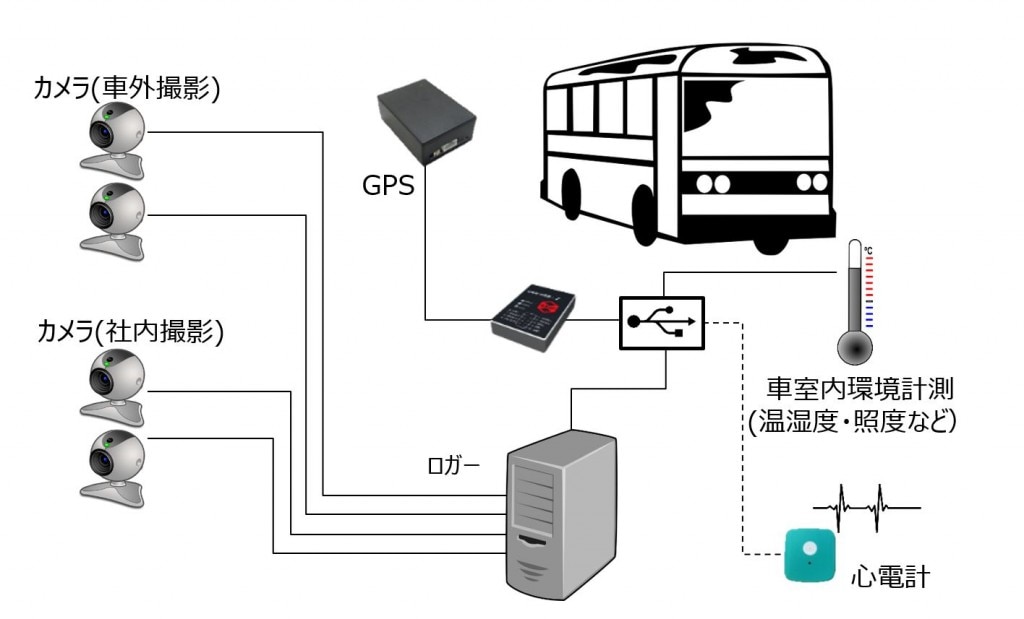 RoboTest, public road data acquisition support service, started public road data acquisition support service for buses
Started public bus service data acquisition support service of bus
- In addition to conventional passenger car data measurement system construction and acquisition of running data
Expansion of data acquisition menu on various buses -
ZMP Inc. (Bunkyo-ku, Tokyo; CEO: Taniguchi Hisashi , hereinafter ZMP) will start receiving orders for RoboTest service for public road data acquisition support service by large bus.
Nowadays, as the revitalization of the ADAS market and the development of Autonomous Driving technology are progressing, traveling evaluation on public roads in those developments is becoming very important. However, as the technology becomes complicated, technical man-hours such as system construction for evaluation and processing of collected data tend to increase. Meanwhile, it is difficult for customers to carry out their own driving tests because they tend to be restricted by internal regulations. Therefore, outsourcing of complicated tasks such as gathering subjects (drivers and passengers) from the general public and operation management of the subjects are indispensable, which is a very important issue for development companies. Furthermore, in recent years, not only data collection in passenger cars but also large-scale bus accidents in recent years have become a social problem, the need for measurement of bus operation data and collection of driver data has been increasing.
ZMP has been providing data acquisition support services for drivers on public roads since 2012, making use of their experience in autonomous driving technology development and testing. Upstream processes such as designing and constructing systems (loggers) necessary for acquiring driving data, arranging vehicles and necessary installation / modification, and data processing after acquisition is also done. It is a service that can greatly reduce the time and effort of the customer by implementing it all at once.
In addition to the contents of the travel data acquisition service so far, ZMP collects data and evaluates data on buses and bus drivers that are difficult to arrange, based on the actual results collected by the bus and knowledge gained through acquisition of passenger car travel data We will start accepting orders as a new service menu.
As a new service, we will arrange for bus vehicles and drivers, which are usually difficult to rent, and arrange for public roads and test courses to conduct driving evaluations.
【Bus running data acquisition service menu】
Arranging bus (Small, Medium, Large)
Arranging a bus driver
Design and arrange data acquisition course (public road, test course reservation etc.)
Acquire biological data of driver (electrocardiogram measurement, electroencephalogram measurement, gaze measurement, fatigue measurement, etc.)
Vehicle information on bus (Investigation is required by bus)
Logger design and implementation for various data acquisition
Test operation management
Post processing of acquired data
Reporting of acquisition results
【Example of price】
Estimate for Data acquisition using bus
Bus x 1, Bus driver x 4, Test Course for 2 day is over 6 million JPY (excluding tax)
【Product introduction HP】 Experiment run service RoboTest (Robotest)http://www.zmp.co.jp/products/robotest
[Press Release Article]