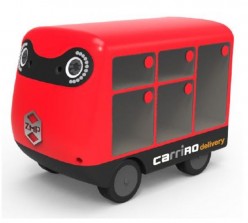 Started recruitment of a trial partner for CarriRo Express, a delivery-oriented robot for condominiums
CarriRo Express Delivery Robot for Condominium
Started recruitment of demonstration experiment partner
- Demonstration experiment started to solve problems of manpower shortage of delivery personnel -
​
ZMP Inc. (Bunkyo-ku, Tokyo, CEO: Taniguchi Hisashi , hereinafter referred to as ZMP) is now calling for a demonstration experiment partner of the automated driving delivery robot "CarriRo Express (Caliro Express)" inside the condominium.
In 2014, we began developing the logistic support robot " CarriRo ", which we began shipping last year. CarriRo Express used in this demonstration experiment is a home delivery robot that carries a home delivery box on the loading platform, making it possible to run automatically. While aware of the surrounding environment, we aim to travel inside the apartment and other facilities and deliver the baggage to each door, and we are currently conducting function verification etc. by robots for demonstration experiments.
We are looking for partners to carry out demonstration experiments toward commercialization and service start of this robot. Aiming at loading multiple robots into a truck and transporting it to the entrance of the apartment, automatic delivery from the entrance of the apartment to each door, business owners with tasks due to lack of manpower of delivery personnel, such as a courier company, a transport company, a logistics company , Condominium developers and real estate companies, we will conduct a demonstration experiment and examine the problem extraction and validation about the start of service. Due to the number of robots for demonstration experiments, we are assuming a demonstration experiment with one company per industry.
In addition, this robot is planning to make a press announcement at the 9th ZMP Forum to be held from 11th to 13th July.
【Image of using delivery service robot CarriRo Express】
Web site (with video) URL:http://www.zmp.co.jp/products/carriro-express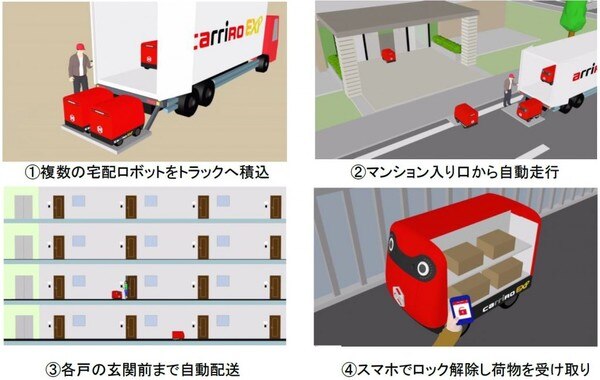 Information on ZMP FORUM is here:http://www.zmp.co.jp/products/9th_forum
[Press Release Article]