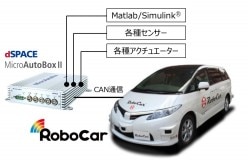 Started offering cooperation option between RoboCar® MiniVan and dSPACE MicroAutoBox® II for minivan type autonomous driving technology development vehicle
Minivan type Autonomous Driving technology development vehicle RoboCar MiniVan and
Began offering cooperation option with dSPACE MicroAutoBox II
-DSPACE control development tool MicroAutoBox II development and simulation
Allowing actual vehicle verification using ZMP minivan type Autonomous Driving development platform -
​
ZMP Inc. (Bunkyo Ward, Tokyo, CEO: Taniguchi Hisashi ) announced today that RoboCar MiniVan, an Autonomous Driving technology development vehicle that has been on sale since 2015, can be controlled from MicroAutoBoxII manufactured by dSPACE Inc. RoboCar MiniVan MicroAutoBoxII cooperation option will be available.
RoboCar MiniVan platform for Autonomous Driving technology development is based on the Toyota Estima Hybrid as a base vehicle and can acquire the sensor information installed in the base vehicle via the in-vehicle network CAN (Control Area Network) It is an experiment platform vehicle for R & D that can control drive and steering by controller.
Connected to RoboCar MiniVan this time dSPACE's MicroAutoBox II is equipped with a high performance rich automotive input / output interface and a compact and rugged enclosure, and it is installed in the vehicle to be tested to develop control logic and trust. It is a tool for control development that can verify characteristics. The interface corresponds to the interface for major automobile bus system (* 1), and it is used widely, including automobile development companies.
* 1) CAN (Control Area Network), CAN FD (CAN with Flexible Data Rate), LIN (Local Interconnect Network), K-Line / L-Line, FlexRay, Ethernet etc.
Based on cooperation options of RoboCar MiniVan and MicroAutoBoxII which will be offered this time, for example, as a means of checking control logic and driving model simulation on MicroAutoBoxII using Matlab, Simulink, etc. of MathWorks Inc., using real cars, RoboCar you will be able to use MiniVan. In addition, utilizing various interfaces of MicroAutoBoxII, we will be able to use it as a confirmation on a real car to the development scene of the control which controls the vehicle and simultaneously operated multiple sensors and actuators at the same time.
RoboCar MiniVan MicroAutoBoxII cooperation option will be provided from the end of June 2017 together with the sample program attached when purchasing RoboCar MiniVan.
In addition, other cooperation with RoboCar actual car series (RoboCar MV 2, RoboCar HV / PHV) will be individualized according to customer's request.
※ RoboCar MiniVan MicroAutoBoxII linkage option MicroAutoBoxII body and software are not included. Please contact us for introduction.
dSPACE company HP: https: //www.dspace.com/en/jpn/home.cfm
【Related product information】
RoboCar MiniVan 18 million yen ~
A vehicle system for autonomous driving and ADAS development, a platform capable of vehicle control by program
http://www.zmp.co.jp/products/robocar-minivan
【Exhibition Information】
Automotive Technology Exhibition Engine and Technology Exhibition for People and the Car 2017 Yokohama
Period: Wednesday, May 24 - Friday, June 26, 2017 Venue: Pacifico Yokohama - Exhibition Hall
Booth number: 102
Press correspondence: Wednesday, May 24 (Wednesday) 9:30 to 9:50 at the ZMP booth
Exhibition homepage:http://www.zmp.co.jp/products/2017hitokuru
[Press Release Article]