The 9th ZMP Forum 2017 (free to participate) was held
The 9th ZMP Forum 2017 (free to participate) was held
- ADAS - Announcing new products and new services to accelerate development of Autonomous Driving technology -
- Lectures by leading experts in artificial intelligence and Autonomous Driving field - Case introduction by companies / researchers -
- Autonomous Driving Experimental vehicles, logistics support robots etc. always exhibited -
ZMP Inc. (Bunkyo-ku, Tokyo, CEO: Taniguchi Hisashi, ZMP below) is from Tuesday, July 11th to Thursday, Thursday 2017 ZMP Forum 2017 will be held at Bellesalle Iidabashi.
ADAS · We will announce various new products and new services of ZMP to accelerate development of Autonomous Driving technology. Also, lecture will be given by lecturers of artificial intelligence and Autonomous Driving field, examples of utilization by companies and researchers using our products. Registration fee is free with pre-registration system.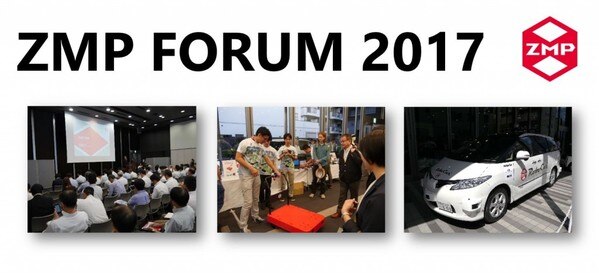 Lecture
​
National Institute of Advanced Industrial Science and Technology
Junichi Tsujii, Research Center Director, AIST Fellow / Artificial Intelligence Research Center
"Fully Autonomous Driving and embedded system"
Associate Professor, Graduate School of Information Science and Technology, the University of Tokyo Shinpei Kato
"Design of Autonomous Driving system to learn from experienced drivers"
Tokyo University of Agriculture and Technology Graduate School of Engineering Department of Mechanical Systems Engineering Associate Professor Ponthaathon · Raxincharannsak


Company case introduction and corporate lecture
- Continental Automotive Co., Ltd.
"Education of engineers using RoboCar"
- Furukawa Electric Industry Co., Ltd.
"Furukawa Electric Group OneF Car Concept"
- Embassy of Zambia in Japan *
"Utilization of Aero Sense Drones in Zambia"
- ANA Holdings, Inc. *
"ANA's DNA Challenge - Future Airline Drawn by Digital Design Lab -"
- East Japan Railway Company
"Realization of" Mobility Revolution "by IoT, Big Data, AI"
- Toyotsu Logistics Co., Ltd.
"Improving Logistics Productivity and Possibilities of CarriRo"
- Toppan Printing Co., Ltd.
"About CarriRo × RFID"
-SAP Japan Co., Ltd.
"CarriRo × SAP Vehicle Insights"
Introduction of cloud platform connecting CarriRo and warehouse
- Mitsui Chemicals, Inc.
"Towards the creation of new value - Introduction of new products and new technologies"
- Ubicom Holdings Inc.
"Introduction of Development Base of Audio AI Assistant for Automotive Equipment"
- Toyota Tsusho Corporation / Smart Com Laboratories, Inc.
"Town development in the ICT era and the value of Autonomous Driving "
* This is a lecture related to our affiliated company Aerosense.


New product / new service lecture of ZMP
"Technology development in ZMP"
"Introduction of Autonomous Driving development platform of ZMP"
"Public road travel data acquisition service RoboTest ( Autonomous Driving ADAS development support)"
" Autonomous Driving ADAS development support sensor introduction"
"Introduction of CarriRo business of logistics support robot"
~ Warehouse · Fun, comfortable and efficient transportation work inside the factory ~
"About the new functions of the stereo camera system"
"Introduction of" Wheeled Robot Research and Development Platform Power Wheel Ⅱ "


Detailed lecture schedule / sponsors are here
http://www.zmp.co.jp/products/9th_forum


【Exhibition Information】
ZMP Forum 2017
Dates: Tuesday, July 11 - Thursday, January 13, 2017 Venue: Bellesalle Iidabashi
Address: Address: 3-8-5 Iidabashi, Chiyoda-ku, Tokyo Sumitomo Real Estate Iidabashi Ekimae Building)

※ The ZMP Forum is mainly targeting people from the technical research field.
(Participation by media users is possible)
Please understand beforehand that we may refuse participation of other companies in the same industry and individuals.
[Press Release Article]
​