Started traveling data collection service on highway for ADAS development
Started traveling data collection service on highway for ADAS development
- One-stop support from experiment planning to driving and data processing. Introduced by the first Autonomous Driving EXPO -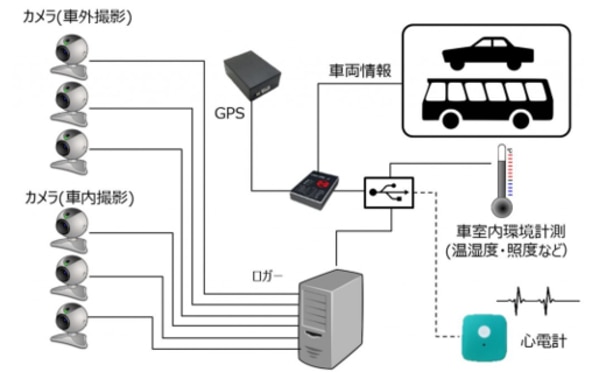 Example of running data collection system
 
This time, ZMP Inc. (Bunkyo-ku, Tokyo: CEO: Taniguchi Hisashi, ZMP below) has started running data collection service on expressway.
Nowadays, with the introduction of ADAS / Autonomous Driving function and advanced functions in commercial vehicles, driving evaluation on public roads is important. Accordingly, since the technology is complicated, man-hours such as evaluation system construction and collected data processing tend to increase, securing running test personnel is also an issue.
ZMP started the RoboTest (Robotest) traveling data collection service on public road by the driver, and supports traveling business such as automobile manufacturer / parts maker etc., 2012. ZMP is now offering travel data collection service for expressway. This service specializes in collecting traveling data on expressway, we will implement experiment planning, system development, vehicle / driver arrangement, data gathering running, processing / analysis, reporting, casual visit. We have developed detailed databases such as lanes of highways and toll roads, merging / branching, entrances and exits, and it is possible to measure them in detail scenes. Based on this database and the knowledge of data collection so far, it is possible to deal with everything from designing and implementing a detailed driving plan for large-scale running data collection. ZMP is pursuing a public road Autonomous Driving demonstration experiment and has knowledge of building a measurement system that combines sensors such as cameras and LIDAR, etc. When collecting travel data, reference data by sensors different from the customer's sensor system Acquisition, annotation after data acquisition, segmentation, analysis is also available.
It is possible to drastically reduce customer's labor because it carries out planning from planning to running and data processing all at once. The measurement system uses our standard system as part of the service, purchase of equipment at customers, capitalization is unnecessary. In addition, through cooperation with affiliated company ZEG, we can expect to increase total traveling volume, shorten the period, reduce the burden of process management, etc. by collecting large-scale data and running parallel multiple teams.
The price for 1 vehicle, 10 drivers, 2 weeks of driving time is 6 million yen (excluding tax) ~,
We will start accepting orders from today.
In addition, we will introduce this service in the 1st Autonomous Driving EXPO to be held at Tokyo Big Sight from 17th January.
Travel data collection service RoboTest
http://www.zmp.co.jp/products/robotest
【Exhibition Exhibit Information】
1st Autonomous Driving EXPO
Period: Wednesday, January 17, 2018 to Friday the 19th (Friday)
Venue: Tokyo Big Sight (Booth No. E 55 - 20)
Outline of the exhibition:http://go.zmp.co.jp/automotiveworld2018
【Price】
(Reference example) Acquisition of running data on RoboTest expressway
1 car, 10 drivers, 2 weeks running period is Over 6 million JPY (excluding tax)
※ Prices will be estimated after confirming the requirements.
About RoboTest
"RoboTest®" service provided by ZMP provided by the driver for public road data acquisition support is a service that provides support from the planning stage of data acquisition to data analysis, which is important for customers' public road driving.
It is a service that can be implemented quickly from small numbers to large-scale running.


Process of public road data acquisition support service


[Contact details for inquiries]
ZMP Inc. Platform Division
TEL: 03-5802-6901 / FAX: 03-5802-6908 Mail:info@zmp.co.jp
Press Release Articles
​