Distribution support robot CarriRo®2018 year model opening aid
Distribution support robot CarriRo ® 2018 model orders started
- Support for smaller places due to significant improvement in response performance, etc. by 1.5 times the payload weight -
- Presentation introduction introduction at ZMP office from today -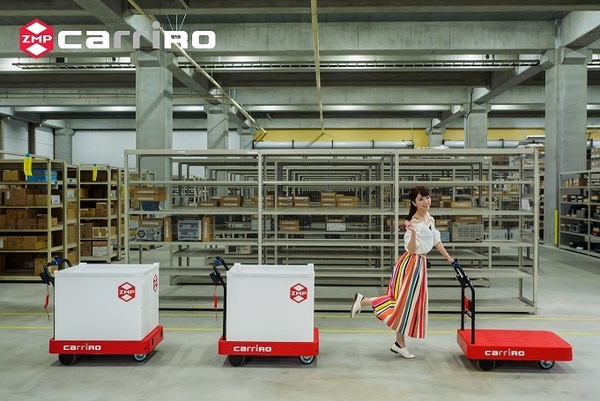 ZMP Corporation (Bunkyo-ku, Tokyo, CEO: Taniguchi Hisashi, hereafter "ZMP") will start shipping orders for the 2018 model of the logistics support robot CarriRo and will begin shipping in March.
The logistic support robot "CarriRo®" is a product developed by applying ZMP's automatic driving technology to a bogie, with the objective of reducing the load of carrying work, saving people and improving efficiency, the picking operation of the physical distribution warehouse , Inter-process conveyance in the factory, logistics in the stations, airports, commercial facilities and so on.
CarriRo has improved the driving system and improved the payload and further driving stability. Along with this improvement, we can add shock mitigation function to loads and U turn function with narrow aisle width when following, which makes it possible for customers to handle a wide range of transportation work. In addition, by installing the software update function in CarriRo Pippi which is a self-maintenance tool by tablet, customers will be able to perform performance improvement and quality enhancement by future software updates at any time by customers themselves. As a result, CarriRo can always operate in the latest state.
In addition to this release, we will hold a briefing session introducing introduction at ZMP office in Koishikawa Bunkyo ku Tokyo from today.
 
Characteristics of CarriRo 2018 model
① Capable of loading by 1.5 times
With 8 hours continuous operation time intact, payload has improved from 100 kg to 150 kg.
You can use it in a wider transportation business.
② Equipped with soft start / stop function
It is possible to mitigate shocks to loads and operate according to the intuition of the operator at the start / stop,
Operation is possible from that day on which it was introduced.
(3) Improved turning performance + U turn function to support operation in a narrow place
Improved joystick responsiveness and beacon followability. In addition, in Karmarmo mode
By installing the U-turn function, it is possible to make a U-turn in a passage of about 1.5 meters,
It can support operation in a place narrower than before.
④ Update to the latest software on the tablet
By yourself on the tablet self-maintenance tool "CarriRo Pippi"
Software update is possible, you can always keep the aircraft up to date.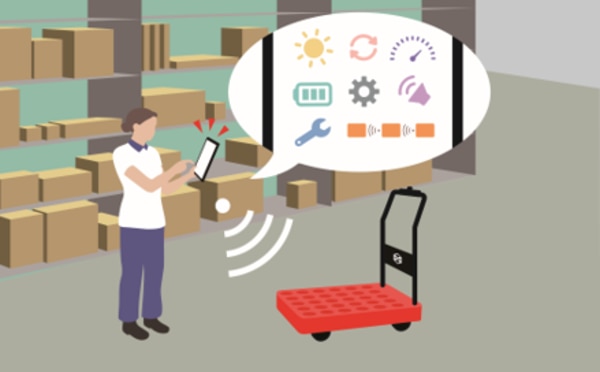 Software update by CarriRo Pippi
Logistic support robot CarriRo
CarriRo is a trolley type logistic support robot with a drive mode that allows operation with a joystick and a kalargo mode that automatically tracks a beacon (transmitter), and is a product that began selling in August 2016. By utilizing CarriRo's function, we aim to raise the productivity of transportation up to about 3 times. The rechargeable maximum of 150 kg baggage can be transported for 8 hours continuously, and efficiency in picking operations in warehouses and logistics centers can be improved, and when used for conveyance between steps in the factory, belt conveyors and AGVs (automatic guided vehicles) It is also possible to substitute. Also, since the work load is greatly reduced, it becomes possible for women and elderly people to carry out the transportation work which was regarded as hard labor so far,
It is a product that you can use for expanding workers and promoting employment.
https://www.zmp.co.jp/carriro/
<Movie>
https://youtu.be/a1Tw9W7IDYE
【Price】
5 year lease monthly charge 28,000 yen (excluding tax) / 1 unit
【Main Specifications】
・   本体重量:55kg 
Size: width 600 mm, depth 900 mm, height 200 mm (handle portion 900 mm)
· Maximum loading load: 150 kg
· Maximum speed: 6 km / hour
Charging time: 2.5 hours
· Working time: 8 hours
(It may differ depending on the operating situation)
Press Release Articles
You can check press release PDF here.