Accurate location measurement solution RTK Position-Z launched
- High precision measurement of centi order in a maximum 5 km area.
Vehicle · Construction machine · Agricultural machine For position measurement of autonomous mobile robot etc -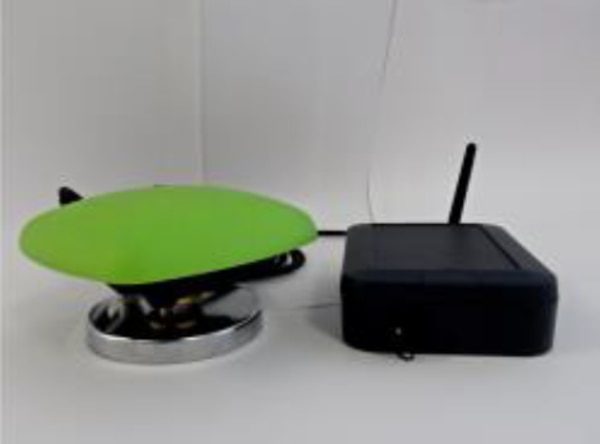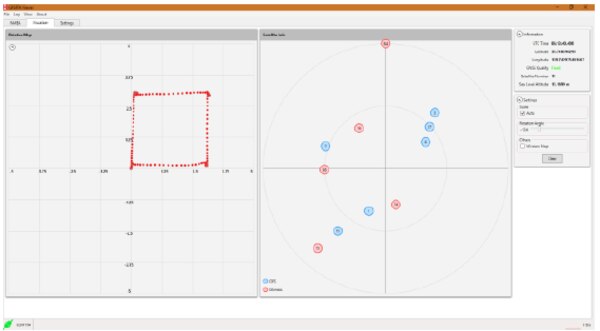 GPS antenna (left) / correction signal transmitter / receiver (right) viewer screen
(Left: relative position / right: satellite capture information)
ZMP Inc. (Bunkyo Ward, Tokyo, Representative Director: Hisashi Taniguchi) today launched sales of "ZMP RTK Position-Z" a highly accurate position measurement solution capable of measuring centimeters in a measuring area of ​​up to 5 km I did it.
This product corresponds to GPS and GLONASS and it is a system which can measure the position of centimeter by RTK (real time kinematic). It includes software such as base stations fixed in the field, mobile stations installed in vehicles, antennas and correction signal transceivers, and viewer applications. Correction data for RTK is delivered by radio (Zigbee), which was the measurement range of 30 m long, but it corresponds to the measurement area up to 100 m by using repeater (option). Furthermore, by using correction data via the Internet using the Android terminal (a separate server construction is required), it is possible to measure in an area of ​​up to 5 km, and a flexible system can be constructed according to the experimental environment.
In addition to the capture status of the satellite, the attached software can display the acquisition status of RTK correction data by radio (Zigbee) in real time, and the survey and construction of measurement environment can be smoothly advanced. It also comes with a viewer that displays measurement data on a map (open street map) and displays it three-dimensionally.
You can use it in the test run, work field, in-campus vehicle running experiments, construction machines / agricultural machines, autonomous mobile robots, position measurement system when the moving body is running automatically, reference system and so on.
The price is 2.1 million yen (tax not included) ~, and we will start accepting orders from today.
High Precision GPS / GNSS RTK Solution RTK Position-Z
http://www.zmp.co.jp/products/gnssrtk


Product composition and price
RTK Position-Z base station/mobile station set: 2.10 million yen (excluding tax)
RTK reference station, RTK mobile station, reference station antenna, mobile station antenna, USB cable,
Software (viewer), Android application, server application (sample), etc.
RTK Position-Z Additional mobile station set: 1.1 million yen (excluding tax)
· RTK mobile station, mobile station antenna etc.
RTK Position-Z repeater option 15,000 yen (excluding tax)
· Repeater (USB stick type.
Separately, a power supply device such as a mobile battery is required. )
RTK Position-Z correction data Internet distribution system construction
We will propose according to your request / purpose. For details, please contact
Main Specifications
Item
Specifications
Receiving satellite
GPS L1, GLONASS L1
data format
NMEA0183
Maximum output rate
10 Hz
Number of channels
16ch
Positioning accuracy
Independent positioning: 3 m
動的RTK:10cm + 1ppm x 基線長 (< 5Km)
静的RTK:1cm + 1ppm x 基線長 (< 5Km)
Speed ​​accuracy
5 cm/s
Time precision
20 ns
External interface
USB, Bluetooth
Power supply
Battery (3000 mAh, about 10 hours)
Size
150 x 110 x 40 mm
Ambient temperature
-20~60℃


Press Release Articles
​