[Introductory case introduction] Logistics support robot CarriRo® Maeda Construction Industry, Introduction aimed at mining the material transportation at the construction site
【Introductory case introduction】 Logistics support robot CarriRo®
Maeda Construction Industry, Introduction aimed to reduce the number of materials transportation at construction sites
- "No preliminary setting on site" "Selectable for various construction workers" selection point -
CarriRo ), a logistics support robot sold by ZMP ZMP Inc. (Bunkyo-ku, Tokyo, CEO: Taniguchi Hisashi , hereinafter referred to as ZMP) was introduced to reduce the number of materials transportation at the construction site of Maeda Construction Industry Co. It was. We are pleased to announce the case on our website this time.
[CarriRo introduction case introduction] Maeda Construction Industry Co., Ltd.
https://www.zmp.co.jp/carriro/detail_maeda.html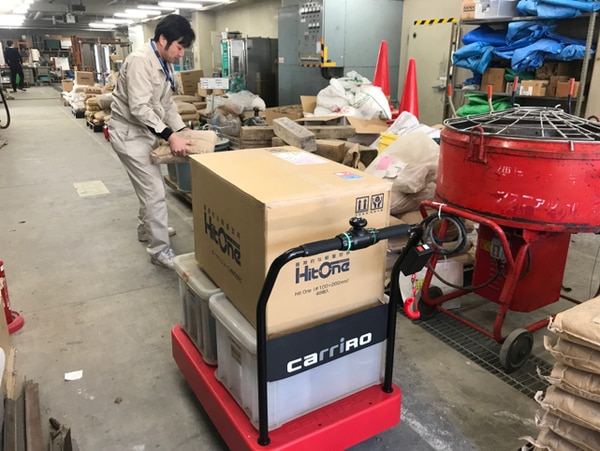 Maeda Corporation completes its 100 years in 2019 and is engaged in contracting, planning, surveying, designing, construction, supervision and consulting of domestic and foreign civil engineering construction and other construction work in general as a major project.
Yoshiaki Yasui, General Manager, Product Research Innovation Laboratory, Technical Research Institute, commented on the issues before CarriRo was introduced as follows. "When the construction work is completed at the work site, we will move on to work at the next work site, but due to this nature that the site is not fixed, it was difficult to introduce stationary equipment, but recently the problem of human resources shortage has also occurred in the construction site, and although labor saving by automated equipment is a top proposition, it is not quite as a device that can be handled even in environments that are not necessarily on a well-maintained road like a construction site was."
As reasons for selecting CarriRo, he says, "In both Following mode and Drive mode it is not necessary to prepare in advance at the work site so that it can be used immediately", "Because the operation method is very simple, it can be used by various construction workers" "It is possible to travel on some level difference, bumpy road, sloping road," and "the cost of introduction can be reduced".
About the effect after introduction, about 1 year has passed since the introduction of CarriRo, we can use it without problems even at the construction site as originally assumed. I am evaluating the fact that no force is required at all compared with the usual hand-operated trolleys that I have used in the past. In addition, I feel that workers at site work well with the robot like CarriRo, so that they can be aware of future automation.
For future developments, we have received requests from customers such as "we would like to carry heavier items" and "correspondence to outdoor driving". Moreover, we are expecting to realize the unmanned operation from the labor saving by autonomous mobile type CarriRo.
About CarriRo
CarriRo is a cart type logistics support robot with a drive mode that allows operation with a joystick and a karugamo mode that automatically tracks a beacon (transmitter). It is capable of carrying rechargeable baggage up to 150 kg for 8 hours continuously, making it efficient for picking operations in warehouses and distribution centers, and for inter-process conveyance in the factory.
[website] https://www.zmp.co.jp/carriro/
[Movie]https://youtu.be/a1Tw9W7IDYE

【Price】
5 year lease monthly charge 28,000 yen (excluding tax) / 1 unit
Press Release Articles
​