Automated driving development platform RoboCar MiniVan and dSPACE MicroAutoBox II conducted Autonomous demonstration test
Automatic operation development platform with RoboCar MiniVan
DSPACE MicroAutoBox II conducted automatic demonstration experiment
- ADAS - Rapid prototyping of automatic driving technology development -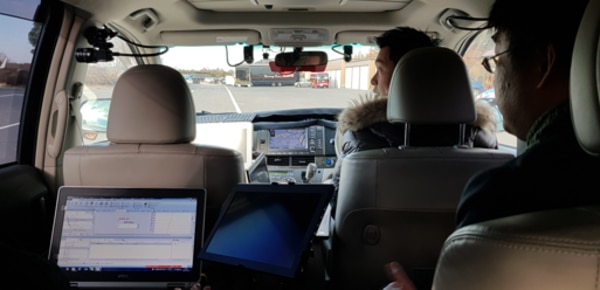 RoboCar MiniVan Running test scenery
Automated driving demonstration experiment by cooperation of RoboCar® MiniVan Autonomous Driving development platform sold by ZMP ZMP Inc. (Bunkyo-ku, Tokyo, CEO: Taniguchi Hisashi , hereinafter ZMP) and MicroAutoBox II of dSPACE Japan Corporation, We confirmed the effectiveness.
RoboCar MiniVan platform for automatic driving technology development is based on the Toyota Estima Hybrid as a base vehicle and can acquire the sensor information installed in the base vehicle via the in-vehicle network CAN (Control Area Network) It is an experiment platform vehicle for R & D that can control drive and steering by controller.
dSPACE's MicroAutoBox II is equipped with high-performance, abundant automotive input / output interfaces and a compact and rugged enclosure that can be mounted on the vehicle under test and verified the development of control logic and reliability It is a tool for control development which can be done. The interface corresponds to the main automobile bus system (* 1) interface, and it is used widely, including automobile development companies.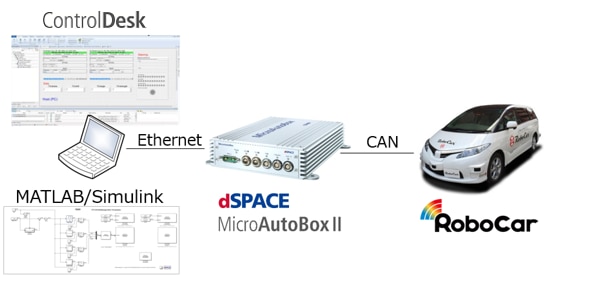 System configuration image
In this demonstration experiment, we changed the accelerator, the steering wheel and the brake, and carried out automatic running such as steady circle turning and slalom on the test course. Use dSPACE integration test software ControlDesk as a test tool, confirm and edit running parameters, it is possible to intuitively operate by using a graphical interface on a notebook PC connected to MicroAutoBox II, so we will carry out test work efficiently It is possible. Through this demonstration experiment, we confirmed that we can proceed smoothly the demonstration experiment of automatic running by combining dSPACE control development tool MicroAutoBox II and RoboCar MiniVan.
By collaborating between RoboCar MiniVan and MicroAutoBox II, for example, RoboCar MiniVan is used as a means of confirming the simulation of control logic and driving model on MicroAutoBox II using MathWorks' Matlab®, Simulink®, You will be able to use it. In addition, by utilizing various interfaces of MicroAutoBox II, we will be able to use it as a confirmation on a real car to the development scene of the control which controls the vehicle and simultaneously operated plural sensors and actuators.
ZMP will continue to support automatic driving technology development through provision of automatic driving development platform and strengthening of cooperative functions.
* 1: CAN (Control Area Network), CAN FD (CAN with Flexible Data Rate), LIN (Local Interconnect Network), K-Line / L-Line, FlexRay, Ethernet etc.
About collaboration between RoboCar MiniVan and dSPACE MicroAutoBox
 http://www.zmp.co.jp/products/microautobox2
About dSPACE MicroAutoBox II
https://www.dspace.com/ja/jpn/home/products/hw/micautob.cfm
About ZMP RoboCar Minivan
http://www.zmp.co.jp/products/robocar-minivan
Features of RoboCar MiniVan
· Can acquire CAN information (speed, steering, accelerator, brake, shift position, etc.)
· Optionally equipped with external sensors such as stereo camera and laser range sensor, large capacity battery system, etc.
· Control of steering, accelerator and brake
· User program can be executed by ZMP proprietary controller
· Switchable between Automatic control mode and Manual mode
【Price】
RoboCar MiniVan 18,00,0000 yen (excluding tax)
※ In this demonstration experiment, we use "MicroAutoBox II linkage option" which cooperates between RoboCar MiniVan and MicroAutoBoxII. Please contact us when introducing "MicroAutoBox II linkage option".
Press Release Articles
​