RoboVision 2s stereo camera for measuring distance between cars begins shipment of CarTrack package
Stereo camera for distance measurement
RoboVision 2s CarTrack package shipping start
- Detect and track vehicles about 70 m ahead! Output vehicle position and relative speed -
 この度、株式会社ZMP(東京都文京区、代表取締役社長:谷口 恒、以下ZMP)は、車間距離計測向けステレオカメラシステム「ZMP RoboVision 2s CarTrackパッケージ」の出荷を開始しました。
  本製品は、ステレオカメラと物体検出ソフトウェアで構成され、前走車を検出し距離を計測するシステムとなっております。路面の傾き変化の影響を受けにくい前走車検出と追跡をする新アルゴリズム(VTS®:Virtual Tilt Stereo)を搭載しております。ADAS・自動運転技術制御におけるカメラを用いた車間距離の計測には前走車の検出と追跡するアルゴリズムの開発が必要ですが、本システムでは両者を兼ね備えたソフトウェアが付属されております。
With this package, detection and tracking of vehicles up to approximately 70 m ahead can be processed with a maximum of 15 FPS, and as a result of detection, the ID number of the object, position / size, relative speed and direction are output. The output is a CAN bus, and by linking with other systems, it can be used for sensing the outside world and controlling the moving body etc.
The software consists of a command line interface (CLI mode) suitable for processing where emphasis is placed on speed and responsiveness, and a graphical user interface (GUI mode) for confirming the operation of the CarTrack package and reproducing processing from the measurement image It has two modes and it can be used properly as needed.
The price of this product will be shipped from today with 1.8 million yen (excluding tax).
Product introduction URL: RoboVision 2s CarTrack package
http://www.zmp.co.jp/products/robovision2-cartrack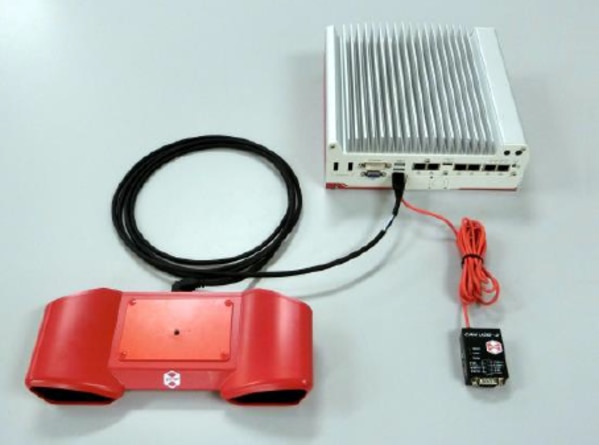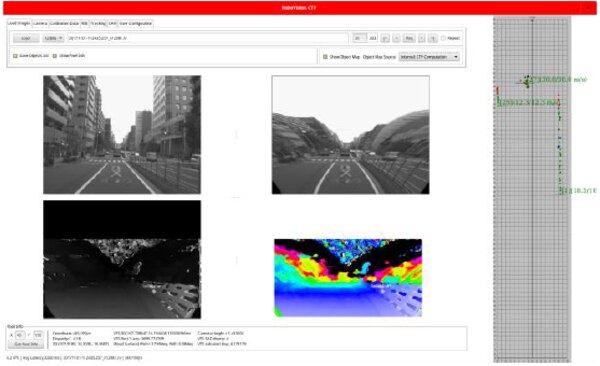 RoboVision 2s Car Track Package application screen example (GUI mode)
【Main function】
■ A new algorithm "VTS® (Virtual Tilt Stereo)" is installed to improve road surface detection accuracy.
■ Accuracy of road surface estimated height is improved by converting acquired image to overhead view image and calculating distance. Improvement of separation performance between road surface and object.
■ Output the object tracking result as CAN data.
■ Compact processing PC included. Available without frequent setup work.
【Product Specification】 RoboVision 2s Spec
The camera module
Image sensor
1/3 type effective for Sony cameras Effective 1,270,000 pixels
CMOS image sensor IMX 224 × 2
Resolution
1280 × 960 pixels (maximum: 30 fps)
640 × 480 pixels (maximum: 120 fps)
Horizontal view angle
45°
Interface
USB 3.0
Baseline length
210 mm
Function
Synchronization, distortion correction, stereo collimation,
Wide dynamic range etc.
Software development environment (SDK)
Library
Camera I / F, parallax image generation


Application
RAW output, strain correction result output, parallax image output,
Object detection function (option)


Operating environment
Windows 7 / Window 8 / Linux
(Object detection function (option) provided in Linux version)
【Price】
■ RoboVision 2s CarTrack package 1.8 million yen (excluding tax)
(RoboVision 2s, CarTrack option, set of processing PC)
RoboVision series lineup
■RoboVision 2s PC set package 1.3 million yen (excluding tax)
(RoboVision 2s, PC set)
* Stereo camera system attached to development environment that can acquire parallax images with multiple algorithms
製品紹介URL: http://www.zmp.co.jp/products/robovision2?lang=jp
■RoboVision 2s Object detection package is 1.8 million yen (excluding tax)
(RoboVision2s, object detection option, set of PC)
※ package includes software that can output the size and position of any object
Product introduction URL: http://www.zmp.co.jp/products/rv2-objectdetection?lang=jp
Press Release Articles
You can check press release PDF here.