【Introductory case introduction】 CarriRo® Distribution Support Robot Reduce workload and improve productivity of Mizuno Sangyo and Logistics Center
- "Response to transportation lines that change each time" "Selection of towing of long carts" selection point -

CarriRo ), a logistics support robot sold by ZMP Corporation (Bunkyo-ku, Tokyo, CEO: Taniguchi Hisashi , hereinafter referred to as ZMP) introduced at Mizuno Sangyo Co., Ltd. to reduce the workload of the distribution center and improve productivity it was done. We are pleased to announce the case on our website this time.
[CarriRo introduction case introduction] Mizuno Sangyo Co., Ltd.
https://www.zmp.co.jp/carriro/detail_mizunosangyo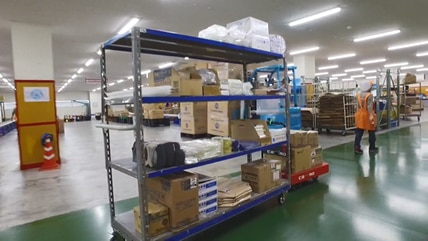 Concatenate CarriRo and long cart and transport it in "Karugamo" mode
Mr. Watanuki, Deputy Director of the Kanto Distribution Center, Mizuno Sangyo Co., Ltd. said, "There are problems of soaring labor costs and talent shortages, how to reduce the burden and improve productivity" is an issue before introducing CarriRo .
As a reason for introducing CarriRo, Mr. Kuro is cited "adapting to changing transportation lines each time" and "linking with existing carts". "Because we move several workplaces with one picking, the flow line to be conveyed changes each time.When transport machines of the type that we place tapes on the floor like AGV, we can cope with such change of the traveling line. Although it is possible for CarriRo to follow people, it was also possible to deal with complicated conveyance lines. "
About half a year has elapsed since introduction, Mr. Kuro has pointed out that as a result of the introduction, load reduction by towing and improvement of safety by ensuring forward visibility by following up. Also, when connecting with a long cart, it is commented that it was possible to carry large carriage at the same time by placing large items not on the long cart but on the CarriRo main body, which helped to improve productivity.
The company is currently limited in using CarriRo in specific areas, but they mentioned that they are planning to expand to other areas in the future. Also, hoping for great expectations for autonomous driving function.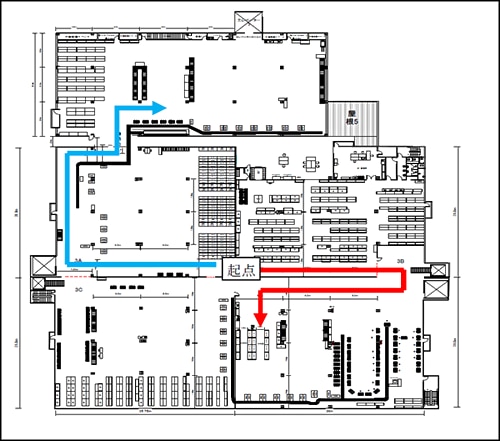 Outline view of the layout of the premises (being used by two flow lines)
【Company introduction】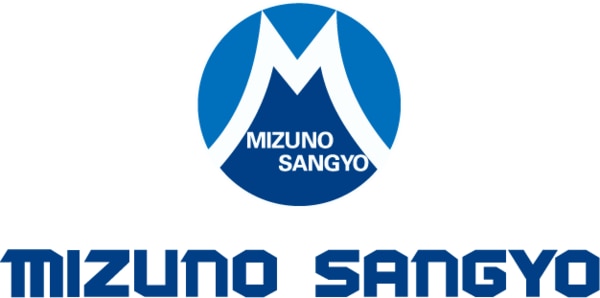 Since its establishment in 1953, Mizuno Sangyo Co., Ltd. has increased its lineup of products to meet the diversifying needs, and has now reached the stage as a trading company. Main business contents are proposal and supply of products that customers demand, mainly containers and packaging materials. By accurately grasping the needs of customers, what we are seeking now, we will help you by creating new products, services and new business models. And while continuing to respond flexibly to the changing times, we are working on solving various problems such as environmental problems and we shall actively propose new products in search of new possibilities.

【About CarriRo】
CarriRo is a cart type logistics support robot with a drive mode that allows operation with a joystick and a karugamo mode that automatically tracks a beacon (transmitter). It is capable of carrying rechargeable baggage up to 150 kg for 8 hours continuously, making it efficient for picking operations in warehouses and distribution centers, and for inter-process conveyance in the factory.
[website] https://www.zmp.co.jp/carriro/
[動画] https://youtu.be/CM1RVIyHuv

【Price】
5 year lease monthly charge 28,000 yen (excluding tax) / 1 unit

【Press Release Articles】
You can check press release PDF here.