物流支援ロボットCarriRo® 6月20日、21日開催 「三井食品フードショー2018」に出展
- "Karugamo" + 6-wheel trolley (slim cart) demonstration of towing -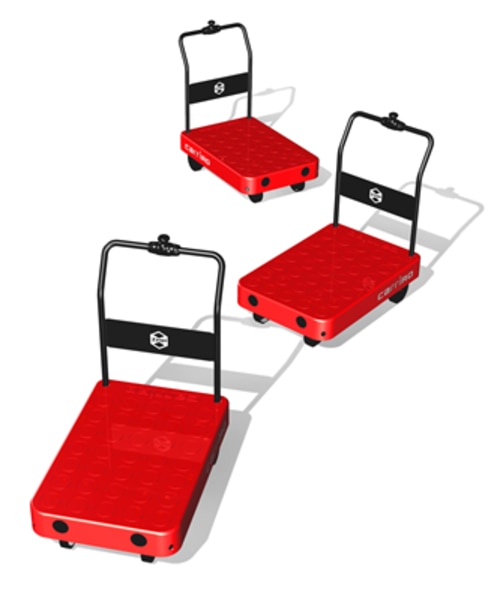 Logistics support robot CarriRo®
The ZMP Co., Ltd. (Bunkyo Ward, Tokyo, CEO: Taniguchi Hisashi , hereinafter "ZMP") announced that in the "Mitsui Foods Food Show" sponsored by Mitsui Foods Co., Ltd. on Wednesday, June 20 to 21, 2018 ", we will exhibit the logistic support robot" CarriRo® ". At this exhibition, we will demonstrate the traction of a six-wheel truck (slim cart) with a towing option, which began shipping last month with the latest 2018 model CarriRoⓇ.
CarriRo ® is a product developed by applying ZMP's Autonomous Driving technology to a boggie. It is effective due to picking operations of logistics warehouses, inter-process transportation in the factory, logistics inside the stations, airports, and commercial facilities for the purpose of reducing transportation workload, saving labor and efficiency.
The towing option is CarriRo®'s exclusive attachment, which can tow a hexagonal trolley (slim cart) and basket car. By utilizing the towing option with CarriRo ® 's Karugamo function, workers will be able to carry trucks loaded with heavy loads by walking ahead of CarriRo ®. At this exhibition, we will demonstrate CarriRo® to tow a six wheel trolley (slim cart).

【Exhibition Information】
Name: Mitsui Foods Food Show 2018
Date and time of opening: Wednesday, June 20, 2018 - Thursday, 21 January
              AM10:00~PM5:00(21日はPM4:00まで)
Venue: Pacifico Yokohama Exhibition Hall C · D
Address: 1-1 Minato Mirai Yokohama City Kanagawa Prefecture 1-1
アクセス:みなとみらい線 Minatomirai Station5 minutes on foot from the hotel

※ Visitors must bring their invitation cards.
Please contact ZMP for consultation on the visit.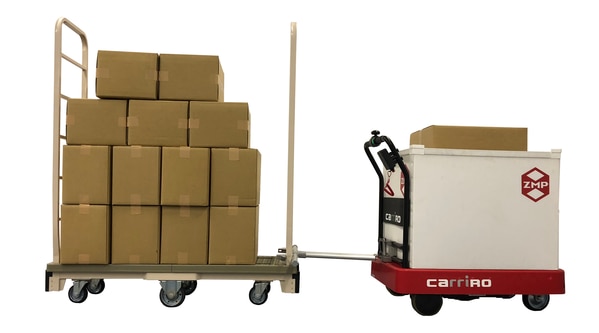 Example of use: traction of a six wheel trolley (slim cart)

【Distribution Support Robot CarriRoⓇ 】
CarriRo ® is a cart type logistics support robot with a drive mode that allows operation with a joystick and a karugamo mode that automatically tracks a beacon (transmitter), and is a product that began selling in August 2016. By utilizing the function of CarriRo®, we aim to raise the productivity of transportation up to about 3 times. The rechargeable which can carry maximum of 150 kg baggage can be transported for 8 hours continuously, and efficiency in picking operations in warehouses and logistics centers can be improved, and when used for conveyance between steps in the factory, belt conveyors and AGVs (automatic guided vehicles).Moreover, since the work load is greatly reduced, it becomes possible for women and elderly people to carry out the transportation work which was regarded as hard labor so far, so it can be used for expanding workers and promoting employment.

【Product Introduction URL】
https://www.zmp.co.jp/carriro/
【Video】
https://youtu.be/ZvrE7N2pNVs

【Price】
5 year lease monthly charge 28,000 yen (excluding tax) / 1 unit

【Main Specifications】
・ 本体重量:55kg 
Size: width 600 mm, depth 900 mm, height 200 mm (handle portion 900 mm)
· Maximum loading load: 150 kg
· Maximum speed: 6 km / hour
Traction force 250 N (weight 300 kg)
* Depends on road condition and the situation of the trolley.
. Charging time: 2.5 hours
· Operating time: 8 hours (It may differ depending on operating conditions)
【Press Release Articles】
You can check press release PDF here.