公道走行テストサービスRoboTestの新サービスロボ・データ・プラットフォームを発表
- Provide environments and applications that streamline data analysis and post-processing -
-7月20日 第10回ZMPフォーラムにてサービス詳細を発表-​​​​​​​
ZMP Co., Ltd. (Bunkyo-ku, Tokyo, CEO: Taniguchi Hisashi , hereinafter referred to as ZMP) has provided measurement data collection service "RoboTest" that is utilized in public road tests of commercial vehicle ADAS functions announces the new platform service "RoboDataPlatform" (Robo Data Platform, hereinafter "RDP") that comprehensively supports the tagging, analysis and analysis work on collected data and customer's owned data on July 20.We will do it at the holding ZMP Forum 2018.

This platform service was developed as a new menu of RoboTest, a data measurement service provided by ZMP. In this platform, in addition to basic applications provided by ZMP to analyze data, users themselves can register applications and get outputs by linking these multiple applications.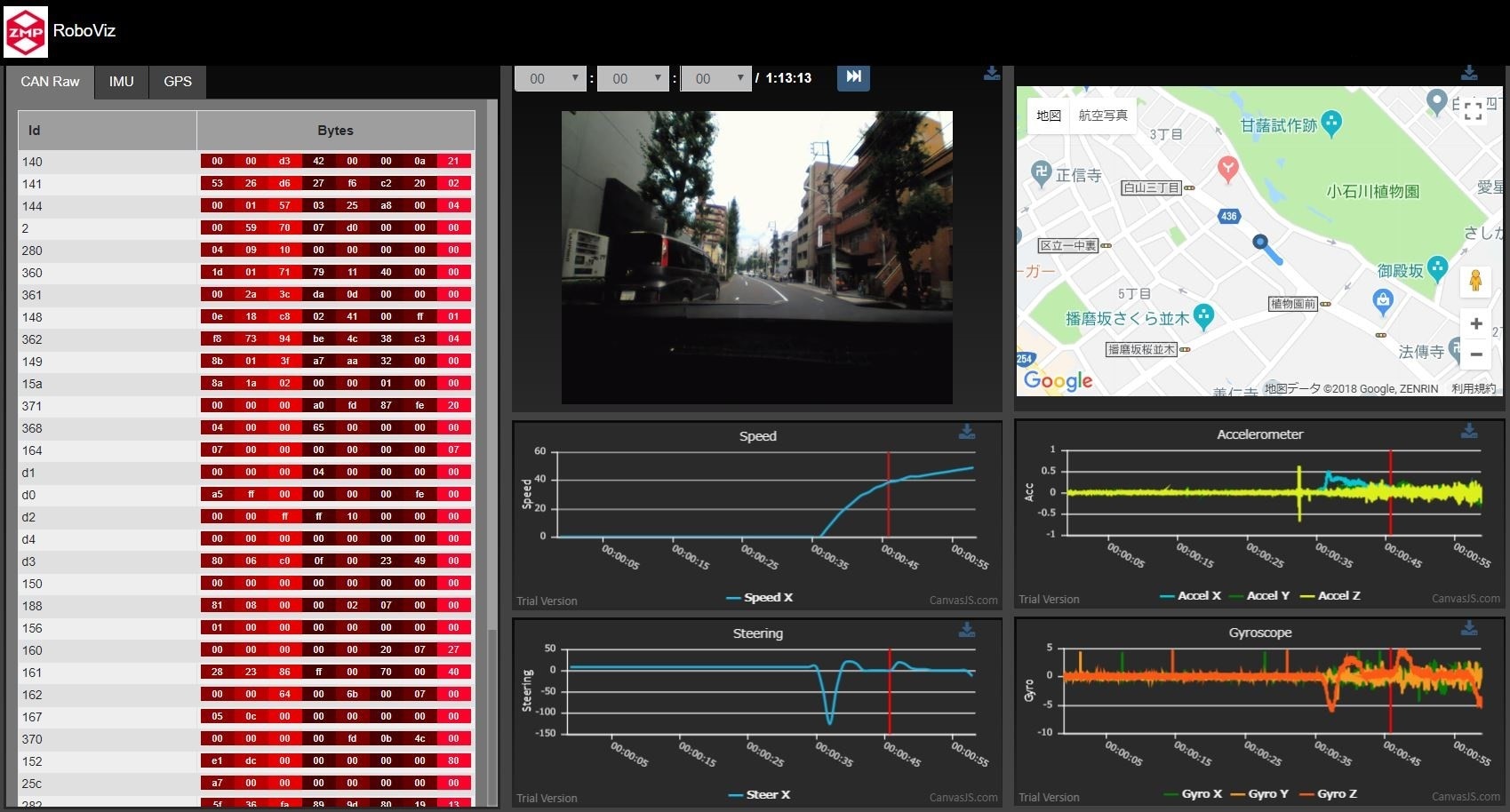 ZMPの基本アプリケーションサービスの例(ビジュアライズサービス)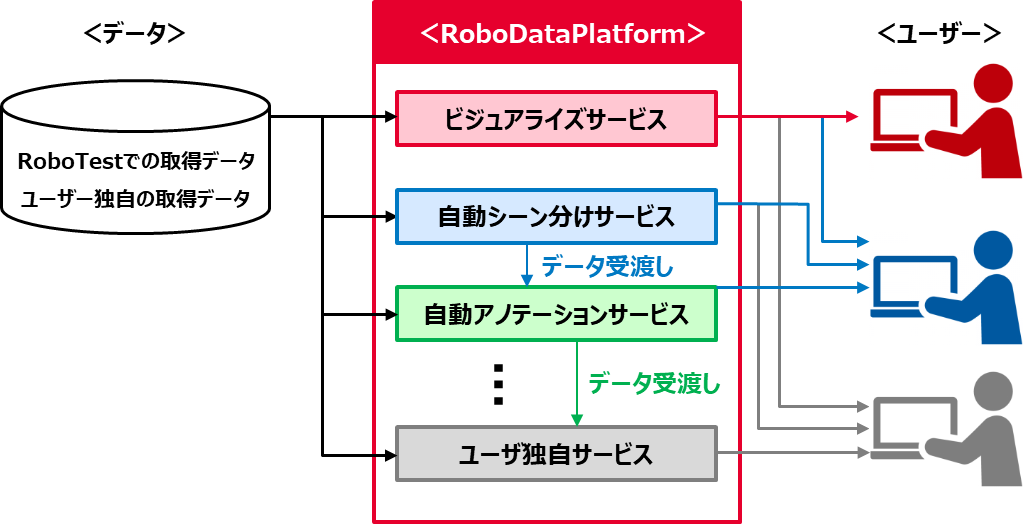 Service system image of RDP (It can obtain output combining multiple services)
The basic application provided by ZMP is a visualization application (left chart) that simultaneously displays data on driving such as video, vehicle operation data, GPS, IMU, etc. (left figure), scenes such as straight ahead, turn right or left automatically from the operation state of the vehicle.We provide applications for effectively utilizing acquired data, such as apps that perform division, and applications that automatically annotate labels and other annotations.

In addition to basic applications, users can register applications that implement their own analysis algorithms using APIs provided on RDP, combine basic applications and user applications provided by ZMP, and coordinate data among applications.You can do the processing (right figure). This allows the user to use it as a tool to efficiently process and analyze data possessed according to purpose.

Analysis and analysis of enormous amounts of data from various sensors are required for development of ADAS for automobiles and Autonomous Driving technology in recent years, and tools for data processing and analysis are required. RDP is a platform on which various applications for analyzing and analyzing collected data such as tagging can be used, and we support the improvement of customer's R & D efficiency.

Details of the contents of this platform will be announced together with the demonstration on the third day (July 20th) of the "10th ZMP Forum" to be held from July 18th.

【10th ZMP Forum Summary】
ZMP Forum 2018 "Change the movement of people and goods with commercialization of Autonomous Driving "
ZMP holds the ZMP Forum annually since 2009, with the desire to contribute to the acceleration of technology development in the world and this will be the 10th time.The program consists of a keynote lecture by Mr. Masashi Sugiyama, Director of RIKEN Innovation Intelligence Integration Research Center. Case introduction and Presentation of new products will be done by ZMP staffs.
Date and time:
  2018年7月18日(水) 10:00~18:00(18:30~ 懇親会)
  2018年7月19日(木) 10:00~17:00(17:00~ 商品デモ&体験会)
  2018年7月20日(金) 10:00~18:00
Venue: Bellesalle Iidabashi (3-8-5 Iidabashi Chiyoda-ku, Tokyo, Sumitomo Real Estate Iidabashi Ekimae Building)
Participation fee: Free (fee is charged for social gathering)
※ Presentation on this service will be held on Friday, July 20th (Friday) 11: 30 ~
 「市販車ADAS機能の公道走行テストサービスRoboTestの新サービスRoboDataPlatform(ロボ・データ・プラットフォーム)の発表」にて行います。

【Program details】
Program details:http://www.zmp.co.jp/products/10th_forum
We are disclosing the program of each day. (* As of June 28)
【How to apply】
Please apply with the following reservation form.
Participation application form:https://www4.revn.jp/zmpforum2018/
(※ In case you are handling competing products, we may refuse to inform you in advance.)

【Press Release Articles】
You can check press release PDF here.