Home delivery robot CarriRo Delivery NEDO, adopted as "AI system collaborative development support project" To carry out demonstration experiment of delivery service of convenience stores within university campus
Cooperation: Lawson Corporation, Keio University SFC Institute
- Will be presented at the 10th ZMP Forum on July 19 -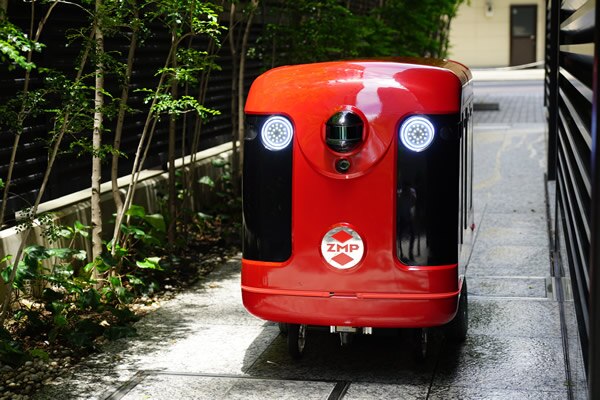 CarriRo Delivery Current model
"ZMP Co., Ltd. (Bunkyo Ward, Tokyo, CEO: Taniguchi Hisashi )," with the cooperation of Lawson Corporation and the SFC Research Institute, Keio University, "We are pleased to announce that the project "Development and demonstration of safe and secure home delivery robot system using AI was adopted as the" AI System Collaborative Development Support Project "(hereafter" Project ") of the New Energy and Industrial Technology Development Organization (" NEDO").

In this project, we will develop safe and secure home delivery robot system utilizing AI and demonstrate service in the field of autonomous driving and mobility service.Utilizing the CarriRo® Delivery, home delivery robot that autonomously travels a complicated environment and delivers products to consumers, we will verify in a field close to actual operation. We will also make smart the series of actions from ordering to receipt and challenge to make the last one mile unmanned.

Details of this project will be announced on the second day of the "10th ZMP Forum" to be held from July 18th. At the same time, we will also announce and demonstrate the new model of the delivery vehicle robot CarriRo Delivery.
「Press release presentation summary]
"First public release! CarriRo Delivery delivering new model and delivery service demonstration experiment plan"
  日時:7月19日(木)10:00-11:00(受付9:15)
  場所:ベルサール飯田橋駅前 (東京都千代田区 飯田橋3‐8‐5 住友不動産飯田橋駅前ビル)
  登壇者:株式会社ZMP 代表取締役社長 谷口 恒
  株式会社ローソン 理事執行役員 オープン・イノベーションセンター長 牧野 国嗣
  ※フルモデルチェンジしたCarriRo Deliveryのデモンストレーションを実施いたします。
  お問合せ: 担当:安田/今西 Tel: 03-5802-6901 Mail : office@zmp.co.jp  
【About delivery robot "CarriRo Delivery"】
Our company aims to eliminate the problem of the last one mile of logistics by applying the autonomous moving technology cultivated through the development of Autonomous Driving technology of automobiles and also aiming to help daily shopping, "We can deliver a sidewalk automatically, we have developed a robot CarriRo Delivery, and have been carrying out demonstration experiments since last year. CarriRo Delivery carries a home delivery box, automatically runs at a maximum speed of 6 km while recognizing the surrounding environment 360 degrees with a camera or laser sensor, and delivers the package to the destination. Product description page: http://www.zmp.co.jp/products/carriro-delivery

【10th ZMP Forum Summary】
ZMP Forum 2018 "Change the movement of people and goods with commercialization of Autonomous Driving "
We are holding the ZMP Forum annually since 2009, with the desire to contribute to accelerating technology development in the world. This will be the 10th time, as a keynote lecture, Mr. Masashi Sugiyama, RIKEN Innovation Intelligence Integration Research Center Director, Mr. Sugiyama will give a lecture, Case introduction, Presentation of new products, We will introduce technology by ZMP staff.
Date and time:
July 18, 2018 (Wednesday) 10: 00 ~ 18: 00 (18: 30 ~ social gathering)
July 19, 2018 (Thursday) 10: 00 ~ 17: 00 (17: 00 ~ Item Demo & Experience Meeting)
July 20, 2018 (Friday) 10: 00 ~ 18: 00
Venue: Bellesalle Iidabashi Ekimae (3-8-5 Iidabashi Chiyoda-ku, Tokyo, Sumitomo Realty Iidabashi Ekimae building)
Participation fee: Free (fee is charged for social gathering)
Program details
Program details:http://www.zmp.co.jp/products/10th_forum
We are disclosing the program of each day. (* As of July 11)
Application method
Please apply with the following reservation form.
Participation application form:https://www4.revn.jp/zmpforum2018/

【Press Release Articles】
​