Started selling platform for product development of Autonomous Driving vehicles
- Autonomous Driving vehicle system, remote management system, providing technical support -


ZMP Inc. (Bunkyo-ku, Tokyo, President: Hisashi Taniguchi, hereinafter referred to as ZMP) is pleased to announce that automobile manufacturers will introduce products for various automated driving vehicles to actual autonomous driving vehicles.We will start providing autonomous operation platform for development and verification on above and technical support that customers can continuously conduct product verification on this platform. Utilizing this platform and technical support, developers of automobile related products will be able to verify products on actual vehicles that planned automatic running.​​​​​​​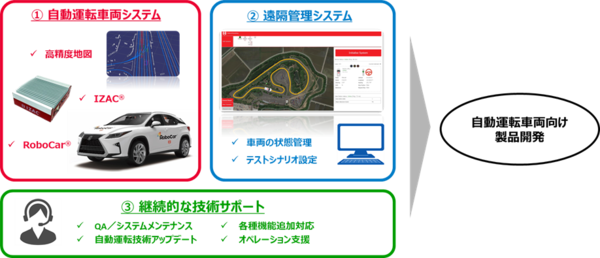 Configuration of Autonomous Driving platform for product development of Autonomous Driving vehicles, and outline of technical support

ZMPでは、これまで自動車関連メーカーのR&D部門を中心に、自動運転開発プラットフォーム「RoboCar®シリーズ」やステレオカメラ「RoboVision®シリーズ」をはじめとした各種センサの販売、そしてそれらを組み合わせてお客様の要望にあわせたシステム開発を行う「自律移動技術適用支援サービス」、さらに自動車開発・検証用の走行データ収集サービス「RoboTest®」などを提供してまいりました。
In addition to the Autonomous Driving technologies that we have developed on our own, the Autonomous Driving platform and technical support that we will start offering this time will have the know-how accumulated through the application project of autonomous mobile technology to customers etc. from the viewpoint of system and support ① It is to offer it collectively to the three elements of Autonomous Driving vehicle system, (2) remote management system, and (3) continuous technical support.

By utilizing the Autonomous Driving platform, customers will concentrate on product development inside and outside the automobile for Autonomous Driving vehicles towards the era of coming Autonomous Driving vehicles, even if they are not familiar with the Autonomous Driving technology our products and services that can be done.


【Characteristics of each element】
① Autonomous Driving vehicle system
Automated driving vehicle RoboCar®, which has accumulated experience in demonstration experiments on public roads, is equipped with an autonomous driving computer IZAC®, which, when combined with a high-precision map, is automatically operated independently towards the destination on the designated route.It is a vehicle system that can run. It is a system that is also utilized in taxi service demonstration between Otemachi and Roppongi currently under Tokyo Metropolitan Government.

② Remote management system
It is a management system that you can check on what condition the vehicle from anywhere.In addition, in order for customers' product developers to mount their own developed products on the autonomous operation platform and efficiently verify on the test course, it is necessary to make the travel scenario (Eg: route, number of laps, running speed, etc.)to be set easily.The remote management system realizes a system that can intuitively set the running scenario easily on the screen without being an engineer who is familiar with autonomous operation.

③ Continuous technical support
ZMP will fully support the operation of the range of the Autonomous Driving platform so that you can concentrate on verification of in-house developed products. In addition to Q / A correspondence during the verification work, ZMP will independently update the Autonomous Driving improvement function accumulated independently, additional development according to customer's request, etc. will be carried out. In addition, we provide assignment services for each attribute such as age, sex, driving skill level etc. as experiment cooperation necessary for system operation and verification of Autonomous Driving platform when product verification is carried out.

【Price】
Autonomous Driving vehicle system: 50 million yen ~ (Vehicle system can be installed at lease)
Remote management system: Please contact us
Technical support: Please contact us

[Press Release Article]
​