ZMP promotes utilization of logistic support robot in large-scale logistics facilities
Demonstrated "CarriRo®" "Autonomous Movement Model" at the Logis-Tech Tokyo · ProLogis Booth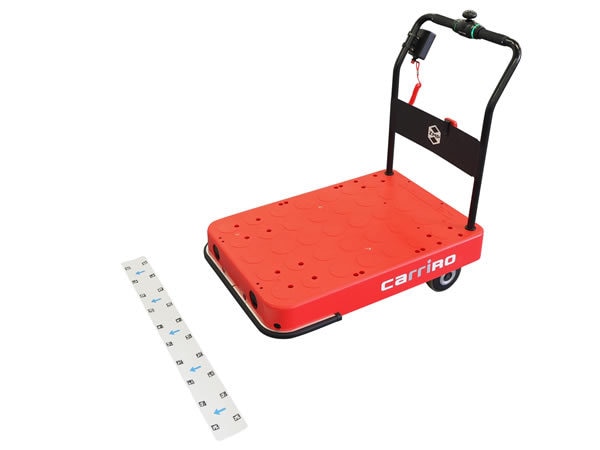 ZMP Inc. (Head Office: Bunkyo-ku, Tokyo, President: Hisashi Taniguchi, hereinafter ZMP) promotes efforts to realize unmanned conveyance in warehouses and factories by utilizing the logistic support robot " CarriRo ". As part of a collaboration project with ProLogis (Japan), which develops, owns and operates logistics facilities (Headquarters: Chiyoda-ku, Tokyo, President and CEO: Oko Yamada, hereinafter referred to as ProLogis), the international logistics to be held from September 11,we will reproduce CarriRo's movement in demonstration run within the ProLogis booth of the general exhibition.

Since its launch in 2016, the logistic support robot CarriRo has been equipped with an electric drive mode and a follow-up karugamo mode, has reduced the load of carrying workers, and has improved productivity.Currently, it is getting widespread in logistics facilities, factories, hotels, etc., both in Japan and overseas.

In the booth presentation, in order to experience the usability of the logistic support robot realizing more efficient logistics in the building, I showed a demonstration run of the autonomous movement model CarriRo that automatically advances as instructed while reading the seal attached to the floor I will.


【Exhibition Information】Logis-Tech Tokyo 2018
Schedule date: September 11 (Tue) - 14 (Fri) , 2018.Approximately 15 minutes from 13: 00
Venue: Tokyo Big Sight East 4th Booth No: 4-302
Official site:​ ​http://www.logis-tech-tokyo.gr.jp/
※ Admission free by visitor pre-registration from official website

【About Prologis】
As a leading global corporation of logistics real estate, Prologis is developing business in 19 countries around the world. As of the end of August 2018, we owned, operated and developed logistics facilities totaling approximately 70.2 million square meters, providing state-of-the-art logistics facilities to approximately 5,500 customers including 3 PL, logistics, retail and e-commerce.
In Japan, we have newly developed a logistics facility (including under development) with 93 buildings totaling approximately 2.3 million square meters, currently operating 54 logistics facilities with total floor area of ​​541 million square meters It is under development. We also have a development site for logistics facilities of approximately 540,000 square meters.

【Logistics Support Robot CarriRoⓇ】
CarriRo is a bogie type logistic support robot with a drive mode that allows operation with a joystick and a kalargo mode that automatically tracks a beacon (transmitter), and started selling it in August 2016. This time, the autonomous movement mode which can recognize the landmark with the installed camera without manipulation, and can run automatically was added.

With CarriRo alone it is possible to carry a maximum of 150 kg of baggage, and by attaching an optional towing jig to CarriRo it is possible to carry about 300 kg of baggage for 8 hours in a row. We are also planning to replace belt conveyors and AGVs (automatic guided vehicles) by increasing the efficiency of picking operations in warehouses and logistics centers and by using them for inter-process conveyance in the factory. In addition, since the workload can be greatly reduced, transportation work which had been regarded as hard work so far can be carried out even for women and elderly people, and it is effective for expanding employees and promoting employment.

[Product Web URL]​ ​https://www.zmp.co.jp/carriro/
【Video】https://youtu.be/aBSwF8SvfcU
【Price】CarriRo 2018 model (following mode) 5 years lease 28,000 yen per month(excluding tax) / 1 unit
​ ​​ ​​ ​CarriRo Autonomous movement model:52,000 yen per month (excluding tax) / unit with 5 years lease​ ​
【Main Specifications】
Body weight: 55 kg
Traction force: 250 N (equivalent to 300 kg)​ ​* It depends on the condition of the road and boggie.
Size: Width 61 cm × depth 91 cm × height 24 cm* Handle part is 96 cm
Charging time: 2.5 hours
Maximum loading load: 150 kg
Working time: 8 hours* It may be different depending on the operating condition
Maximum speed: 6 km / h
※ Although the above specifications of "Autonomous Moving" model are basically assumed to be the same as the 2018 model (Following model).There is a possibility of change in the future.​ ​


[Press Release Article]
​