Logistic support robot CarriRo® Enter the Chinese market Participated in the 1st China International Import Expo
- Application of robot technology to problems of logistics shortage,China's labor shortage -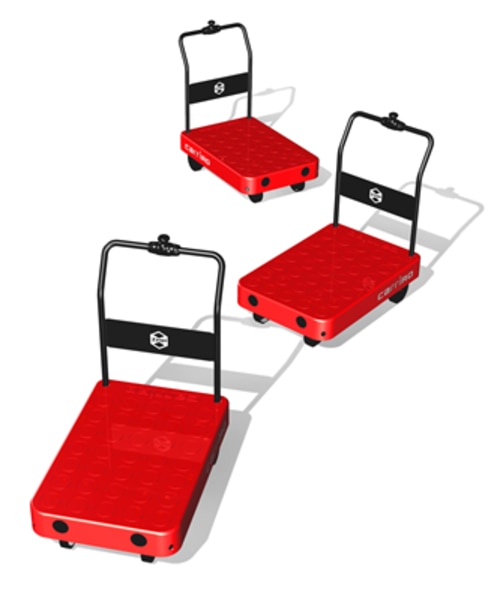 Logistics support robot CarriRo®
ZMP Inc. (Bunkyo-ku, Tokyo, CEO: Taniguchi Hisashi , hereinafter "ZMP") announced that the logistics support robot CarriRo will be exhibited at the First China International Import Expo, sponsored by the Ministry of Commerce of China from November 5th,Monday to November 10th,Saturday 2018.

Logistics Support Robot CarriRo was developed using the ZMP robot technology and Autonomous Driving technology based on the concept of "Fun and comfortable transportation work in factory / warehouse". Since its launch in 2016, it has spread to domestic and overseas logistics warehouses, factories, hotels, and so on. By utilizing the electric drive mode and follow-up (karugamo mode) function, we have improved the productivity while reducing workload of workers.

ZMP is actively working not only in Japan but also overseas business development, and as a consequence of this China International Import Expo, we will enter the Chinese market. Currently, the labor force in China, which is said to be the world's largest manufacturing power, has decreased, and logistics are tight due to rapid economic development,therefore the need for industrial robots is rising.In order to further improve the efficiency of production and logistics in the Chinese market, CarriRo of logistics support robot is expected to be active.

Regarding the sales structure in China, we will respond to product explanations, field demos, operation proposals, etc. through Toyota Tsusho Corporation, which is in business alliance with ZMP.

At this exhibition, we will exhibit CarriRo automatic follow-up model at Toyota Tsusho Corporation's booth.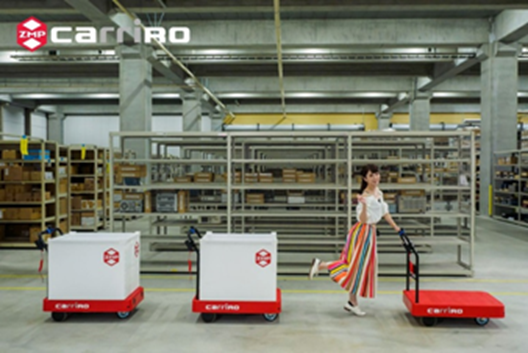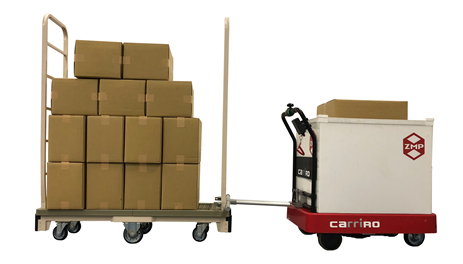 Example of use case: Traction of a six wheel trolley (slim cart)

【Exposition Information】
Name: China International Import Expo
Date and time of opening:November 5, 2018 (Monday) - November 10 (Saturday)
Venue: China Shanghai National Exhibition and Convention Center
Admission application:https://www.ciie.org/ciie/f/visitor/pre-book?locale=en
               https://www.ciie.org/ciie/f/visitor/pre-book?locale=zh_CN

【Logistic Support Robot CarriRoⓇ 】
CarriRo is a bogie type logistic support robot that has a drive mode that can be operated with a joystick and operates in a karugamo mode that automatically tracks a beacon (transmitter), and is a product that began selling in August 2016. By utilizing CarriRo's function, it is possible to raise the productivity of transportation to maximum up to about 3 times. CarriRo alone can carry baggage up to 150 kg, CarriRo with optional traction fixture, can carry about 300 kg of baggage for 8 hours continuously, which can improve efficiency of picking operations in warehouses and distribution centers, It is also possible to substitute a belt conveyor or AGV (automatic guided vehicle) by using it for inter-process conveyance. Moreover, since the work load is greatly reduced, it becomes possible for women and elderly people to carry out the transportation work which was regarded as hard labor so far, so it can be used for expanding workers and promoting employment.

【Product Introduction URL】
https://www.zmp.co.jp/carriro/

【Video】
Youtube
https://youtu.be/ZvrE7N2pNVs
中国 Youku
http://i.youku.com/zeromomentpoint

【Main Specifications】
. Body weight: 55 kg
. Size: Width 600 mm × Depth 900 mm × Height 200 mm (handle portion 900 mm)
· Maximum load: 150 kg
· Maximum speed: 6 km / hour
· Traction force 250 N (Weight 300 kg) * Depends on road condition and trolley situation.
. Charging time: 2.5 hours
· Operating time: 8 hours (It may be different depending on operating condition)

【Toyota Tsusho Corporation】
https://www.toyota-tsusho.com/
Headquarters: Nagoya City, Aichi Prefecture President, Ichiro Kuriya
豊田通商株式会社は1948年にトヨタグループの商社として設立されました。完成車輸出や自動車生産支援を軸に事業を拡大。7つの営業本部(金属、グローバル部品・ロジスティクス、自動車、機械・エネルギー・プラントプロジェクト、化学品・エレクトロニクス、食料・生活産業、アフリカ)を有し、未来における利便性の高い社会(Mobility事業)、持続可能な社会(Resources & Environment事業)、快適ですこやかな社会(Life & Community事業)の3つの事業領域において豊かな社会づくりに貢献すべく世界120カ国以上で、グループ社員約57,000名が事業に従事しています。

[Press Release Article]
Press Release PDF (Japanese)
Press Release PDF (Chinese)