Logistics support robot CarriRo® briefing sessions to be held nation-wide
-Held in six major cities throughout Japan, introduce the latest CarriRo® AD equipped with external connection function-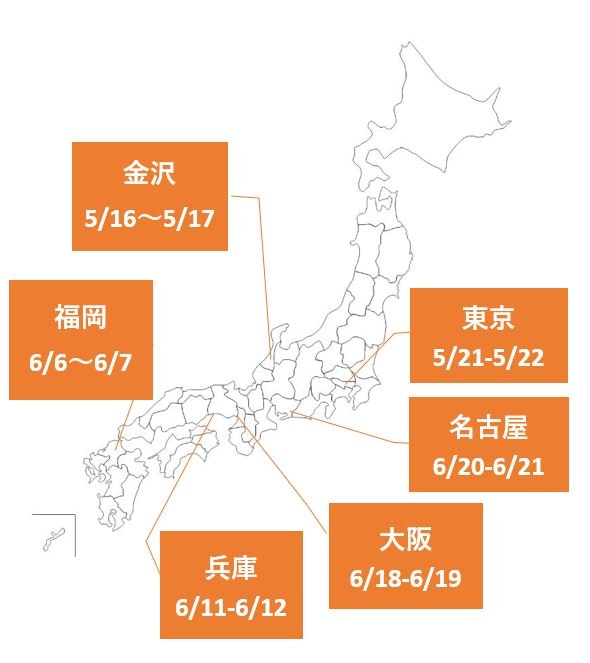 Venue and Schedule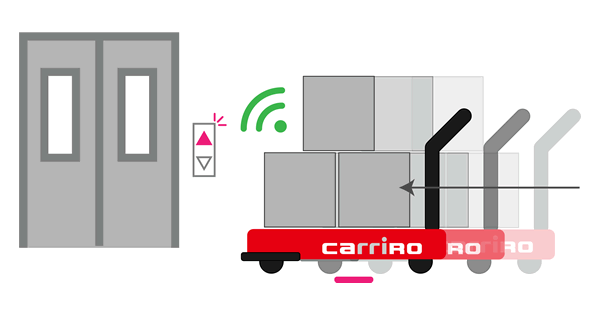 CarriRo® AD equipped with external connection function
ZMP Inc. in Bunkyo-ku, Tokyo (CEO, Hisashi Taniguchi, hereinafter ZMP) started shipping "CarriRo® AD equipped with external connection function" from March 2019. With the cooperation of CarriRo® agencies and business partners, we have planned to hold a "Nation wide Briefing sessions" in six cities across Japan with an advance registration system as an opportunity for more companies to participate and get to know about our product.​ ​
This time "CarriRo® AD equipped with external connection function" will be introduced with case study of several major companies. We will also carry out an actual driving demonstration of CarriRo® AD.
By linking with CarriRo® AD and external equipment, it can be applied to various other automations such as opening and closing shutters, getting on and off elevators, linking with a conveyor, and automatically loading and unloading packages from CarriRo® AD. This will expand the possibilities of operation and contribute to further automation and labor saving.
【Date and Venue】
Session timings: ① From 9:30 ② From 11:30 ③ From 14:00 ④From 16:00
Kanazawa
May 16 (Thu) & 17 (Fri)
Ishikawa Kanazawa-shi Kitayasuechyou 3-2-20
Kinrousha Plaza 304 Training Room
San-ei Corporation Ltd.
Tokyo
May 21 (Tue) & 22 (Wed)
Tokyo, Shinagawa, Nishi Gotanda 1-31-1
日本生命五反田ビル2F
Logistics Operations Service Co., Ltd.​ ​
Fukuoka
June 6 (Thu) & 7 (Fri)
10-1 Kamigofuku-machi Hakata-ku Fukuoka City
Hakata Mitsui Building, B1 floor, Meeting room A
NIPPON FILING CO.,Ltd.
Hyogo
June 11 (Tue) & 12 (Wed)
JR 姫路駅中央改札口集合
※駅から会場へお車にて送迎いたします
開催時間の 45 分前に集合
Osaka
6月18日(火) ~ 19日(水)
1-16-4 Minamisenba, Chuo-ku, Osaka-shi, Osaka
SANYO Co.,Ltd.
Nagoya
June 20 (Thu) & 21 (Fri)
Aichi Nagoya-shi Nishi-ku 1-11-20​ ​
Daiei Building 5 F
TOPPAN PRINTING CO., Ltd. Chubu Division DX-GATE
※ Please note that schedule and other details are subject to change in​​

【Participation Application page】



Please join us by registering from below link.
Registration Form:​ ​https://forms.gle/3S5reHwK3xuL287F8

【CarriRo® Homepage】
https://www.zmp.co.jp/carriro/
External connection function:
https://www.zmp.co.jp/products/carriro/carriro-plc
【Video】https://youtu.be/dkfvVXNdaCU
【Product price】
CarriRo® FD (2019 model (Following model)): 5 year lease of monthly charge 34,000 yen (excluding tax) / 1 unit
CarriRo® AD (Autonomous Movement Model): 5 year lease of monthly charge 52,000 yen (excluding tax) / 1 unit
CarriRo® AD (Model Equipped with external connection function): 5 year lease of monthly charge 58,000 yen (excluding tax) / 1 unit
【Main Specifications】
Body weight

55 kg

Size

Width 61 cm × Depth 91 cm × Height 24 cm

* Handle part is 96 cm

Maximum loading capacity

150 kg

Maximum speed

6 km/h (Drive, Following mode)

3 km/h (Autonomous Moving mode)

Traction

250 N (equivalent to 300 kg) * It depends on the road condition and the situation of the bogie.

Charging time

Two and a half hours​ ​

Operating time

8 hours

* It may be different depending on the operating condition
[Press Release Article]
​