Japan's first low-speed Autonomous Driving mobility "Robocar® Walk" Public road (sidewalk) driving trial
-Happy Silver Christmas project to be held on December 24th and 25th-
​



Robocar® Walk on public roads (sidewalks)
ZMP Inc. in Bunkyo-ku, Tokyo (CEO, Hisashi Taniguchi) to hold free trial session of the mobility partner "Robocar® Walk" for senior citizen in Bunkyo-ku, Tokyo on December 24th and 25th.
Robocar® Walk is a new travel partner. Users can move to their destinations by simply specifying their destination using the tablet provided.

ZMP does Robocar® Walk driving experiments on public roads (sidewalks) in Bunkyo-ku, Tokyo, where the office is located. While driving in this area with many slopes, we recieved many voices from elderly people, such as "I want to ride" and "When can I use it?". Robocar® Walk, which can move to the destination autonomously, not only improves the daily mobility challenges, but also allows for more freedom of movement. In order to meet these expectations, we will hold a free trial meeting as a "Happy Silver Christmas Project" and will start accepting applications today.
[Free trial session overview]
Date and time

December 24th (Tuesday) and 25th (Wednesday), 2019 From 10:00 to 17:00 (planned)

Place

Around Koishikawa, Bunkyo-ku, Tokyo

Target

Those who can meet the following condition:

・ Those who can come to ZMP office

・ Person who can answer questionnaire after trial

* Although there is no strict age limit, priority will be given to those over the age of 65.

How to apply

Please call to:

ZMP Inc. "Happy Silver Christmas Experience" receptionist Tel: 03-5802-6901

* Please note that if there are large number of applicants, a lottery may be held.

Application acceptance period

December 18th (Wednesday) to December 23rd (Monday)

* Please note that depending on the application status, applications may be closed even during the application period.
From September, ZMP has announced a commercial program of Robocar® Walk with a service price of 100,000 JPY per month for partner companies aiming at practical use and full-scale deployment of 100 units of Robocar® Walk in 2021. Based on the feedback obtained from this experience, we will work towards commercialization and mass production with the aim of becoming part of a new social infrastructure service that fills the gaps in public transportation.

[Mobility partner "Robocar® Walk"]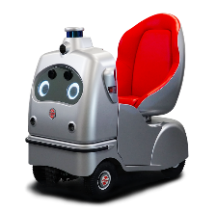 https://www.zmp.co.jp/products/robocar-walk


[Press Release Article]
​