Experimental traveling video of a shuttle car using autonomous driving function released at Singular University's event
Autonomous Driving function at the US Singularity University event
Experimental running video of a shuttle car released


Using the experiences of running experiments using RoboCar MiniVan, an Autonomous Driving vehicle development platform that began in January 2017, we took a test of a shuttle car using the Autonomous Driving function at the event of Singularity University.
For the shuttle, we are running about 1.5 kilometers from Grand Nikko Tokyo Odaiba to the National Museum of Emerging Science and Innovation of the Mirror, and we are publishing the images of the running cars that the event speakers ride.
While driving, you can detect pedestrians and running vehicles and stop, or you can check the scene to make lane change and make a right turn at the intersection.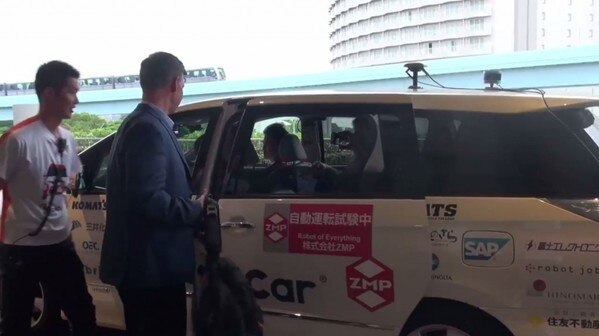 Image: Scene to board a shuttle
When looking at the state of the person who got on the train, I was heading to the venue with a smile after picking up with a very exciting expression.
You can check the video you are picking up from here.
In addition, ZMP made hardware is done by using software in this driving.
Products used in this demonstration experiment:
Autonomous Driving vehicle development platform RoboCar MiniVan 18 million yen ~http://www.zmp.co.jp/products/robocar-minivan
Autonomous Driving technology development platform IZAC
http://www.zmp.co.jp/products/izac