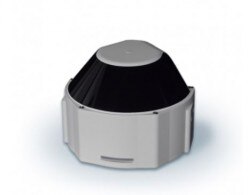 ZMP, Konica Minolta 24-beam wide-angle laser radar test sales start
ZMP, Konica Minolta 24-beam wide-angle laser radar test sales start
- Provide prototype sensors that can acquire distance information of the TOF (Time of Flight) method for mobile units -
ZMP Inc. (Bunkyo-ku, Tokyo, CEO: Taniguchi Hisashi, hereafter ZMP) has been conducting test marketing of 24-beam 3D laser radar made by Konica Minolta since 2015. In addition to this, we will start test sales of a prototype 3D laser radar with additional software.
This laser radar is a TOF (Time Of Flight) type laser radar that can scan a wide range of 24 beam in the vertical direction and a horizontal angle of view of 120 °. Even at night, it is possible to detect and observe people and objects in real time while distinguishing between people and objects such as topography and structures without being affected by street lights.
Unlike other LiDAR devices that measure information on laser light points, the feature of this laser radar is that it is detected by the laser light gap to be scanned by irradiating a laser spot spreading in a tile shape with the area of ​​the laser being tiled It is possible to grasp the position of the object in real time without losing sight of the object. Also, by measuring with a laser, you can measure the distance of the object at night, without being affected by the presence or absence of disturbance light. As software, that detects objects that are not backgrounds in the laser irradiation range in the stationary state is also included as a sample.
In the development of automatic driving and advanced driving support technology and autonomous mobile vehicles, it is necessary to create a three-dimensional map of the surrounding environment, identify the position of the vehicle, and detect other vehicles and pedestrians, Is required. Since this laser radar can acquire high-definition three-dimensional information in real time, it can be used as environment recognition sensor in the field of autonomous driving / advanced driving support system development, construction machine · physical distribution conveyance equipment · mobile robot I will.
We provide "RoboCar" series of platform vehicles for computer-controllable automatic driving technology development, "Various sensors and systems" to automobile / auto parts manufacturers, industrial vehicle manufacturers etc. . By installing this laser radar in the RoboCar series etc., it is possible to build an automatic driving / autonomous driving system based on highly accurate three-dimensional measurement data.
This product will be exhibited at Yokohama 2017 Technology exhibition held by people and vehicles held from May 24 to May 20, 2017.
【Measurement example of Konica Minolta 3D Laser Radar】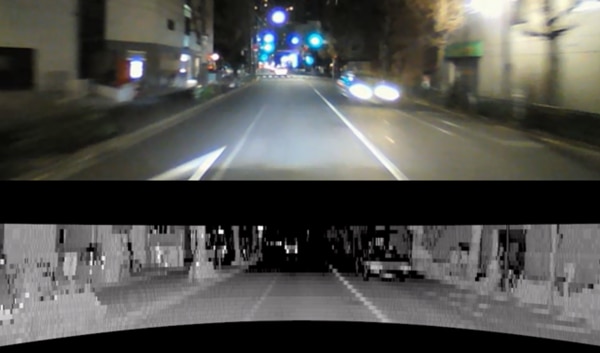 Night measurement result
(Top: Web Camera Below: Sensor measurement result)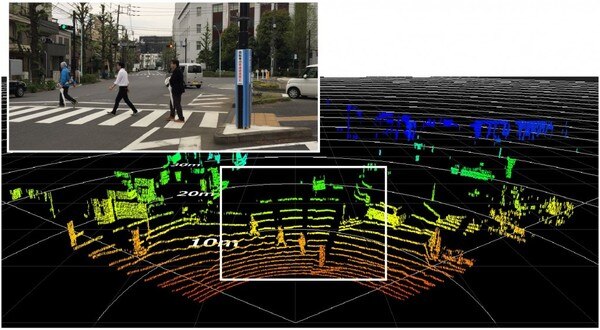 Measurement result (person, car)
【Price】
For Price details please contact us
【CarriRo® Homepage】
Konica Minolta 3D laser radar product introduction page
http://www.zmp.co.jp/products/mlr
【Exhibition Information】
Automotive Technology Exhibition Engine and Technology Exhibition for People and the Car 2017 Yokohama
Period: Wednesday, May 24 - Friday, June 26, 2017 Venue: Pacifico Yokohama - Exhibition Hall
Booth number: 102
Exhibition homepage:http://www.zmp.co.jp/products/2017hitokuru
[Press Release Article]