Publish the progress of public road experiment in Odaiba for the 2020 Tokyo Olympic Games
Publish the progress of public road experiment in Odaiba for the 2020 Tokyo Olympic Games
- Conducted verification of enhanced functions such as turning right and avoiding road vehicles -
ZMP Corporation (Bunkyo-ku, Tokyo, CEO: Taniguchi Hisashi , hereinafter referred to as ZMP) is aiming to realize the service provided by a fully Autonomous Driving taxi at the Tokyo Olympic Games in 2020. We are continuing the public road test at Tokyo Odaiba. Following the release of the progress in February this time, the progress status of the current technology development was released in the video. In the experiment, we aim to carry out the verification of the functions added / improved to the Autonomous Driving function that has been published so far.
In this experiment conducted this time, it is an experiment of Level 3 which the driver got on, but it is positioned as an important step toward the public road test of the Autonomous Driving car without a driver in the car in accordance with the guideline of the announcement from the National Police Agency, 2018.In 2019, we plan to expand our demonstration area and start service in 2020, and we will continue to make technical progress from now on.
Since 2014, we began demonstration experiments on Autonomous Driving on public roads in Nagoya City, Aichi Prefecture, and in February 2016, in public roads conducted in Shonan Life Town, Fujisawa City, Kanagawa Prefecture,We have repeated many Autonomous Driving After experiencing service demonstration experiment in charge of Autonomous Driving technology, after passing public road experiment in a typical urban environment with narrow road width, street parking and traffic volume in Bunkyo Ward with our office, Odaiba public road experiments with.
We have been developing and verifying the functions such as lane change and intersection right turn and left in the traffic environment of Odaiba which is also the area of ​​the Tokyo Olympic Games in 2020 and has a lot of traffic volume, but this time especially the following improvement / addition We are carrying out public road experiments for the purpose of verifying the function we did.
First, as an improvement of the right turn function, we conducted a demonstration experiment on improving the recognition of the right turn signal and improving the prediction function of the oncoming vehicle in the intersection and improving right turn accuracy at the intersection which is particularly difficult as the Autonomous Driving . In addition, we also conducted a demonstration experiment of the avoidance function of the on-street parking vehicle which corrects the traveling route according to the situation of the vehicle which is parking lot on the street in the urban area, further improves the lane change vehicle control algorithm We also verified Autonomous Driving approaching human driving. Through this demonstration experiment, improvement of the Autonomous Driving function developed by our company has been confirmed.
These automatic operations are realized by RoboCar MiniVan and IZAC which are products of the autonomous operation development platform developed by ZMP.
We are planning to continue demonstration experiments aiming for further improvement of safety in the future and will continue to disclose technical progress from time to time.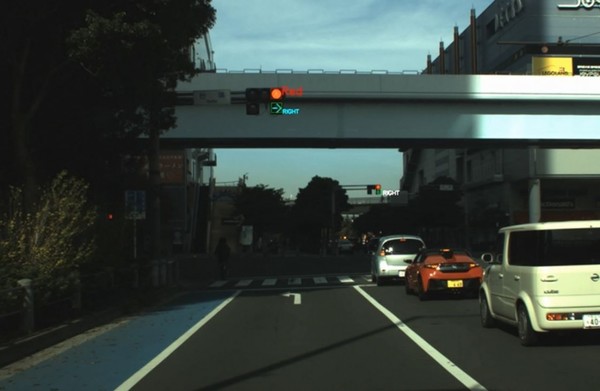 Photo: Recognition of right turn arrow signal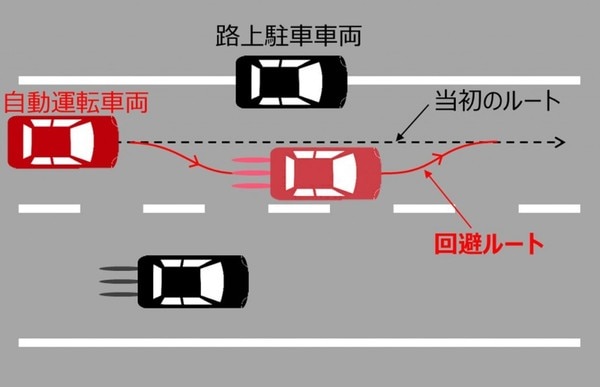 Photo: Avoidance image of street parked vehicle
【Demonstration experiment running video】
【video site】
The state of the experiment this time
http://go.zmp.co.jp/pressrelease_20170427
Progress made public in February this year
http://www.zmp.co.jp/news/news_20170221
【Related product information】
RoboCar MiniVan 18 million yen ~
A vehicle system for autonomous driving and ADAS development, a platform capable of vehicle control by program
http://www.zmp.co.jp/products/robocar-minivan
IZAC®
Integrated package system of hardware / software necessary for autonomous operation that library of technological elements of autonomous operation on computer of CPU made by Intel. We are expanding the functions based on public road experiments conducted by ZMP.
http://www.zmp.co.jp/products/izac
【Exhibition Information】
Automotive Technology Exhibition Engine and Technology Exhibition for People and the Car 2017 Yokohama
Period: Wednesday, May 24 - Friday, June 26, 2017 Venue: Pacifico Yokohama - Exhibition Hall
Booth number: 102
Exhibition homepage:http://www.zmp.co.jp/products/2017hitokuru
[Press Release Article]