Announcement of product options and new services, etc. on autonomous driving technology development at human and automobile technology exhibition 2017
At the automobile and car technology exhibition at 2017
Announcing product options and new services etc. concerning Autonomous Driving technology development
- Cooperation with dSPACE products of RoboCar MiniVan, creation of data set for deep learning, test sales of image data necessary for Autonomous Driving technology development, evaluation of Autonomous Driving car drivers, etc. New options and services related to Autonomous Driving research and development Introducing -
ZMP Inc. (Bunkyo Ward, Tokyo, CEO: Taniguchi Hisashi , hereinafter ZMP) will be held at Pacifico Yokohama · Exhibition Hall from Wednesday, May 24th to May 26th Various new options and services related to Autonomous Driving will be announced at "Automotive Technology Exhibition: Technology Exhibition for Persons and Automobiles 2017".
RoboCar MiniVan MicroAutoBoxII cooperation option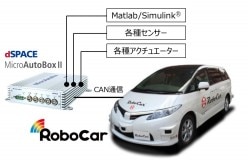 System configuration image
We will start offering cooperation option between RoboCar MiniVan Autonomous Driving development system and MicroAutoBox II of dSPACE company. MicroAutoBoxII is a high-performance, rich automotive input / output interface, and a compact and robust casing, it is a control development tool that can be installed in a test vehicle and control logic development and reliability verification. With this cooperation option, it is an option that you can use RoboCar MiniVan as a means to verify simulation of control logic and driving model examined by MathWorks' Matlab, Simulink, etc. on actual vehicle
Added a new menu to acquire evaluation data on driver's condition and feeling when Autonomous Driving vehicle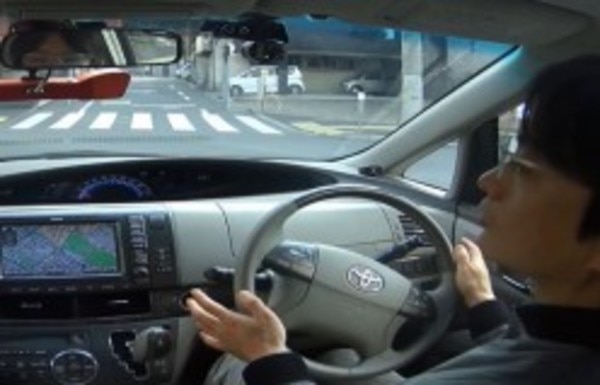 Driver evaluation in ZMP Autonomous Driving test vehicle
Equipped with various sensors to RoboCar MiniVan of ZMP Autonomous Driving in the development computer IZAC Autonomous Driving acquisition of copper or felt questionnaire biometric information such as electrocardiogram and electroencephalogram of a subject to be riding in the driver's seat of the vehicle to perform, or a sense of security and anxiety We start a travel data acquisition support service that enables companies that develop Autonomous Driving related products to obtain data of subjects who experienced actual Autonomous Driving as by using a test course.
Started testing and selling data necessary for Autonomous Driving such as 360 ° stereo camera system and LiDAR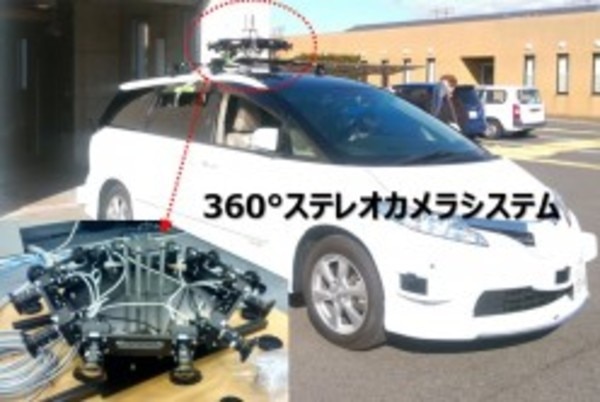 Autonomous Driving data collection system image
We will begin testing and selling various data acquired by ZMP in Autonomous Driving test vehicles. We will provide image data, 3D-LiDAR data, GPS data, IMU data and vehicle CAN data, taken with stereo cameras as well as the entire surroundings. ZMP will start selling tests from the Odaiba area where experiments are repeated, and will be expanding to the Haneda area and the expressway area connecting Odaiba and Haneda in the future.
This system was developed using Aichi Prefecture's "FY2008 New Aichi Creative R & D Subsidy".
Deep learning by public road driving Data set creation service for research and development Start of receiving orders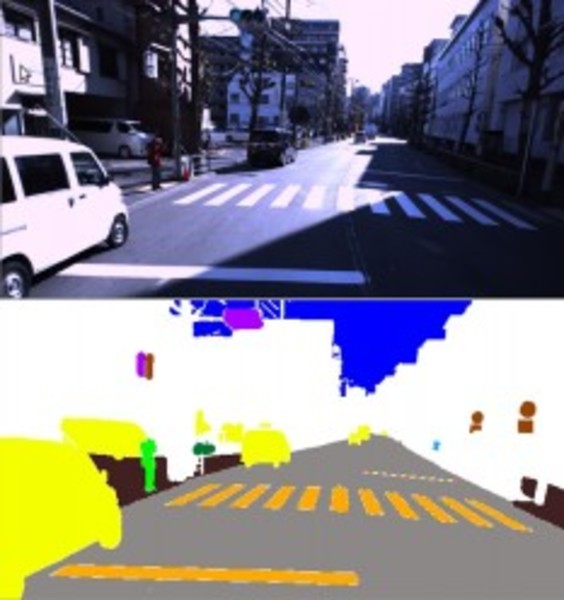 Top: Original image, Bottom: Labeling image
We added data creation service on pixel level as a learning data set necessary for tens of thousands sheets in RoboTest to data acquisition support service RoboTest when driving by public roads as a new menu as a menu.
As a result, in addition to not only designing and constructing a data logging system from upstream processes such as planning acquisition of traveling data, arranging for subject drivers, and data management, but also as a one-stop service that carries out the acquired data all at once through labeling, We will support your acceleration of research and development.
Product details page is here →
http://www.zmp.co.jp/products/robotest_dl_dataset
Stereo camera unit RoboVision 2 Update object detection function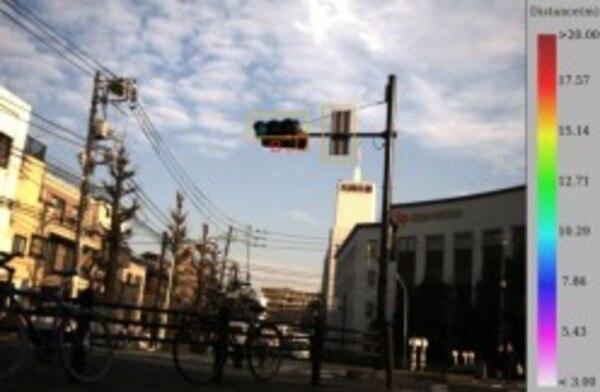 Image detection image by RoboVision 2
In the object detection option of ZMP made stereo camera unit RoboVision 2, we had previously detected objects with a certain height from the ground, but we can now specify the height of the space to be detected this time. This makes it possible to perform target detection such as signaling, signs, and elevated objects. By efficiently detecting the object, it can be used as a pretreatment for external recognition sensors and Image Recognition for moving objects.
Product details page is here →
http://www.zmp.co.jp/products/rv2-objectdetection
【Exhibition Information】
Automotive Technology Exhibition Engine and Technology Exhibition for People and the Car 2017 Yokohama
Period: Wednesday, May 24 - Friday, June 26, 2017 Venue: Pacifico Yokohama - Exhibition Hall
Booth number: 102
Press correspondence: Wednesday, May 24 (Wednesday) 9:30 to 9:50 at the ZMP booth
Exhibition homepage:http://www.zmp.co.jp/products/2017hitokuru
[Press Release Article]