Collaboration started with the development of dispatch application that looks at Hinomaru transportation and ZMP, autonomous taxi dispatch
Hinomaru Traffic and ZMP, Autonomous Traveling Taxi Distribution
Collaboration started with dispatch application development
- Responding to lack of drivers and aiming to improve the convenience of visiting customers during the 2020 Tokyo Olympics -
Hinomaru Transportation Co., Ltd.: (Bunkyo-ku, Tokyo, President Kazutaka Tomita, hereinafter referred to as " Hinomaru traffic"), ZMP Inc. (Bunkyo-ku, Tokyo, CEO: Taniguchi Hisashi , hereinafter referred to as "ZMP") is, ZMP is We have collaborated to realize automatic taxi for 2020 Tokyo Olympics by combining the Autonomous Driving technology which promotes development with the knowledge of taxi business of Hinomaru .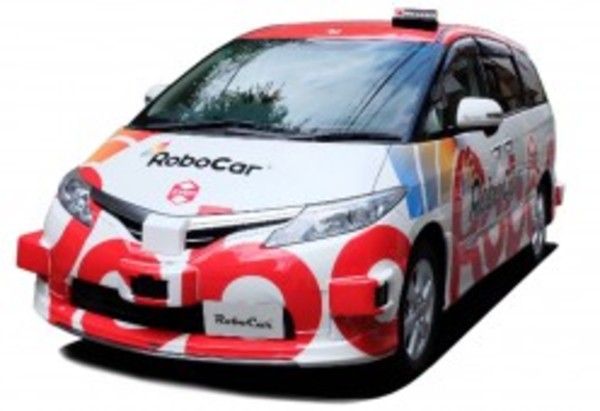 Image of automatic driving taxi
ZMP aims to realize the service of autonomous traveling taxi at the Tokyo Olympic Games in 2020 by developing a dispatch application corresponding to both autonomous taxi and taxi dispatch by driver. First of all, this application aims to start early operation by proceeding with development for a taxi by a driver. Both companies will strive to develop the taxi industry as a whole with the aim of increasing the number of users by realizing a more convenient taxi service in addition to responding to the driver shortage.
In the taxi industry, the lack of manpower of drivers is an issue, and an increase in visitors to the Tokyo Olympic Games in 2020 is also expected, and improvement of convenience is desired. The government is also promoting the realization of autonomous taxi at the Tokyo Olympic Games in 2020. Meanwhile, as aging progresses, even in depopulated areas, it is desirable to realize an automotive taxi as a means of transportation for vulnerable people.
Autonomous Driving The level of technology has Level 5, which allows automatic driving in all areas, and Level 4, which allows automatic driving in limited areas. In the stage of Level 4, cooperation between a taxi by the driver and an automatic taxi will be required for taxi service as it will be operated in a limited area (area, environment). Taxi companies can improve service and reduce costs by introducing an automatic taxi for the limited route suitable for traveling by automatic driving taxis and by dispatching a taxi by the driver for routes that require support of users We believe that will be.
Both companies combine the technology cultivated in the development of ZMP 's Autonomous Driving technology and the taxi business know - how of Hinomaru traffic, and the convenience of users We will aim for improvement, safe driving support and sales support. We would like to invite widely to other taxi companies including Hinomaru traffic as well as this taxi company.
[Press Release Article]