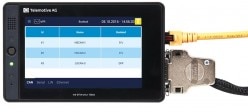 Started selling compact car data logger with touch panel made by Germany Telemotive
Touch panel made by German Telemotive company
Started selling compact car data logger
-1 units 2 roles: logger function + remote control of multiple loggers -
Today, ZMP Inc. (Bunkyo-ku, Tokyo, CEO: Taniguchi Hisashi, ZMP hereafter) is a small car data logger with touch panel made by German Telemotive company "blue PiraT Remote "started selling.
"Blue PiraT" has been launched as an interface allowing telemotive company to log CAN data from 2005, developed by incorporating the needs of German automobile manufacturers, advanced functions necessary for development of in-vehicle LAN, It is a high performance data logger with reliability and durability in test running. For example, at German automobile manufacturers, in order to ensure the reliability of mass-produced vehicles, blue PiraT was installed in more than 100 test running vehicles and tests were conducted throughout the world. In addition to monitoring the operation of dozens of CPUs per vehicle, it is confirmed that devices corresponding to interfaces such as CAN and MOST supplied from Tier 1 etc. operate normally on their own network I will.
【Blue PiraT Remote product overview】
The new product "blue PiraT Remote" is a compact data logger equipped with a touch panel, it is possible to record and output data without complicated work during the experiment. In addition, with the combination of multiple high-performance data loggers blue PiraT2 compatible with various interfaces and blue PiraT mini that is compact and easy to install, this remote control of all loggers is possible I will. Since data logger and remote control function are integrated into one unit, troublesome cable connection becomes unnecessary, and smooth measurement is possible.
Price: 560,000 yen (excluding tax)※ Prices are subject to change, so please contact us for details.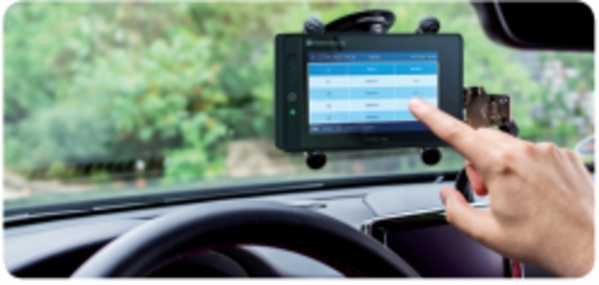 Image loaded
【Main function】
■ Innovative in-vehicle 5-inch touch screen enables intuitive operation
■ Easy integration into logger network via Telemotive System Link
■ Can be used as a compact standalone solution or as remote control for all devices connected via Telemotive System Link
■ Two CAN-HS interfaces and one LIN interface installed
■ Voice recording and playback are also possible
■ Professional holder that can be safely installed in vehicles included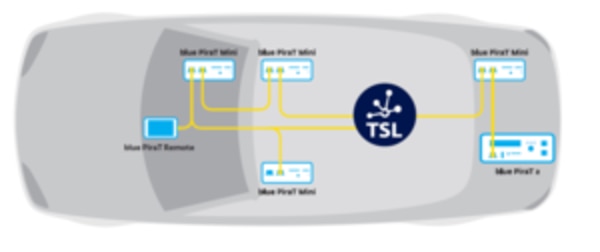 Telemotive System Link network configuration
[Other functions]
Telemotive System Link network configuration
With this blue PiraT Remote, you can always grasp the load of all vehicle buses. You can also set a trigger. You can also build measurement systems from modules or flexibly extend existing systems quickly, easily. Telemotive System Link allows all telemotive data loggers in one network to be integrated and operated like a single device. The remote touch screen is ideal for controlling all connected loggers. It is also possible to see the recorded data directly in the car.


【Introduction of related services】
Real vehicle data measurement service RoboTest
http://www.zmp.co.jp/products/robotest
【Product detail page】
http://www.zmp.co.jp/products/bluepiratremote
[Press Release Article] 
​