Publish the progress of public road experiment in Odaiba for the 2020 Tokyo Olympic Games
Publish the progress of public road experiment in Odaiba for the 2020 Tokyo Olympic Games
- Conducted multi-sensor fusion function and verification of running corresponding to the lane under construction -
ZMP Co., Ltd. (Bunkyo-ku, Tokyo, CEO: Taniguchi Hisashi , hereinafter referred to as ZMP) continues public road test in Tokyo Odaiba to realize the provision of services by fully automatic taxi at the Tokyo Olympic Games in 2020 .We are carrying out. This time, following the release of the progress in January and April this year, the progress situation of the technology development at the present time was released in the movie. In the experiment, we aim to carry out the verification of the functions added / improved to the Autonomous Driving function that has been published so far.
This experiment is a level 3 experiment on which the driver gets on, but it is positioned as an important step towards public road test of an autonomous driving car without a driver in the car in accordance with the guidelines of the announcement from the National Police Agency, 2018-2019 In the year we will expand the demonstration area, aiming to start service in 2020, we will continue to develop technology.
Since 2014, we began demonstration experiments on Autonomous Driving on public roads in Nagoya City, Aichi Prefecture, and in February 2016, in public roads conducted in Shonan Life Town, Fujisawa City, Kanagawa Prefecture,We have repeated many Autonomous Driving After experiencing service demonstration experiment in charge of Autonomous Driving technology, after passing public road experiment in a typical urban environment with narrow road width, street parking and traffic volume in Bunkyo Ward with our office, Odaiba public road experiments with.
In the traffic environment of the Odaiba area, which is also a region hosted by the Tokyo Olympics in 2020 and has a lot of traffic volume, we have developed and verified functions such as lane change and intersection right / left turn. As a further development, this time we are conducting public road tests with the objective of verifying the following improvements and added functions.
1.Improve robustness by sensor fusion of multi sensor
We are developing sensor fusion with multiple sensors for self-localization with higher robustness. In addition to white line recognition by the camera so far, sensor position fusion with LiDAR and a stereo camera realizes more stable self position estimation.
2.Responding to traffic conditions such as construction sites
As a response to ever-changing traffic conditions, we improved so that autonomous operation can be performed in an environment where one side lane is closed due to construction and guardrail guided to the opposite lane. With the modification of the route information and the sensor fusion of the camera and 3D-LiDAR mentioned above, the driver does not intervene even in complicated road environments and realizes autonomous driving.
3.Improvement for smoother driving
By collecting the driving patterns of skilled drivers and incorporating them into the control algorithm, we have made improvements so that more smooth lane change control can be performed.
These automatic operations are realized by RoboCar MiniVan and IZAC which are products of the autonomous operation development platform developed by ZMP.
We are planning to continue demonstration experiments aiming for further improvement of safety in the future and will continue to disclose technical progress from time to time.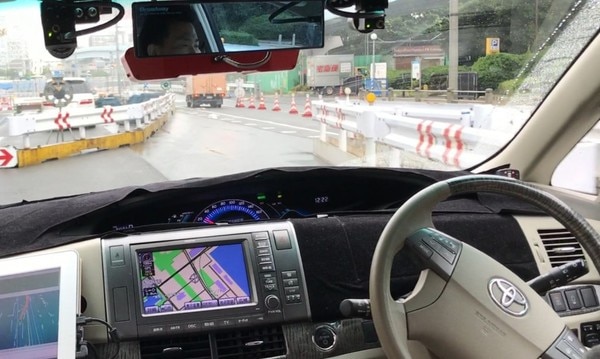 Photo: Construction area of ​​Odaiba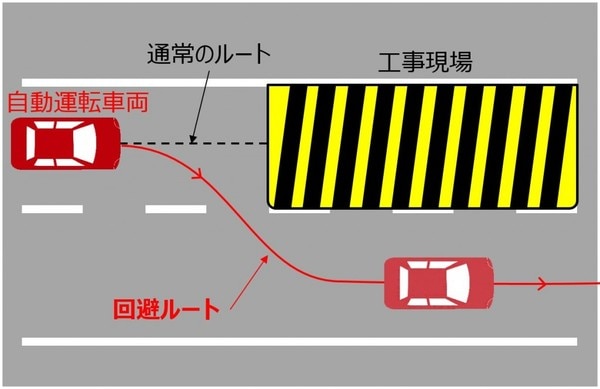 Photo: Avoidance of Construction Site
【Demonstration experiment running video】
【video site】
The state of the experiment this time
http://go.zmp.co.jp/pressrelease_20170825
The state of the previous experiment (April 2017)
http://go.zmp.co.jp/pressrelease_20170427
【Related product information】
RoboCar MiniVan 18 million yen ~
A vehicle system for autonomous driving and ADAS development, a platform capable of vehicle control by program
http://www.zmp.co.jp/products/robocar-minivan
IZAC®
Integrated package system of hardware / software necessary for autonomous operation that library of technological elements of autonomous operation on computer of CPU made by Intel. We are expanding the functions based on public road experiments conducted by ZMP.
http://www.zmp.co.jp/products/izac
[Press Release Article]
​