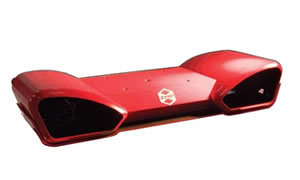 Start selling stereo camera system for distance measurement
This time, ZMP Inc. (Bunkyo-ku, Tokyo: CEO: Taniguchi Hisashi, ZMP hereafter) is the "ZMP RoboVision 2 CarTrack package" stereo camera system for distance measurement Sales began.
This product is made up of a stereo camera and image recognition software, and it is a system that detects the vehicle ahead and measures the distance. We are equipped with a new algorithm (VTS®: Virtual Tilt Stereo * patent filed) that reduces the influence of the inclination of the road surface and detects and tracks the preceding vehicle. ADAS · Autonomous driving technology .In order to measure the distance between cars using the camera, it is necessary to detect the leading vehicle and develop an algorithm to track it, but in this system software combining both is attached.
ADAS · In the development of autonomous driving technology and the development of robot technology, the importance of environmental recognition with cameras is increasing more and more, especially the use of stereo cameras that can calculate the distances with only the camera is drawing attention. We sell RoboVision 2 stereo camera using Sony made ultra-sensitive CMOS sensor for research and development from 2015 and we begin selling 'object detection package' which can detect objects in 2016. "CarTrack package" which starts selling this time adopts a new image processing method and is a system specialized for measuring the distance between cars. The price is 1.7 million yen (excluding tax) and we will start receiving orders from today and ship the end of October 2017.

Product introduction URL: RoboVision 2 CarTrack package
http://www.zmp.co.jp/products/robovision2-cartrack

【Main function】
■ A new algorithm "VTS® (Virtual Tilt Stereo)" is installed to improve road surface detection accuracy.
■ Accuracy of road surface estimated height is improved by converting acquired image to overhead view image and calculating distance. Improvement of separation performance between road surface and object.
■ Output the object tracking result as CAN data.
■ Compact processing PC included. Available without frequent setup work.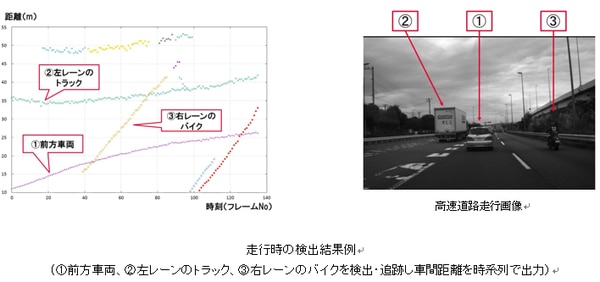 Product specification RoboVision 2 spec


The camera module
Image sensor
1/3 type effective for Sony cameras Effective 1,270,000 pixels
CMOS image sensor IMX 224 × 2
Resolution
1280 × 960 pixels (maximum: 30 fps)
640 × 480 pixels (maximum: 120 fps)
Horizontal view angle
45°
Interface
USB 3.0
Baseline length
210 mm
Function

Synchronization, distortion correction, stereo collimation,

Wide dynamic range etc.
Software development environment (SDK)
Library
Camera I / F, parallax image generation
Application
RAW output, strain correction result output, parallax image output,
Object detection function (option)
Operating System
Windows 7 / Window 8 / Linux
(Object detection function (option) provided in Linux version)
Price
RoboVision 2 CarTrack package 1.7 million yen (excluding tax)
(RoboVision 2, CarTrack option, set of processing PC)
CarTrack option 500,000 yen (excluding tax)
(You already have RoboVision 2)
RoboVision series lineup
RoboVision 2 PC set package 1.2 million yen (excluding tax)
(RoboVision 2, PC set)
* Stereo camera system attached to development environment that can acquire parallax images with multiple algorithms
Product introduction URL: http://www.zmp.co.jp/products/robovision2?lang=jp
RoboVision 2 Object detection package 1.7 million yen (excluding tax)
(RoboVision 2, object detection option, set of PC)
※ package includes software that can output the size and position of any object
Product introduction URL: http://www.zmp.co.jp/products/rv2-objectdetection?lang=jp
Click here for Press release PDF。