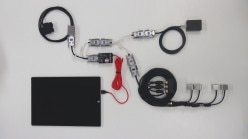 Started running data measurement service on public road using portable logger system
Started Vehicle data measurement service on public road using portable logger system
- No remodeling or machining of the vehicle. Benchmarking using common test vehicles and car rental and substituting various data measurements -
ZMP Co., Ltd. (Bunkyo-ku, Tokyo, CEO: Taniguchi Hisashi , hereinafter ZMP) has started Vehicle data measurement service on public road using Tablet PC based logger system.
In vehicle performance evaluation and ADAS technology development, we need to measure data of multiple vehicles in the shortest time with the same sensor system because of benchmark etc. As a target vehicle, it is common to use common test vehicles and rental cars that are used in multiple departments within the company, in which case it is difficult to install wiring and full-fledged equipment, and there are constraints on vehicle usage time There are cases. This service uses a tablet PC that is easy to carry as a data logger and since it feeds each sensor from the tablet PC, complicated wiring is not performed. The sensor uses the 6-axis acceleration & gyro sensor that can measure up to 400 G, the GPS sensor for position measurement, and uses the OBDII connector to acquire the vehicle CAN information. It simplifies the measurement operation with a simple system and can measure multiple vehicle comparison data and driving patterns in a short time. In general measurement systems, wiring is necessary to secure the power supply. In this system, measurement is possible without troublesome wiring work because power is fed from the tablet PC for measurement to the sensor, and data at our company. In the measurement experiment, measurement is started within 5 minutes from the start of installation, and the measurement period has been shortened.
This service can be used for vehicle benchmark tests and evaluation of driving performance for limited periods and resources targeting common test vehicles and rental cars.
The price of this service starts with today with 5 car models, running for 2 days each, with 5 million yen (tax excluded) ~.


Public road Vehicle data measurement service "RoboTest®"
http://www.zmp.co.jp/products/robotest

【Main application】
· Vehicle data measurement for shared test vehicles and car rental
· Performance comparison evaluation using multiple models
· Simple vehicle Vehicle data measurement

【Main function of measuring system of this service】
■ Can be set up in a short time with a simple configuration
■ Easily log data by special application
■ Vehicle behavior, traveling position, vehicle CAN information can be measured
(* Acceptable CAN information and OBDII information varies depending on the model.) Analysis of the vehicle CAN is required separately.

【Product Specification】 Used Sensor

【Price】
Measurement of vehicle benchmark data using tablet PC for measurement 5 million yen (tax excluded) ~
(5 types of vehicles, running for 2 days each)
【Related products】 IMU - Z Cube multipoint measurement logger package
It is a package product with four standard 6-axis motion sensor "ZMP IMU-Z Cube", which measures the signal transmitted by CAN with Telemotive's high performance compact logger blue PiraT mini CAN.

Product introduction page
http://www.zmp.co.jp/products/imu-z-cube-logger
ZMP IMU - Z Cube multipoint logger package 1.2 million yen (tax excluded)

You can check press release PDF here.