ZMP, public road demonstration experiment of Japan's first remote control system to realize an unmanned taxi in 2020 was conducted in Tokyo
This time, ZMP Inc. (Tokyo Bunkyo-ku, CEO: Taniguchi Hisashi, ZMP below) is the first remote type Autonomous Driving system public road demonstration experiment in Tokyo.
We started a demonstration experiment of autonomous driving in the state of the driver riding in Aichi prefecture public road in 2014, and then there is a very large traffic volume towards Bunkyo Ward, Tokyo office where our office is located, and 2020 We have developed and verified functions such as lane change and intersection right / left turn in the traffic environment of Odaiba etc. Based on the criteria of handling application for road use permission related to public road demonstration experiment of remote autonomous driving system released from the National Police Agency in June this year, today the state where the driver is not riding in the driver's seat. We conducted a public road demonstration experiment with. This case will be the first demonstration experiment under the support of the Tokyo Auto Travel One Stop Center.
Also, in collaboration with the National Museum of Emerging Science and Innovation, we will hold a general event on December 23 that listens to the citizens' opinions on passenger service by unmanned autonomous driving.
In June this year, we started collaborating with Hinomaru Traffic Co., Ltd. to realize autonomous taxi, we are developing development and demonstration of services along with development of autonomous driving technology. Utilizing the findings obtained from this demonstration experiment, we will aim to realize an unmanned taxi in 2020 by further technical development and improvement of safety.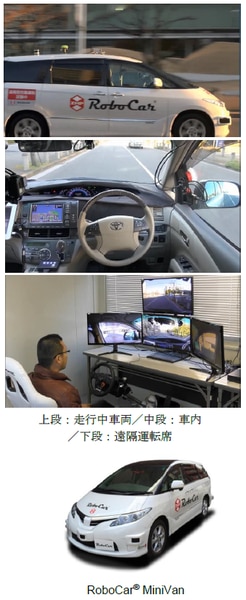 [Use vehicle] RoboCar MiniVan
http://www.zmp.co.jp/products/robocar-minivan
Experiment cooperation
National Museum of Emerging Science and Innovation
http://www.miraikan.jst.go.jp/

About open event
Schedule: Saturday, December 23, 2017 11: 30, 13: 30, 15: 30 (same contents each time)
Place: public road around the National Museum of Emerging Science and Innovation and inside the hall
http://www.miraikan.jst.go.jp/event/1712011622269.html

Inquiries about this matter
ZMP Inc. New Business Planning Department
TEL: 03-5802-6901 / FAX: 03-5802-6908 E-Mail: info@zmp.co.jp
Press Release Articles
​