【Introductory case introduction】 Automatic operation development platform RoboCar® MiniVan Eisan Technology Co., Ltd. Utilized for automatic driving demonstration experiment on public road
                                                              【導入事例紹介】 
                                     自動運転開発プラットフォーム RoboCar® MiniVan
                                 アイサンテクノロジー様 公道での自動運転実証実験へ活用
 株式会社ZMP(東京都文京区、代表取締役社長:谷口 恒、以下ZMP)が販売する自動運転開発プラットフォームRoboCar MiniVanが、株式会社アイサンテクノロジー様による公道での自動運転の実証実験用に導入され、各地での実験に活用されております。この度、弊社ウェブサイトにて事例紹介を公開いたしましたので、お知らせいたします。
 [RoboCar MiniVan Application Case Study] Dear Eisan Technology Co., Ltd.
http://www.zmp.co.jp/case/minivan_180226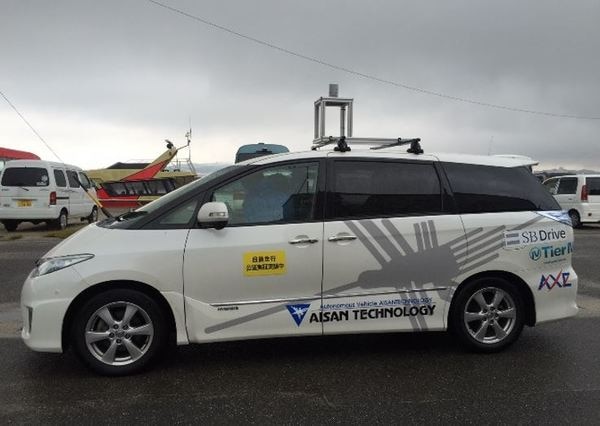 アイサンテクノロジー様に導入されたRoboCarⓇ MiniVan

At Eisan Technology Co., Ltd., from June 2016 to February 2017, we received a contract from Aichi Prefecture and undertaken the "social acceptability demonstration experiment" for autonomous driving. This was carried out as an autonomous driving demonstration experiment for manned persons carrying local companies and local government officials in Aichi Prefecture, and as an experiment on a general road where vehicles and pedestrians pass through a total extension distance of 50 km and a total travel distance of 2,800 km It has been successful.
As an automated driving test vehicle, RoboCar® MiniVan, an automatic operation development platform developed by ZMP, is utilized, and it is equipped with Velodyne's 3D-LiDAR and FLIR System made monocular camera as a sensor, and high precision created by Eisan Technology Automatic operation is realized using "3D" map and "Autoware" which is open source software for automatic operation.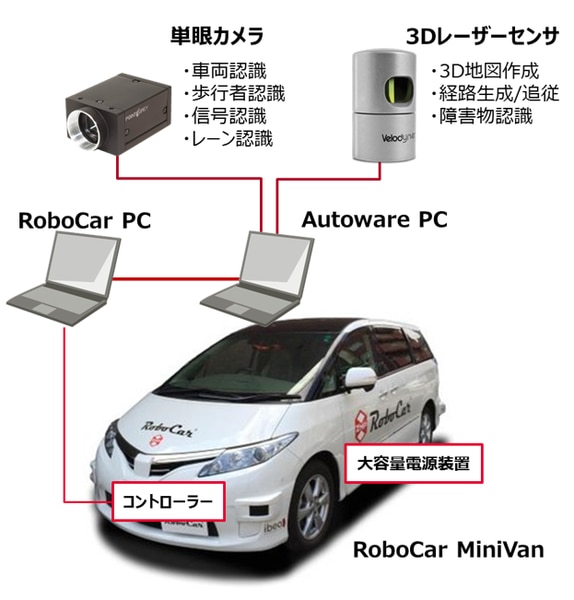 RoboCar MiniVanⓇ Autowareパッケージ

At Eisan Technologies, RoboCar® MiniVan is continuously used to "Automatic Driving Service Experiment at Road Station" and "Remote Automatic Driving System Demonstration Experiment" without a Person.
ZMP offers RoboCar® MiniVan based on minivan hybrid vehicles as an automatic driving development plot form from 2015, but also offers "RoboCar® MiniVan Autoware package" with Autoware. We also offer RoboCar MiniVan public road travel package, RoboCar MiniVan public road experiment support package such as ZMP`s own autonomous operation computing platform "IZACⓇ" are also provided, so far introduced to companies like to promote the research and development of a number of research institutions.
We will continue to contribute to the development of autonomous driving technology through provision of an autonomous driving development platform and support with demonstration experiments.
About ZMP RoboCar Minivan
http://www.zmp.co.jp/products/robocar-minivan
Features of RoboCar MiniVan
· Can acquire CAN information (speed, steering, accelerator, brake, shift position, etc.)
· Optional external sensors such as stereo camera and laser range sensor,
 大容量バッテリシステム、などを搭載
· Control of steering, accelerator and brake
· User program can be executed by ZMP proprietary controller
· Switchable between automatic control mode and manual mode
Basic functions of Autoware
3D self-position estimation
3D map generation
Navi App
Route generation
Route following (0 to 60 km / h)
Turn right at intersection / Stop once
Automatic stop
Automatic parking vehicle recognition
Pedestrian recognition
Lane recognition
Sign recognition
Road sign recognition
Signal recognition
Mobile tracking
レーンチェンジ   
Price
RoboCar MiniVan 18,00,0000 yen (excluding tax)
RoboCar Minivan Autoware Package 23,800,000 yen (excluding tax)
<Structure>
· ZMP RoboCar Minivan × 1
· 3D LIDAR × 1
· Camera (front) × 1
· 1 large capacity battery system
· Control PC × 1
· Autoware installation setting service
(Including running tests on the test course)
<Optional>
· Technical support service
· Creation of high precision three dimensional map
 導入・走行テスト
* The price will be changed by sensor configuration.

Press Release Articles
​