Next Generation Automatic Operation · Connected Car · Conference 2018

Next Generation Automatic Operation · Connected Car · Conference 2018
- Demonstration experiment service utilizing automatic operation, data measurement service on public road,
Home delivery robot CarriRo Delivery · Logistics support robot Introducing latest products & services such as CarriRo -
ZMP Inc. (Bunkyo Ward, Tokyo, CEO: Taniguchi Hisashi , hereinafter ZMP) will be held at "JP Next Toward Autonomous Driving , Connected Car · Conference 2018" held on March 6, 2018 , Demonstration experiment support service utilizing Autonomous Driving technology, a demonstration experiment package with home delivery robot CarriRo Delivery, logistics support robot CarriRo which released the 2018 model, and "RoboTest®" data acquisition service on public road to support ADAS development, We will introduce the latest products and services.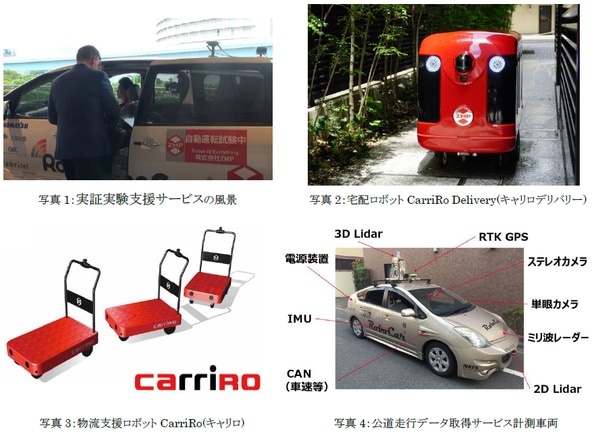 ZMP is developing technologies to realize a completely unattended taxi service for 2020 and sells products utilizing its related technology to automobile manufacturers / parts makers etc. We have grasped the surrounding environment from the RoboCar series of experiment and development vehicles for research and development of automatic driving technology, the stereo vision RoboVision series equipped with Sony's high sensitivity CMOS sensor, the camera and laser sensor, Estimation, computer for automatic operation that controls steering and accelerator · brake IZAC (Computer for automotive which carries out cognition and judgment necessary for automatic operation) etc. are deployed.
This time, we will provide support services for demonstration experiments using automatic driving vehicles developed through development, demonstration experiment package of home delivery robot, introduction of new version of logistics support robot, development of automatic operation and ADAS equipment We will introduce the data measurement service corresponding to the large-scale running test corresponding to necessary verification traveling.
Public road experiment support package for service development using automatic operation
This package includes a laser scanner that senses the surroundings, a monocular / stereo camera, a GPS and inertial sensor that measures the position and behavior of the vehicle, and an integrated sensor data that is acquired on an automated driving technology development platform based on a commercial vehicle hybrid minivan We will use the experimental vehicle that we did.
We also support technical advice and implementation plan support, as well as drivers and support car runs during driving as requested.
Demonstration experiment package by home delivery robot CarriRo Delivery
This package is looking for a partner who carries out demonstration experiment together with commercial delivery robot to commercialize and start service. We will carry out demonstration experiments with businesses with tasks due to lack of manpower of delivery staff, such as food delivery, beverage makers, vending machine manufacturers, restaurants, etc., and will examine the problem extraction and validation about the start of service.


Logistics support robot CarriRo®
The logistic support robot "CarriRo" is a truck type robot equipped with a drive mode that runs using two motors, a kalargo mode that follows a beacon and a camera to follow. Maximum loading capacity 150 kg Continuous use time 8 hours In the logistics industry, which has become rapidly short of talented personnel, we are selling for the purpose of reducing the load of carrying work, saving labor and efficiency I will.
Currently it is a product that has been introduced widely due to picking operations of logistics warehouse, inter-process delivery within factories, logistics inside the stations, airports and commercial facilities.
Real-vehicle experiment running service RoboTest
It is a service that can drastically reduce the number of customers' work by doing system construction related to data collection of vehicles and installed equipment on actual vehicles, driver management and data conversion to data analysis according to purpose of use. The driving area is a service that can respond to customer's requests from domestic cities to overseas traveling.
In addition, it is also possible to introduce sensors and systems necessary for development of miniature robot cars RoboCar 1/10 of real size 1/10 size and high precision position measuring sensors of centimeter order level, ADAS · automatic driving technology.
※ At this exhibition, it will be a panel exhibit, no real machine will be exhibited.
​
Date: March 6, 2018 (Tue)
[Seminar] 8: 40-17: 30
【Exhibition section】 9: 20-17: 00
Venue: JP Tower Hall & Conference (KITTE 4F)
Admission: Free for pre-registration with both exhibition and seminar
web:http://www.f2ff.jp/adcc/2018/
​
·​ ​Commercially available hybrid minivan base "RoboCar MiniVan"
·​ ​Delivery robot "CarriRo Delivery (Caliro Delivery)"
·​ ​Logistics support robot " CarriRo "
· Experiment running service "RoboTest"other
Press Release Articles
​