Launched MaaS for Autonomous Driving platform development and verification
- Otemachi ~ Roppongi Auto taxi demonstration experiment system
Began offering to service providers aiming MaaS development -
ZMP Inc. (Bunkyo Ward, Tokyo, CEO: Taniguchi Hisashi , hereinafter referred to as ZMP) is a service provider who wishes to utilize Autonomous Driving on MaaS (Mobility as a Service) which combines mobility and service to service development and verification.We will start offering Autonomous Operating system for " Autonomous Driving platform".

ZMP has developed Autonomous Driving technology remote surveillance system, reservation management system, etc. and for practical realization we demonstrated Autonomous Driving taxi service between Otemachi and Roppongi.

We will provide Autonomous Driving system developed up to now as an " Autonomous Driving platform" to business operators aiming to commercialize MaaS. We also provide operations such as operation and monitoring of the Autonomous Driving platform so that the service provider can smoothly develop and verify using it.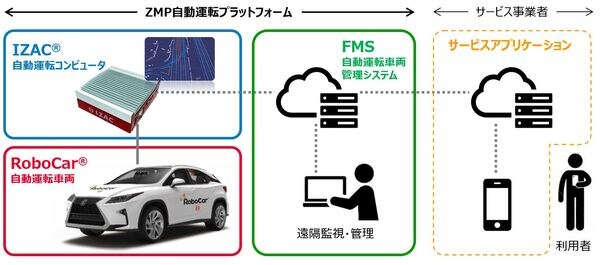 Construction of " Autonomous Driving platform" for MaaS development of ZMP
This services are, ①ZMP independently developed Autonomous Driving for the vehicle RoboCar® series, ② Autonomous Driving of integrated computer IZAC®, and ③ Autonomous Driving management system (fleet management system that the vehicle to manage and dispatch while monitoring at a remote , Hereinafter referred to as "FMS").
These configurations were selected as the Tokyo Metropolitan Government Support Project "Project for Building Business Models Utilizing Autonomous Driving Technology", and the Autonomous Driving taxi public road service demonstration implemented by ZMP and Hinomaru Kotsu was held from August 27 - September 8, 2018.

【Components of Autonomous Driving platform】
① Autonomous Driving vehicle RoboCar® series
It is a vehicle platform developed by ZMP for research and development with Autonomous Driving. Autonomous Driving in public roads throughout the country There is a track record that is utilized for demonstration experiments, and minivan types, SUV types, etc. can be selected according to the service contents that we want to develop. During Autonomous Driving, the driver also provides an override function to instantly take over driving and realize a safe experiment.
② Autonomous Driving computer IZAC®
ZMP recognizes the circumstances such as white lines, structures, signals and traffic environments, decides what action to take next, and ZMP develops and provides the brains of Autonomous Driving that gives operational instructions to RoboCar®.Therefore, we can provide ZMP technical support and ongoing improvement of functions etc.
③ Autonomous Driving vehicle management system (FMS)
We provide a system that remotely grasps the driving state and error occurrence unique to an Autonomous Driving vehicle, and coordinates vehicle position information etc. to user service. We also offer a vehicle reservation system for users.

【How to utilize Autonomous Driving platform】
The Autonomous Driving platform for MaaS development and verification provided by ZMP provides systems that manage its condition while running by Autonomous Driving to the target location. For this reason, the service provider specializes in developing user application and cooperation part with business system according to the service that we would like to implement as MaaS, and develops and verifies it as whole MaaS system by system cooperation with ZMP's Autonomous Driving platform.
Note that ZMP is an Autonomous Driving taxi that has performed service demonstration at Otemachi - Roppongi, service applications that are utilized for taxi reservation, door opening and closing, etc., and system operations and security ensuring / monitoring for smooth verification work We will also provide operations for such as initial experiments.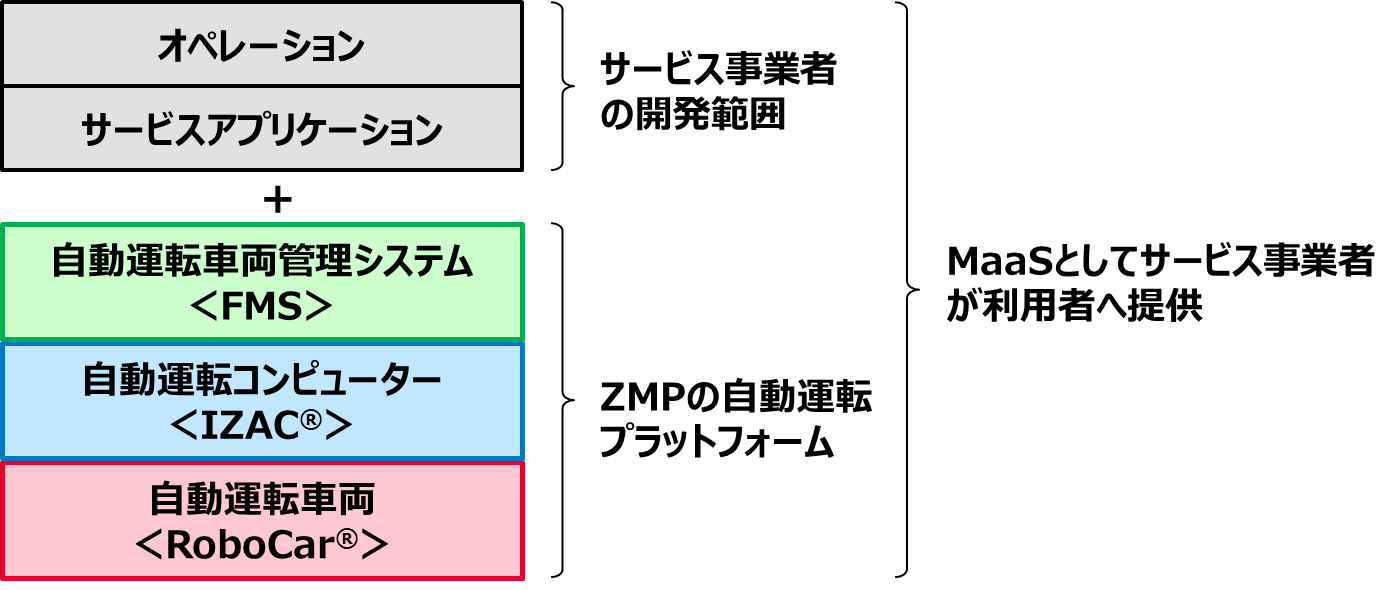 Utilizing ZMP's Autonomous Driving platform for MaaS
We are targeting business operators (such as taxi operators, etc.) aiming at the development and verification of the MaaS business by utilizing autonomous driving platform as below.
✓ Development and verification of shuttle service between the company's site and buildings
✓ Development and verification of Autonomous Driving tour service for tourists
✓ Development and verification of shuttle services for stations, airports and hotels
✓ Development and verification of regular shuttle service to local residents with less public transport
✓ Development and verification of regional patrol service by Autonomous Driving
【Related services】
Autonomous Driving utilization service for MaaS (Mobility as a Service)
https://www.zmp.co.jp/product/maas-customize
[Press Release Article]
​