World's first demonstration test of unmanned delivery service by a delivery robot from a convenience store to customers
Keio University Shonan Fujisawa Campus January 21 2019 (Monday) to January 31 2019 (Thursday)


Delivery robot CarriRo® Deli
ZMP Inc. in Bunkyo-ku, Tokyo (CEO, Hisashi Taniguchi, hereinafter "ZMP") together with Lawson Inc. (Head office in Shinagawa-ku, Tokyo, President and CEO, Sadanobu Takemasu, hereinafter "Lawson") and Keio University SFC Institute (Director, Hiroya Tanaka) conducted a service demonstration experiment of the world's first unmanned delivery of convenience store products by an Autonomously traveling delivery robot CarriRo® Deli during the period from January 21 (Monday) to January 31 (Thursday), 2019 at Keio University Shonan Fujisawa Campus and released the results today. These results include those obtained through the support project of the New Energy and Industrial Technology Development Organization (NEDO).
The participants of the demonstration can download the CarriRo® Deli application to the smartphone and perform user registration. The user can then order Lawson's lunch box, drinks and sweets. CarriRo® Deli delivers products from the temporary store set up at campus to the designated delivery base (eight locations). The QR code, which is the key of the locker is sent to the user's smartphone and when held over the robot's camera, the locker containing the product opens. The world's first demonstration experiment of unmanned delivery service from convenience store products are delivered by an autonomous delivery robot.
We can order products like meals, drinks and desserts using the app and receive them at a designated time. This service resulted in more effective use of break time. Students who used CarriRo® Deli told it is "Convenient!" and "Cute!".
With the cooperation of Graduate School of Media and Governance, 10 students from the field of technology, operation and communication design participated in this field trial. The students can experience the latest technologies in proximity and can learn many practical things from corporate engineers. The field trial in the university has also been effective as an education for new technologies and their social implementation.
ZMP will use the results of this service demonstration experiment in future service construction.
■ Outline of service demonstration test
Experiment period: January 21, 2019 (Monday) to January 31 (Thursday) (only weekdays)
Time: 8:30 to 17:30 (only on 25th until 22:00)
Location: Keio University Shonan Fujisawa Campus
Robot: 5 units in operation, 5 units for backup
Products handled: A total of 114 items selected by students such as Lawson's lunch box, rice balls,​ ​
chilled desserts, instant noodles, confectionery and soft drinks



CarriRo® Deli delivery points




Delivery application "CarriRo® Deli"
▼Delivery robot CarriRo® Deli | Convenience store delivery × Campus life
https://www.zmp.co.jp/products/carriro-delivery/movie​​​​​​​


[About Delivery Robot CarriRoⓇ Deli]
https://www.zmp.co.jp/products/carriro-delivery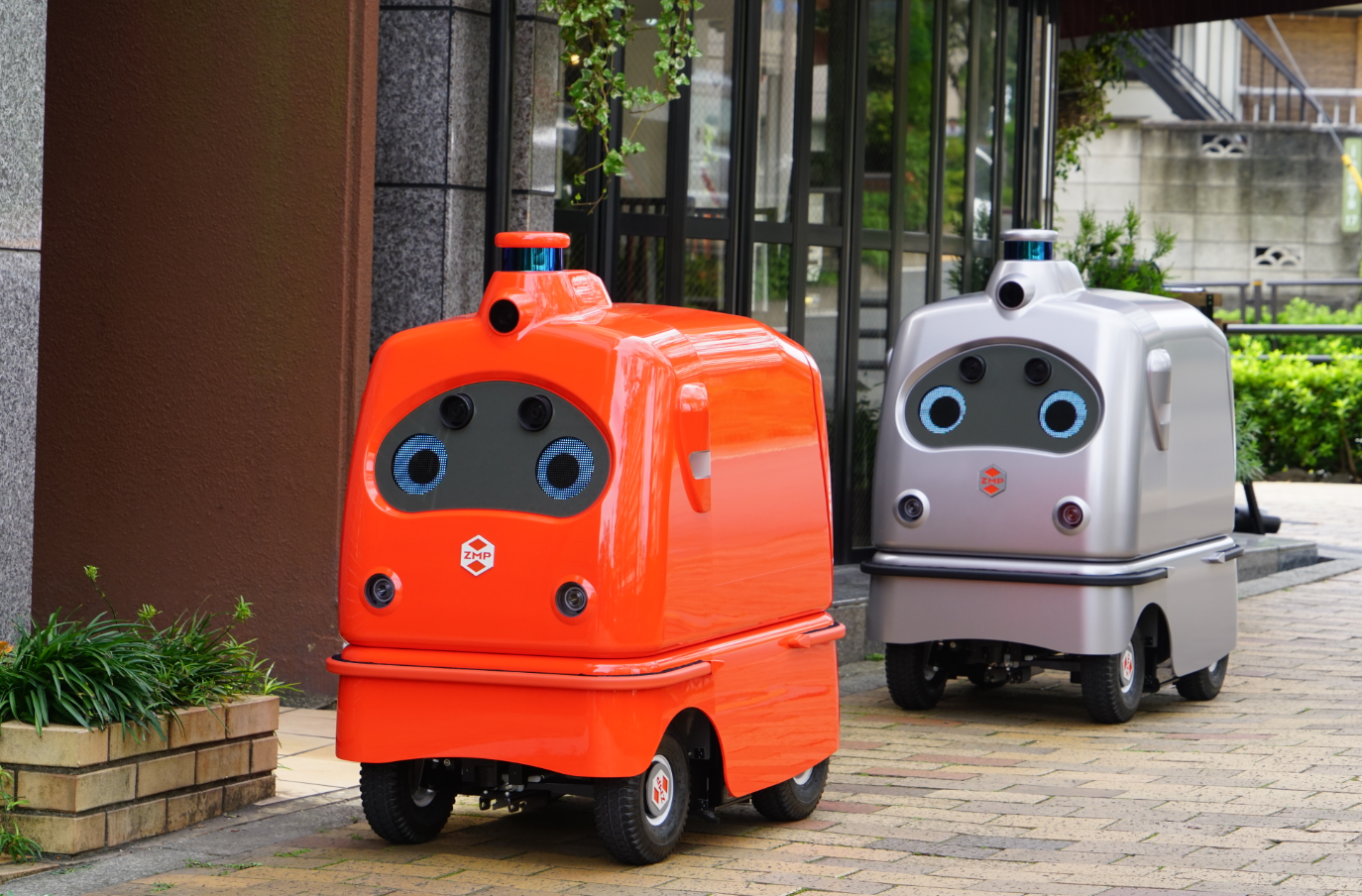 ZMP aims to solve the last-one-mile problems of logistics and help daily shopping by applying the Autonomous driving technology cultivated through the development of Autonomous driving technology of automobiles. A delivery robot CarriRo® Deli that autonomously moves on the sidewalk has been developed and has been tested since 2017. We provide not only the delivery robot but also a service platform utilizing CarriRo® Deli. Apart from the CarriRo® Deli body capable of moving autonomously in complex environments, the platform includes a remote monitoring and operating system, a ROBO-HI ™ system that manages the traveling. We aim to develop services on public roads in the future, as well as private land such as campuses.


【Lawson Inc.】
http://www.lawson.co.jp/
Headquarters: Shinagawa-ku, Tokyo
President and CEO: Sadanobu Takemasu
Lawson has been working on improving productivity and creating new services using the latest IT technology, such as semi-automatic ordering using AI and introduction of a tablet to manage work schedule of the store. We will continue to improve the shopping environment in the local community by enhancing delivery and mobile sales services through various demonstration experiments.
【Keio University Shonan Fujisawa Campus】
https://www.sfc.keio.ac.jp/
The Shonan Fujisawa Campus (SFC) was established in 1990 to solve problems while linking technology, science, design, and policy to diverse and complex societies. SFC consists of three faculties and two graduate schools. The three faculties are the Faculty of Policy Management, the Faculty of Environment and Information Studies, and the Faculty of Nursing and Medical Care. The two graduate schools are the Graduate School of Media and Governance, and the Graduate School of Health Management. It covers an area of about 100,000 square meters, a space where the latest technology and rich nature are in harmony. They do a variety of educational research on cutting-edge technology.
【Graduate School of Media and Governance, Keio University】
http://web.sfc.keio.ac.jp/~omae/
We are approaching electric vehicles from the technical side, aiming at the realization of a society where "anytime", "anyone" and "anywhere" can go. Specifically, focusing on auto driving of cars, auto cruising of cars, remote control technology of cars, proposal of control method and operation method, creation of control software, construction of experimental car, we are promoting demonstrations and evaluations using actual vehicles.

[Press Release Article]
​