Synchronous measurements of Sensor system that runs on different operating systems and Public road data acquisition support service introduction
Synchronous measurement of sensor system operating with different OS
Public road travel data acquisition support service introduction
- Integrate without modifying your existing system and shorten system construction time.
カメラ、LIDARなどADAS評価向けデータ計測に-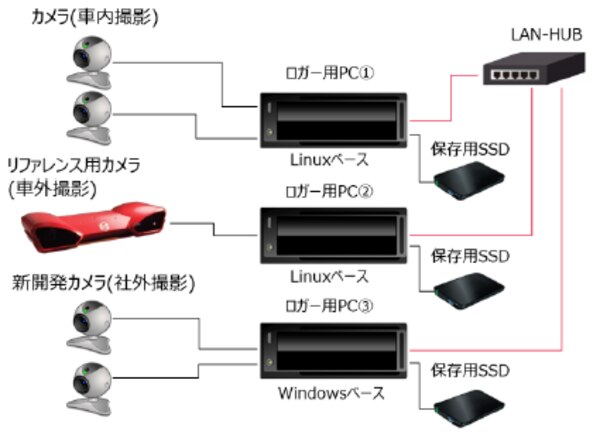 Example of data acquisition system using multiple PC loggers
 
ZMP Corporation (Bunkyo Ward, Tokyo, Representative Director: President: Hisashi Taniguchi, hereinafter referred to as ZMP).As a measurement system of public road data measurement service RoboTest , we will introduce examples of systems that can support OS for multi using multiple PC logger system.
 近年、ADAS技術や自動運転技術開発に関する開発ニーズが高まってきており、様々なセンサーを同期して計測する要望を頂いております。カメラやLIDARなど各センサの稼働するOSが異なることもあり、当社では複数のOSで動作するセンサの計測データを同期して計測するロガーを構築しました。
This system compactly houses multiple PCs running Windows, Linux and necessary measuring instruments in a multistage rack. We understand the situation that it is difficult to unify the development environment and the time to collect data is limited when collecting data of sensors under development and sensors for reference. By using the logger system which can measure synchronously in various development environments, preparation time for measurement can be shortened, so it is possible to deliver the equipment for data measurement as it is currently in the sensor system and development environment It is possible to minimize the influence on the development period and measure data.
Public road travel data acquisition service using multiple PC logger system will be 6 million yen ~ (excluding tax) for 1 passenger car model, for 10 days.​ ​
ドライバー運転による公道走行データ取得支援サービス「RoboTest(ロボテスト)」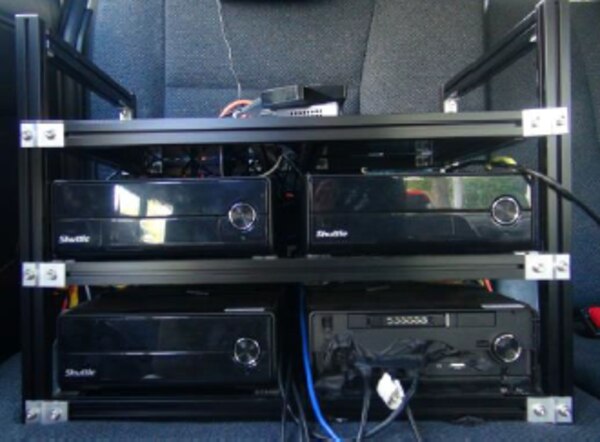 Compact multiple PC logger system

http://www.zmp.co.jp/products/robotest
【Travel data acquisition service menu】
· Vehicle arrangement
· Arrangement of drivers
· Design and arrange courses for data acquisition
(Selection of public road course, test course reservation etc.)
· Installation of measurement sensor
· Synchronization setting between PC for measurement
· Logger design and implementation for various data acquisition
· Test operation management
· Post processing of acquired data
· Reporting of acquisition results
 
【Example of price】
Example of data acquisition using RoboTest multiple PC logger system
Passenger car x 1, driver x 1 person, travel period x 10 days is 6 million yen ~ (excluding tax)
【Example of actual data acquisition using multiple PC logger system】
 データ取得目的:新開発センサーの検出結果評価データ計測
 車両:乗用車(大型タイプ)×1台
 ドライバー:ドライバー×16名
 計測期間:約1ヶ月
 場所:市街地、高速、郊外を含む公道
 データ取得内容:新開発センサーデータ、車両走行データ(加速度、GPS)、
 車両前方カメラ、ドライバー用カメラなどを同時取得
【実車実験走行サービス「RoboTest(ロボテスト)」について】 
RoboTest, a service provided by ZMP for supporting public road data acquisition by drivers, is a service that provides support from the planning stage of data acquisition to data analysis, which is required for customers' public road driving. It is possible to carry large number of people say 10 or 20.

<RoboTest's responsible area>


Press Release Articles
​
For inquiries
Contact Us