Synchronous measurements of Sensor system that runs on different operating systems and Public road data acquisition support service introduction
Synchronous measurement of sensor system operating with different OS
Public road travel data acquisition support service introduction
- Integrate without modifying your existing system and shorten system construction time.
Camera, LIDAR etc. Data measurement for ADAS evaluation -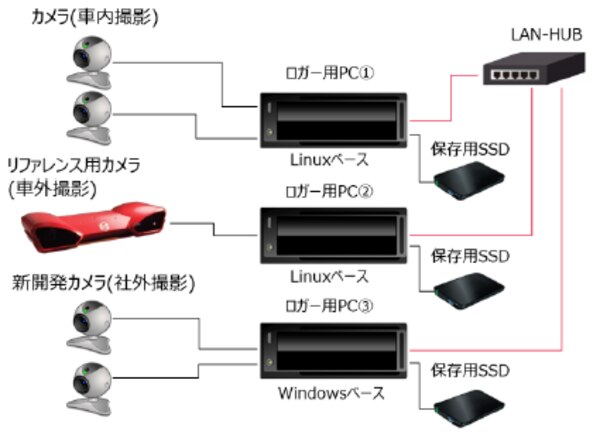 Example of data acquisition system using multiple PC loggers
 
ZMP Corporation (Bunkyo Ward, Tokyo, Representative Director: President: Hisashi Taniguchi, hereinafter referred to as ZMP).As a measurement system of public road data measurement service RoboTest , we will introduce examples of systems that can support OS for multi using multiple PC logger system.
Development needs relating to development of ADAS technology and Autonomous Driving technology have been increasing in recent years and we have received requests to measure various sensors synchronously. As the operating system of each sensor such as the camera and LIDAR is different, we built a logger that measures the measurement data of the sensors operating on multiple operating systems synchronously.
This system compactly houses multiple PCs running Windows, Linux and necessary measuring instruments in a multistage rack. We understand the situation that it is difficult to unify the development environment and the time to collect data is limited when collecting data of sensors under development and sensors for reference. By using the logger system which can measure synchronously in various development environments, preparation time for measurement can be shortened, so it is possible to deliver the equipment for data measurement as it is currently in the sensor system and development environment It is possible to minimize the influence on the development period and measure data.
Public road travel data acquisition service using multiple PC logger system will be 6 million yen ~ (excluding tax) for 1 passenger car model, for 10 days.​ ​
Public road driving data acquisition support service by driver driving "Robo Test"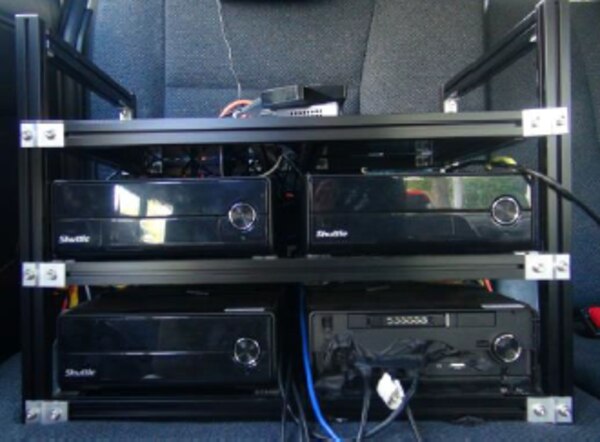 Compact multiple PC logger system

http://www.zmp.co.jp/products/robotest
【Travel data acquisition service menu】
· Vehicle arrangement
· Arrangement of drivers
· Design and arrange courses for data acquisition
(Selection of public road course, test course reservation etc.)
· Installation of measurement sensor
· Synchronization setting between PC for measurement
· Logger design and implementation for various data acquisition
· Test operation management
· Post processing of acquired data
· Reporting of acquisition results
 
【Example of price】
Example of data acquisition using RoboTest multiple PC logger system
Passenger car x 1, driver x 1 person, travel period x 10 days is 6 million yen ~ (excluding tax)
【Example of actual data acquisition using multiple PC logger system】
Data acquisition objective: Detection result evaluation data of newly developed sensor Measurement
Vehicle: Passenger car (large type) × 1
Driver: Driver × 16
Measurement period: about 1 month
Place: urban area, high speed, public roads including suburbs
Data acquisition content: Newly developed sensor data, vehicle running data (acceleration, GPS),
Simultaneous acquisition of vehicle front camera, driver camera and so on
【About actual test run service "Robo Test"】
RoboTest, a service provided by ZMP for supporting public road data acquisition by drivers, is a service that provides support from the planning stage of data acquisition to data analysis, which is required for customers' public road driving. It is possible to carry large number of people say 10 or 20.


​


Press Release Articles
​
For inquiries
Contact