Start selling the latest version of the compact CAN-USB conversion module
Start selling the latest version of the compact CAN-USB conversion module
- Public road travel data collection · Automatic driving public road demonstration experiment · Utilization in home delivery robot -
ZMP CORPORATION ZMP (Bunkyo Ward, Tokyo, President: Hitoshi Taniguchi, hereinafter referred to as ZMP) has recently launched the latest version of the small CAN to USB conversion module.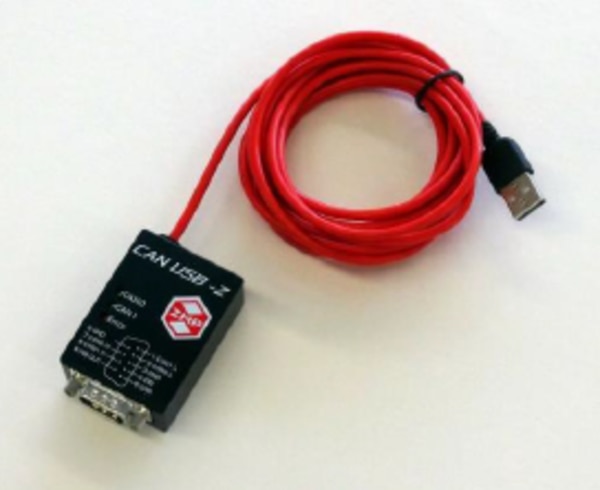 CAN USB-Z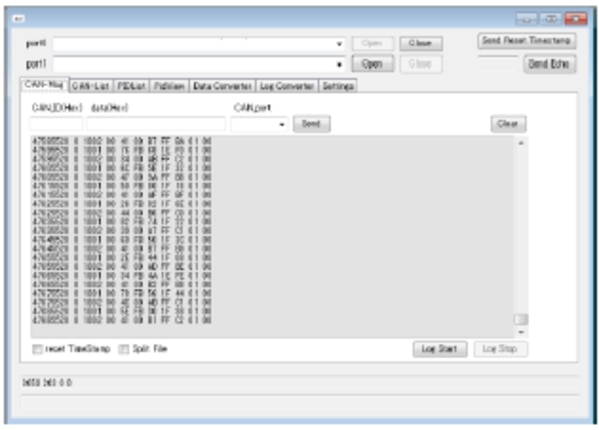 Configuration tool screen

A CAN baud rate can be set up to 1 Mbps, a synchronous signal input and power supply to other equipment are also possible, and a configuration tool that can check CAN communication settings and data can be attached. This latest version makes it possible to fix ID when using multiple USB devices (*), making it easy to develop applications that do not depend on connection order. CAN-USB-Z is a compact interface module equipped with a 2-channel automotive network CAN (Cntoroller Area Network) port, which is a module that can be connected to a PC or the like to easily send and receive CAN signals.
In addition, the optional Viewer application includes a database creation function that extracts a specific ID from CAN data and converts it to a physical value, and a function to play saved log data as test bench data.
This product is used by RoboTest of our public road traveling data collection service to collect information on in-vehicle CAN and CAN-compatible sensors. It is also mounted on the automatic operation technology development platform RoboCar MiniVan and is used in ZMP and public road demonstration experiments in various places. In addition, CarriRo Delivery, a home delivery robot currently undergoing verification experiments, is also used as an interface for various sensor connections. It can be used immediately for applications such as measurement of CAN bus in development and experiment of industrial machines such as automobiles, in-vehicle equipment, construction machines / agricultural machines, etc., and synchronous acquisition of CAN data of different channels such as vehicle data and sensors.



Connection example
The price is 40,000 yen (tax excluded)
Sales will start from today.
(* Fixing USB ID is supported only on Linux.)
Product introduction CAN USB-Z
http://www.zmp.co.jp/products/canusbz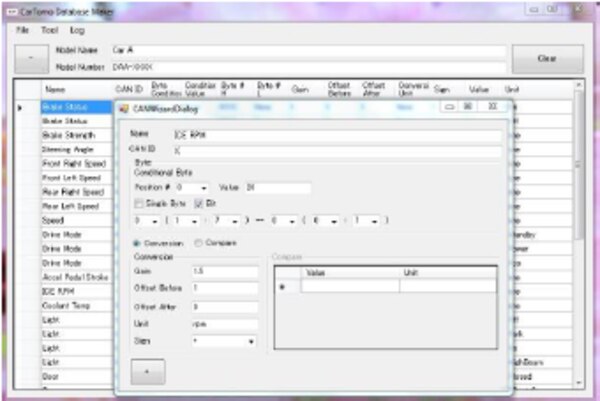 Database creation application screen
【Characteristics】
· Small CAN-USB interface with 2 channel CAN interface
· All CAN data can be acquired
・USB bus power drive
· Supply power to other devices by 5V power output
・Synchronization signal can be input by digital input (1 channel)
・Built-in terminating resistor (set with rear switch)
· CAN communication setting and simple monitoring tool included (Windows)
・API to utilize converted data in database prepared
· (Optional) Database creation tool for extracting CAN data and converting it to physical values ​​etc, log data reproduction tool (Windows)
【Price】
ZMP CAN USB - Z 40,000 yen (excluding tax)
· CAN USB-Z main unit × 1
· Application CD-ROM × 1
(Configuration tool, document)
ZMP CAN USB-Z & Viewer 90,000円(税別)
· CAN USB-Z main unit × 1
· Viewer application CD-ROM × 1
(Database creation application, Player application, Configuration tool, Manual)
【Main Specifications】
| | |
| --- | --- |
| Number of CAN channels | 2 (D-sub connector × 1) |
| CAN baud rate | Maximum 1 Mbps (125, 250, 500, 1000 [kbps] switching) |
| Controller | CAN 2.0 A, 2.0 B (ID: 11, 29 [bit]) |
| PC bus interface | USB 2.0 (bus power supply) |
| I/O interface | Digital input × 1 (Schmitt trigger, maximum 1 [kHz], maximum 30 [V]) Analog input × 1 (0 to 16 [V], 12 [bit]) |
| Time stamp | 10 [μs] |
| Power supply output | USB bus power (5 V) / EXT (maximum 16 V 3A) |
| Length x Width x Height / Weight | About 60 × 40 × 20 [mm], about 50 [g] |
| Application | Windows 7/8 |
| Driver | Windows 7/8, Linux |
| Operating System | -20 to 60 [℃] ※ No condensation |
* Fixing the USB ID corresponds to Linux only.
Press Release Articles
​