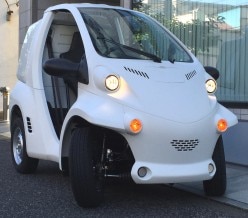 Started selling RoboCar MV 2 2017 platform for development of ultra-small EV based autonomous operation technology
Development platform for ultra-small EV based Autonomous Driving technology
Sales of RoboCar MV 2 2017 started
ZMP Inc. (Bunkyo-ku, Tokyo; CEO: Taniguchi Hisashi , hereinafter ZMP) will start selling the experimental vehicle "RoboCar MV 2 2017" for the development of ultra-small EV based Autonomous Driving technology.
This product is the latest model of the RoboCar MV2 vehicle for Autonomous Driving technology development for one-seat ultra-small EV base which we are selling from 2012. We are steering from your program, the accelerator, the experimental vehicle of control capable of research for the development of brake, car / parts manufacturers, in research institutes Autonomous Driving is that you can take advantage to the research and development using the actual vehicle of and driving assistive technology products .
In terms of operability, we changed the control panel to visualize vehicle conditions such as vehicle speed and steering angle, state of various sensors installed, etc. to a 13-inch tablet to improve visibility and operability from the driving position. In addition, a dashboard equipped with an indicator that can distinguish between computer control state (program mode) and manual operation state (manual mode). In terms of equipment mounting capability, we have provided a standard trunk room that can store precision equipment such as development PCs and sensors.
Conventional products are being used in research and development departments and universities, etc. to be delivered in smart mobility research and development of narrow space experiments and short distance traveling. RoboCar MV 2 2017 has improved various improvements based on improvement of equipment mounting capacity, improvement of operability in driver's seat environment and other feedback from customers.
RoboCar MV 2 2017 Autonomous Driving package is 8 million yen (excluding tax), we will start receiving orders from today.
【CarriRo® Homepage】
http://www.zmp.co.jp/products/robocar-mv
【Price】
RoboCar MV 2 2017 Autonomous Driving package8 million yen (excluding tax)
[Press Release Article]