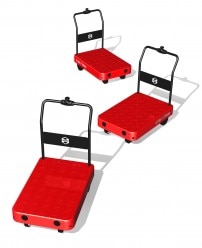 ZMP, Logistic support robot "CarriRoⓇ" latest function Self-maintenance tablet tool "CarriRo Pippi" free rental campaign launched
ZMP, Logistics support robot " CarriRo " latest function
Setting change, tablet tool for self maintenance [CarriRo Pippi]
Start a free rental campaign
- Pre-operation inspection on the tablet smoothly. Enabling driving environment setting without service personnel -
ZMP Corporation (Bunkyo-ku, Tokyo, CEO: Taniguchi Hisashi, hereinafter ZMP) We will start offering "Tablet terminal" is a tool for tablet terminals CarriRo Pippi "which can be used by customers for setting change and self maintenance on the logistics support robot" CarriRo "​ ​
The logistic support robot "CarriRo" aims at saving labor and efficiency of the work of manually transporting the carriage, such as picking a logistics warehouse, transporting between steps in a factory, or unloading a retail store, We began selling in August 2016. Until now, when changing the running speed and voice setting of CarriRo, it was necessary for a ZMP service technician to travel to the site and change the setting using a dedicated terminal, but if the customer using it on site We will implement a campaign offering free service tools for a limited time to enhance the settings more quickly and more flexibly so that you can change the settings according to the work environment.
By using the tablet terminal to cooperate with CarriRo, this service tool enables you to change the setting of CarriRo itself and self maintenance. By utilizing this function, we can contribute to flexible setting change according to the environment at the worksite without calling a serviceman, smooth pre-work inspection, and quick work restoration at trouble. As setting change contents, sound pattern · volume, speed adjustment of drive mode, adjustment of obstacle sensor, etc. As a self-maintenance function, it is possible to check the error log and check the operation status of the camera sensor and the obstacle sensor. Also in the future, it will be possible to reflect CarriRo's latest firmware via "CarriRo Pippi", manage running time and mileage, and predict the part likely to fail from the status of the aircraft .
From the end of June 2017, "CarriRo Pippi" is scheduled to be offered at 3,500 yen per month (including tablet terminal and tool use fee) per CarriRo to be connected. However, as a campaign with the latest function release, you can use free for one year from introduction for customers who newly introduced CarriRo at lease from April to June 2017.
This product will be exhibited at the Technology Exhibition 2017 in Yokohama which will be held at Pacifico Yokohama from May 24, 2017.
■ CarriRo Pippi Overview
​
· Name setting of CARRIRO
· Firmware version check
· Audio pattern (4 types), volume (5 levels) setting
· Drive mode maximum speed setting
Back on / off, speed setting
· Turn on / off the obstacle sensor, set the detection distance
​
· Error log output
· Confirmation of operation status of camera sensor and obstacle sensor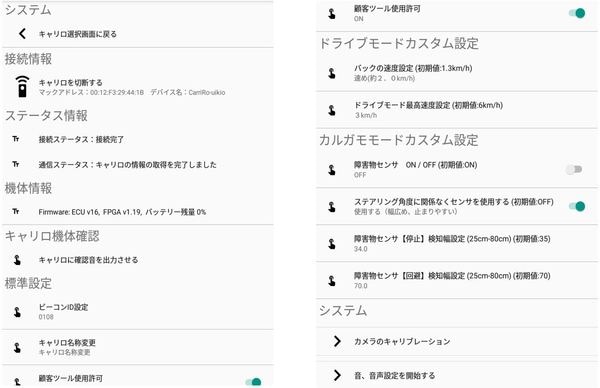 ​
【Price】
CarriRo 3 year lease Monthly price 35,000 yen / unit
CarriRo pippi option monthly ¥ 3,500
【Product introduction HP】 CarriRo
https://www.zmp.co.jp/carriro/
[Press Release Article]
[Exhibition information] Technology exhibition for people and cars 2017 Yokohama