ZMP, Logistics support robot "CarriRoⓇ" upgraded, 2017 model release launched
ZMP, Logistics support robot " CarriRo "
Version upgrade, 2017 model release launched
- Improved operability · driving performance. Transportation work, more fun and comfortable -
- Fulfillment of sales plan and maintenance plan with new model release -
ZMP Inc. (Bunkyo-ku, Tokyo, CEO: Taniguchi Hisashi, hereinafter ZMP) will release the 2017 model of the logistics support robot "CarriRo".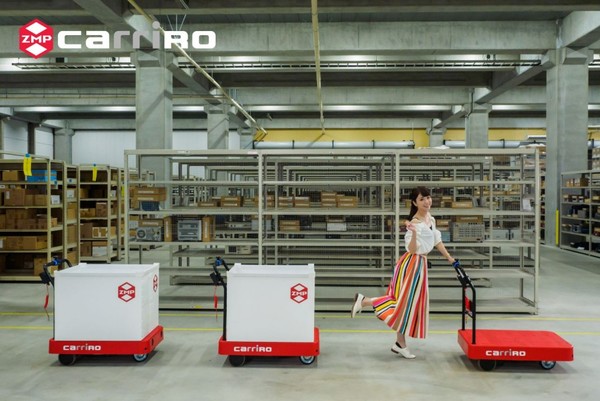 Distribution support robot " CarriRo " 2017 model
The logistic support robot "CarriRo" reduces the workload of heavy work such as picking logistics warehouses, inter-process conveyance in the factory, logistics in the stations, in the stations, airports, commercial facilities, etc., We started selling in August 2016 with the aim of doing these. It is now possible to operate CarriRo more intuitively and speedily by strengthening functions and performance based on the voice of customers who have utilized CarriRo. By upgrading this version, you will be able to work more comfortably and comfortably, contributing to further labor saving and efficiency at the site.
In addition, along with this new model release, we have expanded our sales plan so that we can consider it more smoothly at the time of introduction, and we are also enhancing our maintenance plan so that you can use it with confidence after introduction.
From July 2017 to August, we held a demonstration meeting in the ZMP company and we are also offering benefits during the period. Also at the ZMP Forum to be held from 11th to 13th July 2017, we will carry out the 2017 model fuselage exhibition and experiential sessions, so please participate.
Changes in CarriRo 2017 model
The CarriRo 2017 model has enhanced the following functions and performance from the initial model. In the drive mode, responsiveness and running control performance were improved, making it possible to perform more intuitive operation. In Karugamo mode, it is possible to perform more intuitive and speedy work by adjusting the smoothness at launch, improving the turning performance, adjusting the tracking interval and speed. In addition, we improved the hardware and software for quality and performance improvement.
About expanding sales plan
CarriRo has prepared a sales plan only for three years lease so far, but with the release of the 2017 model, we will also prepare a plan for 5 years lease and We made it possible to consider introduction for those who purchase newly, more flexibly according to customer's request . The price of the 5-year lease plan will be ¥ 25,000 per month (excluding tax) *.
* It is an approximate price. The actual lease price will be announced by the leasing company.
About expansion of maintenance plan
ZMP collaborates on maintenance of CarriRo with Hitachi Systems (Shinagawa-ku, Tokyo, President and Representative Director: President: Masahiro Kitano), and utilizes about 300 service centers of Hitachi systems nationwide to provide timely maintenance service It's a schedule. (Detailed service contents will be released within 2017)
About the logistics support robot CarriRo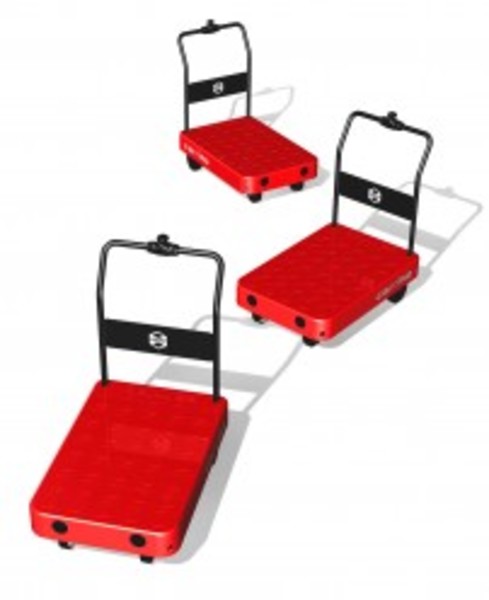 Logistics support robot " CarriRo "
CarriRo is a trolley type logistic support robot with a drive mode that allows operation with a joystick and a kalargo mode that automatically tracks a beacon (transmitter), and is a product that began selling in August 2016. By utilizing CarriRo's function, we aim to raise the productivity of transportation up to about 3 times. The rechargeable maximum of 100 kg baggage can be carried for 8 hours in a row, making it easier for picking operations in warehouses and logistics centers to be used for inter-process conveyance in the factory, so that belt conveyors and AGVs (automatic guided vehicles) It is also possible to substitute. Moreover, since the work load is greatly reduced, it becomes possible for women and elderly people to carry out the transportation work which was regarded as hard labor so far, so it can be used for expanding workers and promoting employment.
【Product introduction HP】 CarriRo
https://www.zmp.co.jp/carriro/
[Press Release Article] 
​
【Exhibition Information】
ZMP Forum 2017
Dates: Tuesday, July 11 - Thursday, January 13, 2017 Venue: Bellesalle Iidabashi
Website for exhibition: http: //www.zmp.co.jp/products/9th_forum