ZMP and Toppan Printing, ROBO × IC tags for unattended inventory
ZMP and Toppan Printing, ROBO × IC tags for unattended inventory
With unmanned convoy transportation in which CarriRo and the RoboCar platform are linked,
Discovery progress of unattended inventory solution by IC tag which becomes the first will be disclosed at automatic recognition comprehensive exhibition
ZMP Inc. (Headquarters: Bunkyo-ku, Tokyo, President: Hisashi Taniguchi, following ZMP) is, logistics support robot " CarriRo and" Autonomous Driving by linking the control development vehicle platform (RoboCar platform), warehouse Ya It began efforts to achieve a convoy transport of unattended in the factory.
As the first step of this initiative, ZMP will automatically follow the "RoboCar 1/10" after Toppan Printing Co., Ltd. (headquartered in Chiyoda Ward, Tokyo, President and CEO: Shingo Kaneko, Toppan Printing) We will develop an unmanned inventory solution combining "CarriRo" and RFID, and the progress will be announced on the "19th Automatic Recognition Comprehensive Exhibition" (venue: Wednesday, September 13, Tokyo Big Sight) 's Toppan booth.
As for the RoboCar platform, by mounting sensors such as RoboCar 1/10 of real vehicle 1/10 scale robot car or "POWER WHEEL II" for research and development, we can measure the surrounding environment and map it and its own position Estimation is possible and it is possible to run autonomously. "CarriRo" also has a function called "Karugamo mode" that detects and follows the attached beacon. By combining these two functions, "CarriRo" automatically follows the autonomous RoboCar platform, enabling unmanned convoy traveling with multiple units at once.
This time ZMP opens unattended inventory solution combining RFID under development with Toppan Printing as the first step of this effort. In this solution, "CarriRo" equipped with an RFID reader that irradiates radio waves outwardly runs unattended, reads the RFID affixed to the surrounding products and returns the read actual shelf information to the goods management system. This will make the inventory work more efficient and less labor consuming labor.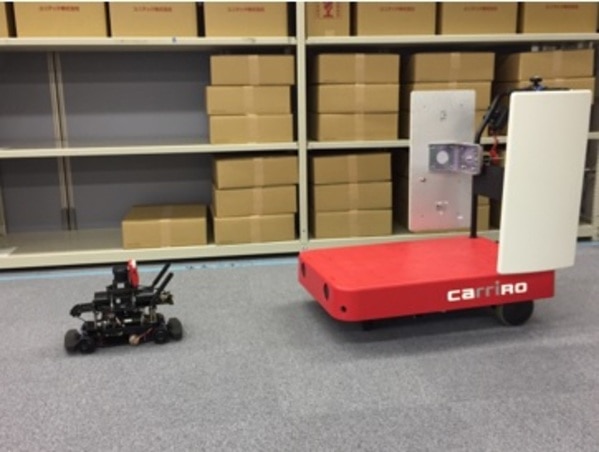 Following the autonomous leading robot "RoboCar 1/10" CarriRo, CarriRo The antenna mounted on the handle of the CarriRo reads the RFID affixed to the surrounding products and performs stock picking in an unattended manner.
Unattended inventory solution by collaboration between "RoboCar 1/10" and "CarriRo"
© ZMP Inc. / Toppan Printing Co., Ltd.
About the logistics support robot CarriRo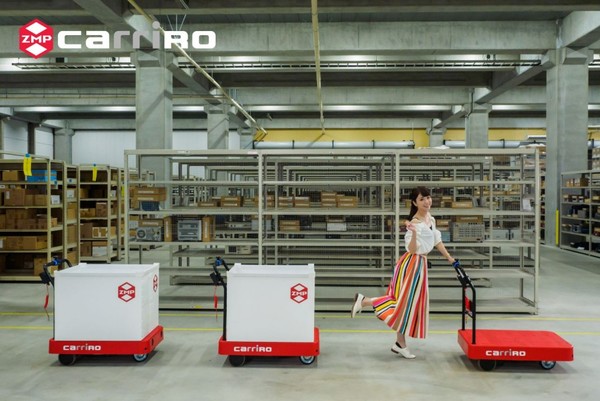 CarriRo is a trolley type logistic support robot with a drive mode that allows operation with a joystick and a kalargo mode that automatically tracks a beacon (transmitter), and is a product that began selling in August 2016. By utilizing CarriRo's function, we aim to raise the productivity of transportation up to about 3 times. The rechargeable maximum of 100 kg baggage can be carried for 8 hours in a row, making it easier for picking operations in warehouses and logistics centers to be used for inter-process conveyance in the factory, so that belt conveyors and AGVs (automatic guided vehicles) It is also possible to substitute. Moreover, since the work load is greatly reduced, it will be possible for women and elderly people to carry out the transportation work which had been regarded as hard work so far, so it is effective for expanding workers and promoting employment.
https://www.zmp.co.jp/carriro/

【Major Specifications of CarriRo】
Body weight
55 kg
Size
Width 600 mm, depth 900 mm
Height
200 mm (Handle part 900 mm)
Maximum loading capacity
100 kg
Maximum speed
6 km / hour
Charging time
Two and a half hours​ ​
Movable time

8 hours

(It may differ depending on the operating situation)
* Company names and product / service names described in this news release are trademarks or registered trademarks of each company.
* The content described in this news release is current as of the publication date. Thereafter, it may be changed without prior notice.
[Contact details for inquiries]
■Inquiries about press
ZMP Inc. Caliro Division TEL: 070-3169-5864 / E-Mail: yoh.arai@zmp.co.jp
■Inquiries about the product
ZMP Inc. Caliro Division TEL: 070-3169-5864 / E-Mail: yoh.arai@zmp.co.jp
[Press Release Article]
​