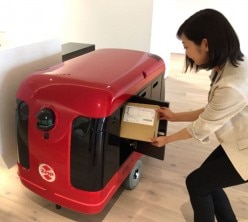 Japan's first unmanned delivery robot "CarriRo® Delivery" Started demonstration experiment at Roppongi Hills
Japan's first automatic transportation delivery robot "CarriRo® Delivery"
Start demonstration experiment at Roppongi Hills
- Toward Solving the Last One Mile Problem in Logistics -
Co., Ltd. ZMP (Bunkyo-ku, Tokyo, CEO: Taniguchi Hisashi , following ZMP) Mori Building Co., Ltd. (Minato-ku, Tokyo, President: Shingo Tsuji, following Mori Building) and in collaboration, Japan's first automatic traveling CarriRo Delivery will be started on October 8th. CarriRo Delivery continues to develop and verify with the aim of helping daily shopping of people called weak shoppers, in addition to eliminating the problem of lack of delivery personnel in the logistics industry and the food delivery industry. It carries a home delivery box, automatically runs at a maximum speed of 6 km while recognizing the surrounding environment 360 degrees with a laser sensor and a camera, and delivers the baggage to the destination. It also enables remote monitoring as well as remote monitoring as required.
With the Mori Building which is considering introducing a new delivery service in order to improve the efficiency of operation and convenience, the various comprehensive urban functions such as living, working, playing, learning, City, we will conduct the verification of technical and service aspects in the actual city with Roppongi Hills set up as a stage where experiments can be performed assuming various logistic forms from vertical movement to plane movement.
In the demonstration experiment, CarriRo Delivery was used to carry out experiments to deliver packages and other items using logistics centers, shops, etc. in Roppongi Hills to the office in the forest tower, using elevators. In the future, we are planning to start experiments of transporting packages from logistics center to each facility in Roppongi Hills such as TV Asahi company building etc.
In the future, we aim to solve the last one mileage problem of distribution as well as improving service convenience such as coffee delivery to office workers and delivery of luggage to residents.
The state of the demonstration experiment will be released to the press at any time.
CarriRo® Deli
http://www.zmp.co.jp/products/carriro-delivery
Outline of experiment
Period: October 8, 2017 (Sunday) - March 31 (Saturday) 2018
Location: Roppongi Hills
Contents: Demonstration experiment of automobile delivery home delivery robot "CarriRo Delivery" at Roppongi Hills. Experiment to deliver packages, such as documents and goods, from the Roppongi Hills Cooperative Logistics Center, shops, etc. to the office in the Roppongi Hills Mori Tower using elevators.
For product details please check the product page of CarriRo Delivery below.

【Product detail page】
http://www.zmp.co.jp/products/carriro-delivery
[Press Release Article]
​