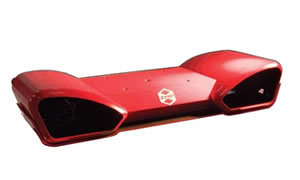 Started to receive orders for Stereo camera with greatly improved distance accuracy RoboVision 2s​ ​
Stereo camera with greatly improved distance accuracy
RoboVision 2s order acceptance started
- Improvement of lens performance and addition of optical low-pass filter to enable parallax in a wide range of images, distance measurement results with less dispersion -
ZMP CORPORATION ZMP (Bunkyo Ward, Tokyo, CEO: Taniguchi Hisashi , hereinafter ZMP)
Today we added hardware improvements to the stereo camera RoboVision 2
We have started accepting orders for "Stereo vision system RoboVision 2s".
Recently the importance of environmental recognition with cameras has increased more and more in the development of ADAS · autonomous driving technology and the development of robot technology, especially the use of stereo cameras which can calculate the distances with only cameras is drawing attention. ZMP has been selling RoboVision 2, a stereo camera using Sony's ultrahigh sensitivity CMOS sensor, for research and development since 2015 and equipped with software that can detect objects as well as distance information from image data taken with RoboVision 2 It is a stereo vision system.
In this hardware improvement, we are improving the lens performance and adding an optical low pass filter. With this improvement, it is possible to achieve improvement of the lens realizes improvement of peripheral resolution by improvement of the lens. By adding an optical low pass filter, the influence of moire and false color is reduced.
By using this product, it is possible to reduce fluctuation in the change in the value of the measurement distance when distance measurement is performed, and to obtain smooth distance measurement result.
In our verification environment, it has been confirmed that the variation related to the distance measurement from the camera to the object has improved by about 35% compared with the product before improvement. As a result, it is possible to measure the results with less variations in calculating the distance and the relative speed of the object in front of the camera and so contribute to the application of image processing technology such as object detection and object tracking utilizing the detection result.



The price is Robo Vision 2s main body at 900,000 yen (tax excluded), with processing PC set at 1.3 million yen (tax excluded)
We will begin shipping from mid February 2018.

Price
Stereo vision system RoboVision 2 s 900,000 yen (tax excluded)
RoboVision 2s PC set package 1.3 million yen (excluding tax)
Main specifications RoboVision 2
Camera module
Image sensor
Sony 1/3 type effective 127 thousand pixels
CMOS image sensor IMX 224 × 2
Resolution
1280 × 960 pixels (30 fps), 640 × 480 pixels (120 fps)
Horizontal view angle
45°
Interface
USB 3.0
Baseline length
210 mm
Function
Synchronization, Distortion correction, Stereo collimation, Wide dynamic range, etc.
Software development environment (SDK)
| | |
| --- | --- |
| Library | Camera I / F, parallax image generation |
| Application | RAW output, distortion correction result output, parallax image output * |
| Operating System | Linux / Windows 8.1 |
※ Product images and specifications are under development and subject to change without notice.
* Resolution and Frame rate depends on PC specifications.
Product introduction HP
Stereo camera RoboVision 2s (Robo Vision 2s)
http://www.zmp.co.jp/products/robovision2s


Press Release Articles
​