[Introduction case introduction] Introduced to the distribution log transportation work of the logistics support robot CarriRo® Kasai Industry Co., Ltd.
【Introductory case introduction】 Logistics support robot CarriRo®
Introduced to Kasai Industry Co., Ltd.'s logistics and transportation business in the factory
- Improvement of working environment of in-house logistics carriers, labor saving by reduction of transportation number -
The logistic support robot CarriRo sold by ZMP Corporation (Bunkyo-ku, Tokyo, CEO: Taniguchi Hisashi , hereinafter referred to as ZMP) was introduced to the logistics and transportation work of Kasai Industry Co., Ltd. (hereafter Kasai Industries) . We are pleased to announce the case on our website this time.
CarriRo introduction case introduction Kasai Industry Co., Ltd.
https://www.zmp.co.jp/carriro/detail_kasai.html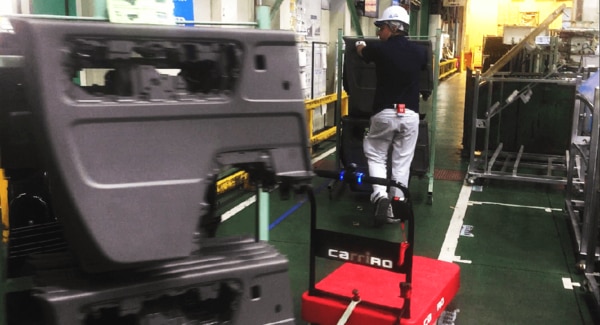 Examples of use within the Kasai Industrial Factory


Kasai Industry is a comprehensive manufacturer of automotive interior parts. We are engaged in the manufacture and sale of automotive interior parts mainly for interior trim for automobiles, and all business incidental thereto. We are expanding our network to all over the world including Japan, North America, Europe and Asia, and establish a global supply system.
In Kasai Industry, materials and parts to be supplied to each line of the factory are manually transported in part, in order to cope with the production of various kinds of small quantities. Especially, because transport between buildings can not use AGV, the number of walks per day of transport operators is large, transportation work has occurred for many round trips, and human transportation has been a problem. CarriRo was introduced in November 2016 with the aim of improving the working environment of transport carriers in the campus, and reducing labor costs by reducing the number of transfers. Mr. Iwasaki, Kansai Industrial Production Technology & Production Management Group Manufacturing Technology and Production Management Group Manager, said, "We can transport multiple carriers in one transportation", "Transport without transporting the transport route without laying the magnetic tape on the floor surface It is mentioned as the reason for choosing such as "can be done." After introducing CarriRo, Mr. Iwasaki commented, "How many round trips can be reduced per day, reducing the burden on workers and reducing the number of man-hours required".
For details of the case study, please visit the website above.
About CarriRo
CarriRo is a cart type logistics support robot with a drive mode that allows operation with a joystick and a kalargo mode that automatically tracks a beacon (transmitter).
It is capable of carrying rechargeable baggage up to 150 kg for 8 hours continuously, making it efficient for picking operations in warehouses and distribution centers, and for inter-process conveyance in the factory.
[website]https://www.zmp.co.jp/carriro/
[Movie]https://youtu.be/a1Tw9W7IDYE
 【Price】
5 year lease monthly charge 28,000 yen (excluding tax) / 1 unit
Press Release Articles
​