One-seat EV base RoboCar® MV 2 rental starts
One-seat EV base RoboCar® MV 2 rental starts
- Research and development of automatic driving · remote control · mobile robot etc possible without possession of vehicle assets -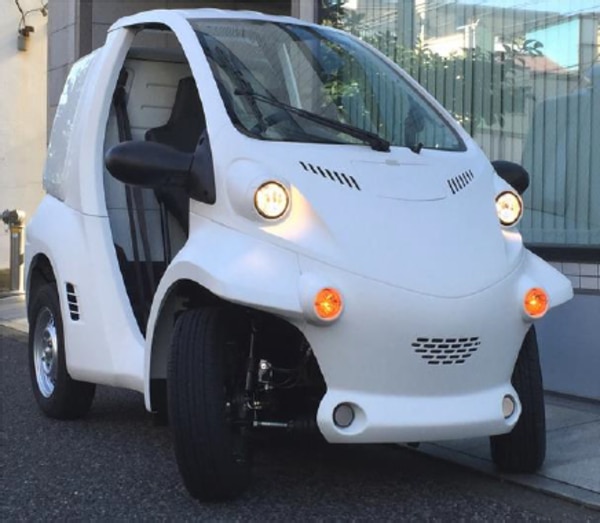 RoboCar® MV 2
ZMP Inc. (Bunkyo-ku, Tokyo, CEO: Taniguchi Hisashi , hereinafter ZMP) will start offering rental of RoboCar® MV 2, an Autonomous Driving technology development platform based on one-seat EV for companies and research institutions. For rental expenses, we accept orders from today for 1 million yen (excluding tax).
RoboCar MV 2 is based on Toyota Auto Body's "Komusu", a ZMP original control controller, an automatic steering system, an automatic braking system, and is equipped with an experimental system that allows steering, accelerator and brake control by computer It is a micro electric vehicle.
A 13-inch tablet for visualizing vehicle conditions such as vehicle speed and steering angle, state of various sensors installed, etc. Dash indicator capable of identifying computer control state (program mode) and manual operation state (manual mode) Equipped with a board, it also has a standard delivery box that can store precision equipment such as development PCs and sensors. On the software side, libraries that can control vehicle speed, brakes, steering wheel operation, etc. are prepared, so users can smoothly conduct research and development of applications such as obstacle avoidance, automatic driving, remote control and so on.
With the launch of this rental launch, we hope that it will be possible for more industry and research institutions to participate, as well as car manufacturers and parts manufacturers, communication and infrastructure, Internet services, local governments, etc., leading to the creation of new markets I will.
RoboCar® MV 2
http://www.zmp.co.jp/products/robocar-mv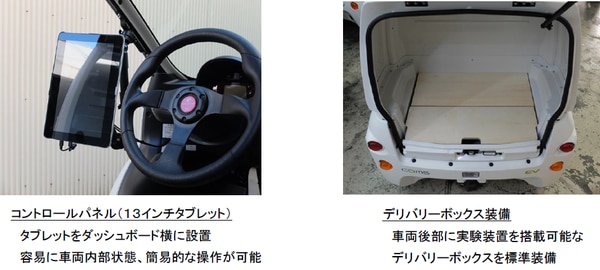 【Main application】
• For moving means of elderly people, research and development of short distance moving vehicles
• Research and development of driving support technology and preventive safety technology
• To evaluate own products / technologies on actual vehicles
• Experiments on services and applications that link cars and IT
【Price】
RoboCar MV 2 Rental 1 month 1 million yen (excluding tax)
【Main Specifications】
| | |
| --- | --- |
| Passenger Capacity | 1 person |
| Load weight | About 30 [kg] |
| Size | Approximately 2.4 × 1.1 × 1.5 [m] (Delivery box internal dimension 590 × 875 × 965 mm) |
| Vehicle weight | About 410 [kg] |
| Maximum speed | 60 [km / h] |
| Charger plug-in charge / AC | 100 [V] |
| Charge mileage | About 50 [km] |
| Standard charge time | About 6 hours |
| Communication standard | CAN |
Press Release Articles
​