[Introduction example introduction] Logistic support robot CarriRo® Introduction aiming at improvement of working efficiency at the relief information processing and logistics base
【Introductory case introduction】 Logistics support robot CarriRo®
Introduced to process relief information processing and to improve work efficiency at logistics bases
- Improvement of transportation efficiency by the Karugamo function. Cooperate with IC tags to promote labor saving -
 株式会社ZMP(東京都文京区、代表取締役社長:谷口 恒、以下ZMP)が販売する物流支援ロボットCarriRo(キャリロ)が、凸版情報加工株式会社の物流拠点において作業効率向上を目指し導入されました。この度、弊社ウェブサイトにて事例を公開いたしましたので、お知らせいたします。
 
【CarriRo introduction case introduction】 Toppan Information Processing Co., Ltd.
https://www.zmp.co.jp/carriro/detail_tjk.html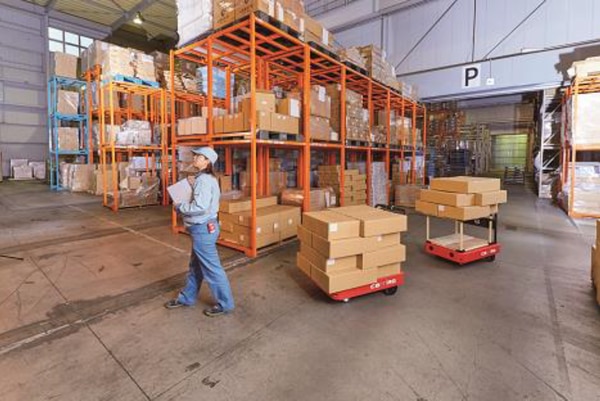 Toppan Information Processing Co., Ltd. is a member of the Toppan Group engaged in operations focusing on bookbinding and processing of publications and advertising media. It is a very important position to be responsible for the final finishing, and it can be said that it is a work that you can realize manufacturing. Based on the technology and experience cultivated in bookbinding, we are also working on new value-added services.
For the purpose of improving work efficiency and reducing workload at logistics bases, the company introduced a carriro and started pilot operation. About Carriro, Mr. Hiroyuki Takahashi and Mr. Tetsuya Urushihara of the system logistics management department of the company said, "Karugamo mode which automatically follows the beacon attached to the worker carries luggage and goods which had been carried in several times so far at once Because we can do things, we can dramatically improve work efficiency. " In addition, "In Karugamo mode, when you are right behind you say" just behind "or if walking faster than the set speed you say" Please walk slowly. "If the worker moves out of the detection range He says that there is "Moe version" that will let you know with the voice of the voice actor "I have gone away" and that it is pretty intriguing, "he said. There is also one side that makes the job fun for Carriro, he is commented on I will.
As a future development, the company will combine the autonomous moving function under development by ZMP and the technology of the Toppan Group, read the RFID tag * of the shelf's baggage while autonomously running, and cooperate with the system,
We are inventorying unattended, aiming to promote labor saving and inspecting inventory and stock inventory work.
(* Automatically recognize individual information from IC tag embedded with information by wireless communication)
About CarriRo
 CarriRoはジョイスティックによる操作ができるドライブモード、およびビーコン(発信機)を自動追従するカルガモモードを有した台車型物流支援ロボットです。
It is capable of carrying rechargeable baggage up to 150 kg for 8 hours continuously, making it efficient for picking operations in warehouses and distribution centers, and for inter-process conveyance in the factory.
[ウェブサイト] https://www.zmp.co.jp/carriro/
[動画] https://youtu.be/a1Tw9W7IDYE
【Price】
5 year lease monthly charge 28,000 yen (excluding tax) / 1 unit
Press Release Articles
You can check press release PDF here.