[Introduction example introduction] CarriRo® logistics support robot Introduction aimed at reducing the load of carrying work at Toyota Logistics and Logistics Center
【Introductory case introduction】 Logistics support robot CarriRo®
Introduced with the aim of reducing transportation workload at Toyotsu Logistics and Logistics Center
- "High degree of freedom / versatility" "Selectable point of operation for long time" selected -
CarriRo ), a logistics support robot sold by ZMP ZMP Inc. (Bunkyo-ku, Tokyo, CEO: Taniguchi Hisashi , hereinafter referred to as ZMP), was introduced to reduce transportation workload at the distribution center in Toyota Logistics Co., Ltd. It was. We are pleased to announce the case on our website this time.
【CarriRo introduction case introduction】 Toyotsu Logistics Co., Ltd.
https://www.zmp.co.jp/carriro/detail_toyotsu.html(With animation)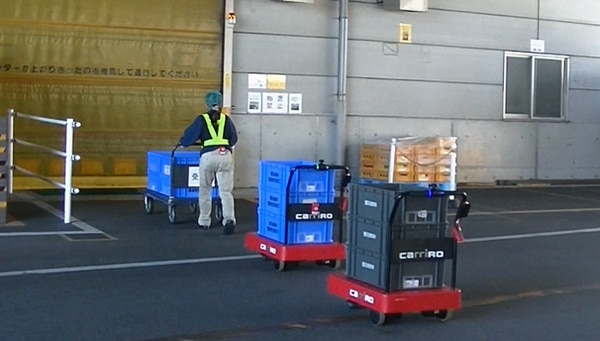 Toyota Logistics is a core logistics company of the Toyota Tsusho Group, and we handle a wide range of logistics operations not only by companies in the group but also by companies outside the group. As a pioneer of 3PL (Third Party Logistics), which is responsible for overall logistics operations, we developed our Supply Chain Management (SCM) system by ourselves, and based on this system we manage and manage all of our customers' logistics departments collectively. From receipt of Kanban data to delivery instructions, receipt and departure reports, and order data creation to the manufacturer, we manage and operate logistics information in total, and we offer "fast, cheap, safe, reliable logistics" in a thorough system . In exporting and importing automobile parts manufacturers, we are developing SCM and establishing our own Vender to Vender logistics system. We are promoting small lot, frequent delivery and short delivery time from domestic parts manufacturers to domestic and overseas user bases. Regarding the storage of electronic parts, we have the largest warehouse for electronic parts in Japan.
Mr. Kadoma, manager of the company's operations headquarters, said that the reason for choosing CarriRo is "to reduce workload on workers' premises and to allocate human resources to sophisticated work processes that people must engage, In consideration of shortening of time and further improvement of working environment, consideration was given to introduce equipment to support movement within the premises. It is impossible to ensure sufficient passage width for AGV at this office , Since the material flow line is also not constant, I was struggling with the selection of the introduction model, but I found out that CarriRo with comparatively high degree of versatility , got interested and tried introducing it.Since CarriRo has almost the same height as the carriage, the center of gravity is lowered and the running is stable even when cargo is placed, the charging time is also relatively short, and it is operated almost a day , unplanned on busy days and also during excessive use, it can be charged during Hirukyu.the battery stays charged until night.​ ​
As an effect after the introduction, "As for the running basic performance, it was smoother than expected and the operation was also easy, and it was possible to introduce it to actual work immediately after introduction. Also, when loading a certain amount , even female employees were able to carry out work lightly, we were able to drastically reduce the workload. Also, fine adjustment of obstacle sensor , larger pedestal to an existing basket truck "Correspondence to" Unevenness of Road Surface and Requests for Corresponding to Road Surface Unevenness have been received. We will consider introducing at other distribution centers if we can demonstrate improved work efficiency, safety, cost effectiveness.
About CarriRo
CarriRo is a cart type logistics support robot with a drive mode that allows operation with a joystick and a karugamo mode that automatically tracks a beacon (transmitter). It is capable of carrying rechargeable baggage up to 150 kg for 8 hours continuously, making it efficient for picking operations in warehouses and distribution centers, and for inter-process conveyance in the factory.
[website]https://www.zmp.co.jp/carriro/
[Movie]https://youtu.be/a1Tw9W7IDYE

【Price】
5 year lease monthly charge 28,000 yen (excluding tax) / 1 unit
Press Release Articles
​